Infusion, Unity, 80s Prom, and More this Weekend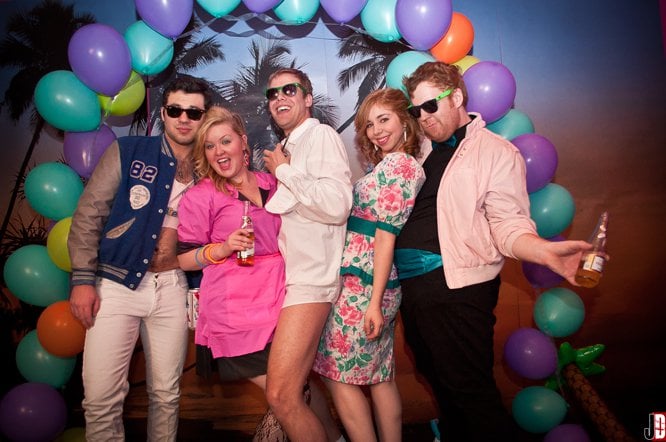 Have a good time this weekend. And remember to set your clocks forward one hour Sunday morning (suggested at 2 a.m.). Does this mean you'll lose an hour of partying?
Thursday, March 8
EpiCentre Concert Series: Vanilla Ice and Bubba Sparxxx
Stop, collaborate, and listen. You can see Vanilla Ice perform tonight at 10 p.m. at Whisky River. Then make your way next door to Suite to see "Ms. New Booty" rapper himself, Bubba Sparxxx, perform at midnight. $10. EpiCentre, 210 E. Trade St., epicentrenc.com.
Friday, March 9
Culture Couture (weekly event)
It's a fashionable party each Friday night at this chic lounge. Several Charlotte socialites will also be celebrating their birthdays. Music this week by DJ Dexter Dynamite. 9 p.m.-2 a.m. Free. Kalu Asian Kitchen, Bar and Lounge, 505 E. Sixth St., kalunc.com, Facebook invite.
Old-School Special Edition (O.S.S.E.) (weekly event)
Hosted by hip hop icon Special Ed, party with a mature crowd and enjoy old-school hip hop. Music this week by DJ Dice, DJ Dr, and DJ Tech. 9 p.m.-2:30 a.m. Ladies free until midnight; VIP tables available. Privilege, 223 S. Brevard St., privilegecharlotte.com.
Infusion at Osso
Enjoy an eclectic blend of live instruments and performances that will challenge your senses–a little mix of drums, mix of sax, mix of dancers. Sounds provided by Nick Spain and special musical guests. 9:30 p.m.-12:30 a.m. Free. Osso Restaurant and Lounge, at NC Music Factory, 1000 Music Factory Blvd., ossocharlotte.com.
Saturday, March 10
Third Annual 80s Prom Technotronic
This South End hotspot is throwing its annual 80s prom, where DJs Whiz KD and Scott Weaver will play your favorite jams from that era. Come dressed in your best 80s attire because the king and queen will be crown based on best costume, and given a cash prize. Spiked punch will be served. 10 p.m.-2 a.m. $5 in costume; $10 if not. Dharma Lounge, 1440 S. Tryon St., dharmacharlotte.com, Facebook invite.
Unity (weekly event)
Come together on the dance floor. Music by DJ Complete and A-Minor. 10 p.m.-2 a.m. Free before midnight; ladies $5 and fellas $10 after; VIP tables available, tami@republicofcharlotte.com. Re:Public, 314 N. College St., thesolkitchen.com, republicofcharlotte.com.
Sunday, March 11
Avant Guardian Industry Night
Celebrate style in the Queen City at this party for the glamorous folks in the fashion, hair, and beauty industry. Music by DJ Edward Brown, playing indie rock and jam classics. 9 p.m. Free. Osso Restaurant and Lounge, at NC Music Factory, 1000 Music Factory Blvd., ossocharlotte.com.
Verify dates, times, prices, and other info at the web addresses listed for each event.
Be sure to bookmark www.charlottemagazine.com/Blogs/Dusk-Till-Dawn to stay plugged into Charlotte nightlife.