Inside an Elegant Lake Norman Home
Everything fell into place for designer Wanda Horton with this lakefront property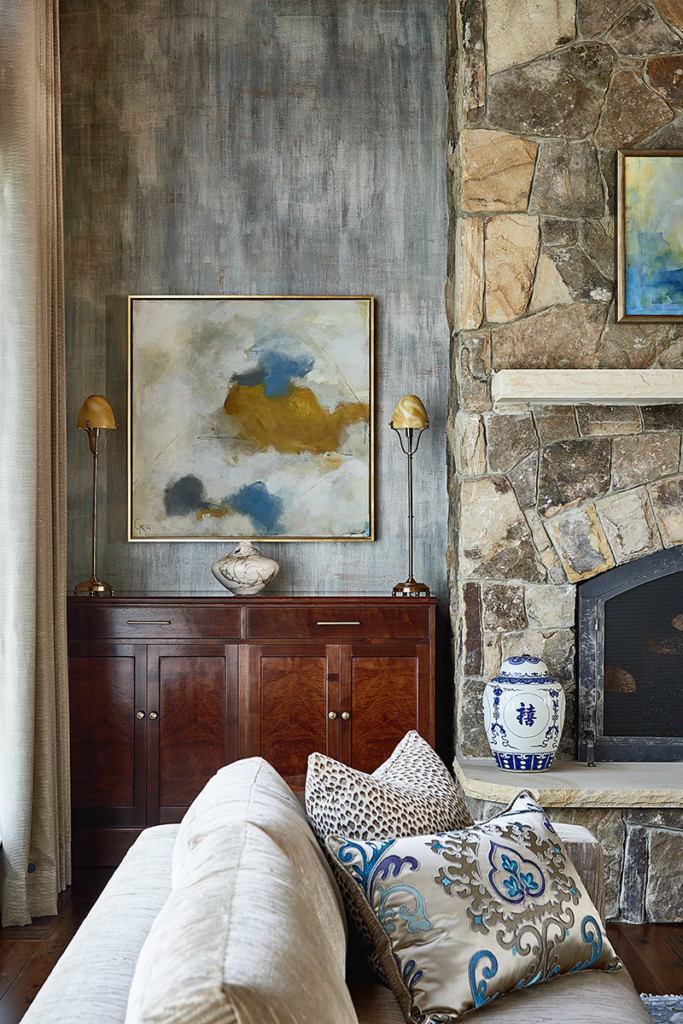 INTERIOR DESIGNER Wanda Horton was finishing the final details at a house in Marvin, when its builder and architect from Arcadia Homes walked a potential homeowner through for a tour. Carol Raymond and her life partner, James Ratcliff, were selling their home in Chicago and moving to the Charlotte area to be closer to family and the water, and found a lakefront lot available with a custom build from Arcadia.
At the end of the tour, Raymond walked up to Horton and said she was impressed by her work and appreciated the aesthetic, even though it was more neutral than her own taste.
"I love what you've done," Horton recalls her asking, "but can you do color?"
A few months later, Raymond called Horton and said groundbreaking was about to begin, and she wanted Horton to design their new home. That chance meeting kicked off what would become one of Horton's favorite projects with one of her favorite clients.
As a new build, they began with the exterior, selecting colors and finishes for the home's street-side and lakeside aesthetic. Next, they selected the hardware—like cabinet pulls and fixtures—and permanent surfaces, such as the countertops for the interior, before moving on to the interior design.
Horton always begins by fanning out a spectrum of color swatches and asking her clients to point to the ones that produce an immediate reaction—good or bad.
"We don't talk about trends, and we don't talk about what the 'latest and greatest' might be," she says. "I really have them focus on their reactions to colors."
In this case, the homeowners chose a blue palette with touches of red—a choice that inspires a calming lakefront vibe but still feels more like a permanent residence than a vacation home.
The initial plan was to incorporate the homeowners' existing furniture into the design, but when they realized the difference in style between their old and new homes, they saved only one or two pieces.
"They decided they wanted this home to feel very different," Horton says.
With structural elements like wooden beams and a floor-to-ceiling stone fireplace, the home has a more rustic look than the homeowners' previous ones, which were decorated in a French countryside style. Still, the homeowners wanted to have a touch of elegance in the design. The staircase, for example, is made with wood paneling and has wood planking on the ceiling above it, but Horton hung a crystal chandelier for some contrast.
"There are things that have a little shimmer, a little silver, but we knew we couldn't go too Liberace with that—we couldn't go into too bling-y because it would feel disjointed," Horton says. "So it's just that sort of subtle nod to some things that she's always enjoyed in her past, but bringing that forward to her future home."
In the kitchen, you'll find a metallic sheen to the gray subway tile backsplash. A blue island adds the color the homeowners wanted. Blue pottery hangs above the countertops and adds visual interest to the home's massive walls.
The focal point of the family room, a commanding, floor-to-ceiling stone fireplace, left a visually unappealing amount of open wall on each side, even with furniture surrounding it. Artist Summer Ayers Savin painted each side with layers of color to give the wall a waterfall-like texture.
The dining room walls, too, resemble moving water. Thibaut wallpaper and a chandelier echo the ripples of a lake and brighten up the room's otherwise traditional look. Perhaps the most colorful room is the hobby room, which, fittingly, has bright cabinets and bold patterns.
The home has no shortage of bedrooms for children and visiting family and friends. On the main floor, you'll find the master, decorated with touches of red along with the home's blues, and a guest bedroom. On the lower level are three additional bedrooms—one decorated in bright, Lilly Pulitzer-esque colors for the homeowners' grandnieces. Because Raymond and Ratcliff want this to be their last home, they've also built a guest suite on the lower level that can one day become a caretaker's quarters. Screened-in patios take advantage of the home's stunning lake view.
Often, Horton says, design involves a compromise to ensure all of the patterns, fabrics, and art work together. It wasn't so in this home: She remembers a trip to Zaki Rugs in High Point with the homeowners. They brought along fabrics they'd picked out in an earlier meeting. On this trip, they found rugs that looked as though they were custom-made to go with the fabrics. Each step of the design process continued this way.
"Not only did I feel like this client was meant to be, I felt like the project was, too," Horton says. "I felt like everything about the project just fell into place. As a designer, you almost pinch yourself when it works this way."
KRISTEN WILE is a food writer in Charlotte and former editor of this magazine. Find her at unpretentiouspalate.com.