Inside Carolina BrewMasters, the Homebrew Club That's Launched Top Beer Makers
Since 1983, it's served as the classroom where brewers like NoDa Brewing's Chad Henderson learn the fundamentals of their trade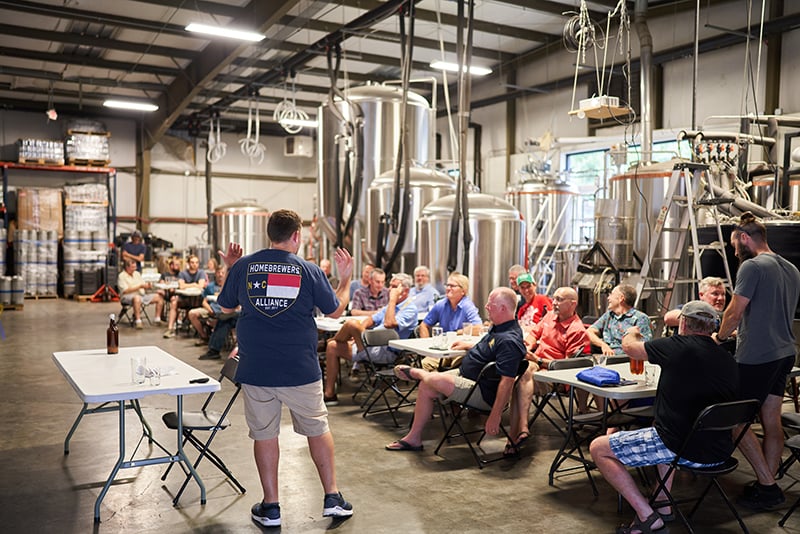 Every year, NoDa Brewing Company makes about 20,000 barrels of beer, which it distributes throughout the Carolinas. It's damn good beer, too, with numerous awards and competition wins; its popular American IPA Hop Drop 'N Roll has won gold at both the World Beer Cup and the U.S. Open Beer Championship.
Co-owner and founding head brewer Chad Henderson brewed his first batch of beer in 2008, in a 5-gallon bucket in his Charlotte apartment. It wasn't very good, he says, and he set out to find a community of local brewers. Henderson discovered a club of people who had spent the last quarter-century quietly concocting their own beers in buckets: Carolina BrewMasters.
"Not only was everyone super-welcoming," he says, "but it was just this wealth of knowledge. There were several dozen people in there who had so much more to share than what you can read in a book."
They're still sharing. Carolina BrewMasters meets every month at Blue Blaze Brewing on the west side. At the June meeting, about 40 people, mostly white men of retirement age, lugged in coolers, chatted, joked, and sampled each other's concoctions. (One sported a T-shirt with "Beer Wars" in the Star Wars font.) Vice President of Education Toby Andrews gave a 15-minute lesson on brewing with different types of malt as members chimed in with their own experiences. Jess Faucette, who helped found the club under the name Lagerheads in 1983, said he had malt on sale at his Belmont homebrewing supply store, Alternative Beverage.
Faucette founded his store in 1973, and at the June meeting, he has some bad news: His computer's server died last week, and he lost customer contacts and inventory information. "There's a chance we won't make it," Faucette tells the group, voice cracking, "if we can't get more folks into the store." The BrewMasters applaud him. A man shouts, "We'll be there!"
This community was the foundation Henderson needed after he moved to Charlotte in '07. What's become one of the largest craft brewery scenes in the nation was barely off the ground at the time. It had been only two years since Gov. Mike Easley signed into law House Bill 392, which raised the cap on beer alcohol content from 6% to 15% and cleared the way for craft brewing statewide. The only Charlotte brewery was now-shuttered Rock Bottom Restaurant & Brewery; it would be more than a year before The Olde Mecklenburg Brewery would open.
Most craft brewers start by brewing at home and gathering with other homebrewers to swap beers and techniques, and Carolina BrewMasters is Charlotte's homegrown homebrewing community. It was North Carolina's first homebrew club, says current club President Stephen Ramsey—founded just four years after Congress lifted the ban on homebrewing for the first time since Prohibition had imposed it in 1919.
Henderson caught the bug at Appalachian State, where he helped a friend brew a few batches before he graduated in 2007. When he moved to Charlotte, he worked at a medical equipment shop, but that wasn't all he wanted to chase: "I decided … I was going start homebrewing and get as involved with the craft beer scene as I could."
That's when he broke out the bucket. In the early days, he experimented wildly with techniques and flavors. The results were uneven. Within a few months, he attended his first Carolina BrewMasters meeting. The club, he says, made him "pull the reins back and actually think about stuff on a fundamental level." Members taught him how to brew different styles and encouraged him to master the basics before adding off-the-wall flavors.
A year later, Henderson had 30 fermenters going in his apartment. He was brewing three to four times a week, and he threw homebrew parties for club members to sample his beers. He entered competitions, like Charlotte Oktoberfest, which Carolina BrewMasters helped organize in various capacities between 1999 and 2018. Sometimes, he'd enter competitions with other club members, including Todd and Suzie Ford. During a club meeting in 2010, the Fords told Henderson they had decided to start a brewery.
A few weeks later, the Fords approached Henderson again, during a gathering at Flying Saucer in University City—at the time, one of the few places in Charlotte where beer enthusiasts could choose from an array of taps. They had asked people in Charlotte's blossoming craft beer circle for brewer recommendations. Everyone, Todd told Henderson, recommended him. They offered him the job. "I jumped up and cussed, 'Hell, yeah!' in the middle of the restaurant," Henderson says.
A month after NoDa Brewing Company opened in October 2011, the Fords promoted Henderson to head brewer. On the brewery's three-year anniversary, they made him a co-owner. He's one of numerous Charlotte-area brewers to start with BrewMasters, including head brewers Ben Dolphens of Divine Barrel Brewing, Alex Shoenthal of Lower Left Brewing Company, Eric Troutman of Twenty-Six Acres Brewing Company in Concord, and Legion Brewing owner Phil Buchy.
"I'm extremely lucky, but luck is really only you putting in the work to align everything for luck to happen," Henderson says. "I was involved in so many things, and I put myself out there enough times and tried to learn it, and I absorbed as much stuff as I did, so that when Todd and Suzie asked about someone who was willing to take this step, people said, 'Chad—he doesn't shut up about brewing,'" Henderson says. "And a lot of (what I learned) was because of having such good people in the homebrew club as resources."
He still attends some Carolina BrewMasters meetings, though not as many as he used to now that he's a leader in an established and still-growing Charlotte brewing movement. Henderson still hasn't shaken the urge to experiment, though. "A lot of the homebrew spirit really stayed with us here at NoDa," he says. "To this day, we still release a new beer every single week. I'm so out of names, it's ridiculous."
TESS ALLEN is the associate editor.