Inside Charlotte's Long Ride With Habitat for Humanity
How the city became a national leader in building the organization's affordable homes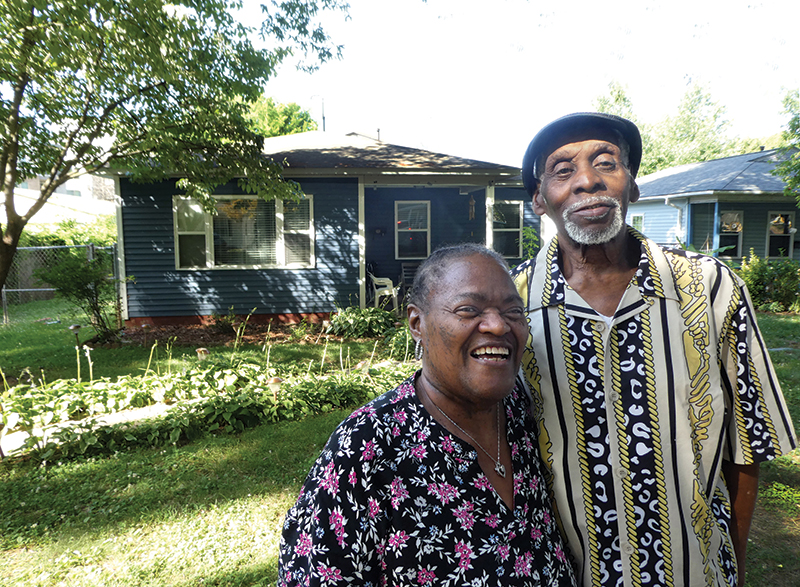 Once you recognize a Habitat house, you'll likely realize you've been seeing them all over the place. Habitat for Humanity is one of America's great success stories in the difficult realm of affordable housing. Through nearly four decades, Charlotte has played a big role in this national phenomenon.
Millard and Linda Fuller started Habitat in Georgia in 1976. They'd joined Koinonia Farm, a back-to-the-land religious community intent on interracial fellowship and simple living. Many of its neighbors resided in shacks without running water.
Millard Fuller worked out what became the Habitat model. Volunteers pitched in to build small, carefully planned cottages. The future homeowners worked as well, contributing 300 hours of "sweat equity." Habitat provided a no-interest loan, which the resident family repaid over the years. That, in turn, helped fund more houses.
In Charlotte, a retired school board member named Julia Maulden—Julia's Café & Books at the Habitat ReStore on Wendover Road honors her memory—was one of the early folks outside Georgia to fall in love with Habitat. With backing from real estate leaders that included John Crosland Jr. and Gene Davant, Maulden's Habitat chapter built one house, then another and another.
In the mid-1980s, Davant hatched an audacious idea. He helped Habitat acquire an abandoned baseball field that the Optimist Club, a service organization, had created decades earlier in the Optimist Park neighborhood. On the weed-choked lot, Habitat would construct 14 houses—in just a week.
The project drew national media attention to Habitat. Excitement jumped when former President Jimmy Carter agreed to join the building crew, something he'd done only a few times previously. Beginning July 25, 1987, he and other volunteers swarmed over the old field, now cut into cul-de-sac streets (one named Julia Maulden Place). Wood-framed walls rose hour by hour.
"This is the most exciting, challenging, unpredictable and gratifying thing I've ever done," Carter told The Washington Post. Henceforth, Habitat and carpenter Carter would be intertwined in the public's mind.
Today, John and Gwendolyn Burris still reside in a snug cottage on the 19th Street cul-de-sac where President Carter labored. John remembers that intense week: "I worked from sunup to sundown."
"We always had the girls with us," adds Gwendolyn, "teaching them the value of work, to own stuff." Despite steady jobs—he as a brickmason, she in a hospital laundry—the family had bounced from apartment to run-down apartment. The new house brought stability for the children. "All of them earned diplomas," John says proudly.
The Burris home is typical of Habitat designs. It's a little more than 1,000 square feet, with an uncomplicated box outline that's efficient to build. There's an inset front porch, a cool place to sit and visit in the heat of Southern summers, and a low-pitched roof, which saved lumber.
Since 1987, Charlotte has continued to influence the national Habitat organization. Longtime Observer journalist Frye Gaillard penned the organization's first history, If I Were a Carpenter, published in 1996. Davidson developer Paul Leonard served as Habitat International's interim CEO in 2004 and 2005, after the organization's board fired Millard Fuller. Most notably, Mary Nell McPherson, Susan Hancock, and Darlene Jonas organized an all-female project called Women Build here in 1991. Former First Lady Rosalynn Carter took part, sweating as she helped heave wall frames into place. Women Build projects are now a Habitat signature worldwide.
Today, more than 1,400 Habitat houses pepper neighborhoods throughout the region, says Laura Belcher, CEO of Habitat for Humanity of the Charlotte Region. A home repair program and financial literacy classes aid additional families. And construction continues—including a 39-home development, the organization's largest ever, expected to break ground this month near Charlotte Douglas International Airport.
As gentrification displaces many low-income Charlotteans, Habitat families have a huge advantage: ownership. John Burris watches as home prices near Optimist Hall soar past $400,000. "If they offer me what I want for my house, I'm willing to sell," Burris says. "Enough for me to go out and buy me a house and have a little nest egg left.
"They'd be buying all my memories away. But I'm ready to go."