Inside Davidson's First Urban Winery
Davidson Wine Co. makes another pioneering mark: A woman of color owns it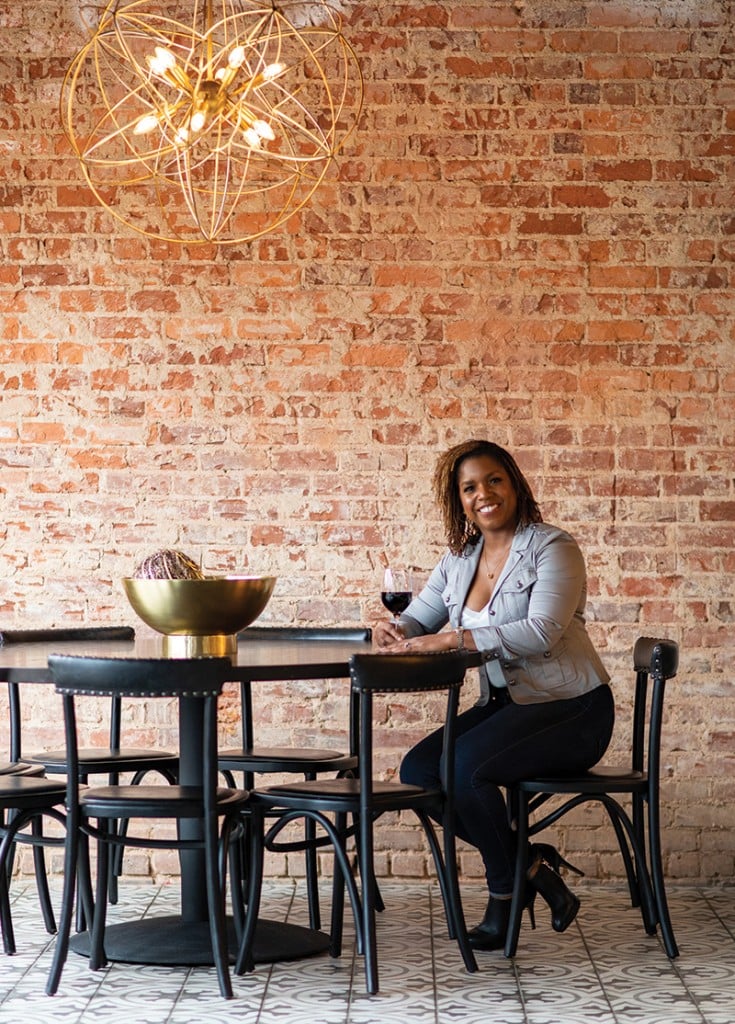 A BISTRO with black and gold lettering on its signs occupies a spot, on Depot Street in Davidson's historic business district, that once held an organ shop. Since August, it's been home to a business unique to this college town, owned and operated by someone you wouldn't expect.
It's Davidson Wine Co., the town's first "urban winery"—owned, unusually for this field, by an African-American woman, Lindsey Williams. The 37-year-old Ohio native spent more than a decade as a corporate attorney for Wells Fargo before a trip to Europe changed her career. "I went to a wedding in Italy, where we got to tour Tuscany and visit the vineyards," she says. "I really fell in love with the art of making wine."
She'd lived in Davidson for eight years and hoped to open the town's first vineyard, but she knew it would be an expensive gamble. So in 2019, she decided to open an urban winery, or "micro-winery," which makes wine but doesn't grow grapes. Williams operates under a affiliate agreement with a California-based company that imports grapes from around the world. Then she has the wine made off-site, about three miles away in Cornelius. Williams says she sees her winery as a kind of answer to people who assume North Carolina cities are just hotbeds for new craft breweries.
"I've been pleasantly surprised at how many wine drinkers there are here, and that they have been looking for something like my winery in this area," she says. "North Carolina kind of gets a bad rap, because it's difficult to grow good grapes here because of the weather."
It's an unusual place to find black women, too. As of 2019, the global market data firm Statista reported more than 10,000 wineries in the United States—but less than one percent were owned by black women, according to Travel Noire, a digital media company that offers travel tips for black millennials. Williams believes there are so few black women in the industry due to lack of exposure to the business side of wine, and the high cost of it. She says people are often shocked that she owns Davidson Wine Co., but she isn't focused on being a trailblazer. She just embraces the outpouring of support from wine enthusiasts. "I have received support from other black winemakers across the country and even internationally," she says. "There's a great fellowship amongst the black community, especially for this type of thing."
Williams says business has been steady, and at times the line to enter has stretched nearly around the block. Inside, the winery has a cozy, modern feel, with a black bar, gold chairs, and gold organ pipes that hang on the wall in front of the bar. The pipes, owned by former Davidson College music professor Ralph Blakely, honor Blakely Organ Builders, which previously occupied the space.
With the help of Davidson College archivists, Williams has preserved the building's rich history in a number of photos displayed on its walls. On the opposite side of the room, two full-length rows of plants adorn a white wall that overlooks the booths, and additional tables fill the dining area. Outside, there's a patio with more seating under the golden lanterns, and a fire pit. It's kid-friendly, too, with games like giant-sized Jenga, checkers, Battleship, and room to run around the patio.
The winery sells more than 35 varieties, including Barolos, Gewurztraminers, Pinotages, Petit Verdot, and ports. For beer drinkers, there are a few local brews on tap, and customers can order bistro-style appetizers like crab and lobster dip, pimento cheese dip, salads, paninis, and charcuterie. The winery also partners with local bakeries for a rotation of desserts.
The committed oenophile can experiment with the winery's custom blends: Williams offers customers a chance to create their own private vintages, usually enough to fill about 25 bottles that they can bottle, cork, and label. The winery offers personalized custom labels, too.
"We have people frequently coming in saying they aren't wine drinkers or they only like one type of wine," she says "I just want everyone to feel welcome when they visit."
---
Gimme a Sip
Davidson Wine Co. sells specialty blends, available for $16 to $55 per bottle. Listings change weekly based on availability.
Here is a sampling:
Hogwash Rosé: A California pink rosé made from grenache grapes, with flavors of lemon, mandarin, and honey
Highway 101: A Pinot Noir with floral notes and a crisp, fruity finish
Airfield Merlot: A traditional red from 2014, with a splash of black cherry, vanilla, clove, and nutmeg
Nero Di Cio Lambrusco: A dry red sparkling wine from Italy
The Sum: A red blend of cabernet sauvignon with petite sirah and merlot
Carra Coviello Prosecco: A sparkling white with a dry, fruity taste
Wine flights contain four 3-ounce varieties of featured wines.