Inside Plaza Midwood's Wine 'n' Sign Meet-Ups
Weekly ASL classes (over wine) help deaf individuals feel more at home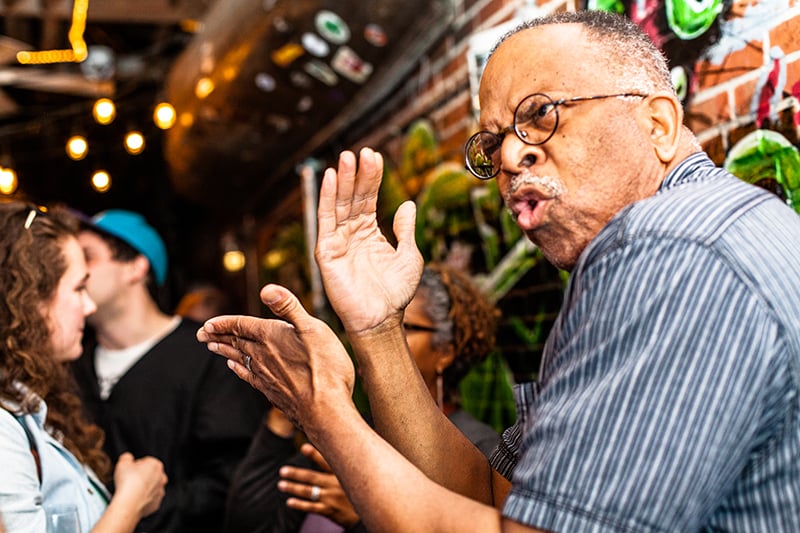 THE LESSON STARTS easily enough. One by one, Thomas Heynen teaches 20 words in American Sign Language. This week's theme is Plaza Midwood, a tribute to the neighborhood that hosts these Wine 'n' Sign evenings each Tuesday at 7:30. On Common Market's side patio, Heynen demonstrates signs, and about 20 people mimic them—signs like "hippie" (both hands, palms back, framing the side of the face), "beer" (the sign for B brushing the side of the mouth), "bicycle" (small pedaling motion with hands), and "Snug Harbor" (a sign Heynen created that translates literally into "love boat").
Then it's pop quiz time. Heynen calls on people seated around the patio in a lightning round with words spoken and spelled in the ASL alphabet. "Bar!" "Whiskey Warehouse!" "Yoga!" "Tattoo!" Everyone responds quickly and correctly.
He continues to call on people, toughening the challenge. "I want a drunk hippie riding a bicycle!" "I want a tattooed bartender at Snug Harbor!" "I want a hippie drinking beer at Common Market after going to yoga!" No sweat. One after another, people set down their drinks, get through the signs, and bask in the cheers and ASL applause (hands held in the air, twisted a few times). Heynen stumps no one.
Next, Heynen yields the stage to volunteers. People assemble into groups to act out skits using the signs they just learned. Laughter fills the patio as Heynen, just off stage, interprets the skits and offers commentary via speech and sign.
This is improv comedy meets speed learning. I'm a junkie for classes—from guitar to gardening, sewing to Spanish—and this might be the most fun class I've attended. I walked in knowing only the ASL alphabet I learned as a kid, but within 15 minutes, I'm able to sign a tattooed hippie who bikes to yoga. That, to Heynen, is the goal. He learned ASL in a bar with a deaf friend, and he figured that others would want to learn that way, too. One of his best friends is deaf. Their conversations over texts evolved into ASL lessons over beers. Those lessons became mutually beneficial: Heynen learned not only to sign but to translate between his friend and women at the bar. "I got the wingman-of-the-year award," he says, "three years in a row.
"People are fascinated by ASL, but (the gap between) having an interest in it and going out and learning it is where the disconnect is," Heynen adds. "If we can provide a bridge that lets people check it out before they take a class, then that's awesome."
The group is diverse not only in age, race, and style but in ASL and hearing levels. Some, like me, barely know any sign language. Some, like Heynen, are hearing but have deaf friends. Some, like co-leader Hope Turpin, are deaf and can speak and read lips; some are deaf and can't. Some are certified ASL interpreters; others are learning to be. Yet in any conversation, people translate into sign or speech to include everyone. If someone doesn't know a sign, the rest will pause to teach it before moving on. The learning is as collaborative as it is kind.
***
ABOUT 11 MILLION PEOPLE in the United States are deaf or have serious difficulty hearing. About one in 1,000 babies are born deaf, and many more lose hearing from chronic ear infections, excessive noise, or aging.
ASL is the third most-studied language in the country behind Spanish and French, and interest in it is growing. Ivy League schools made news for addressing student demand for more ASL classes: Harvard, Princeton, Yale, and Cornell all added ASL programs or have included ASL in their language requirements in just the past couple of years. Yet fewer than 10 percent of four-year colleges and universities in the country accept ASL as part of their language requirements.
Of Charlotte colleges, Central Piedmont Community College offers the most options for ASL learners. About 165 students enter beginning ASL classes each fall. Some just want to learn the basics with the first-level course. Some continue until ASL fulfills their language requirements. About five percent become certified interpreters.
Even as ASL attracts more students, people who know ASL are a rarity, which isolates the deaf. Archie Fortner enjoys Wine 'n' Sign because here, he can joke around with a big group, and his deafness is not a barrier. Elsewhere, he usually relies on writing to communicate with the hearing.
"It's wonderful to come across someone who can sign," Fortner signs, "a pleasant surprise."
Turpin, the Wine 'n' Sign co-leader, wants to make Charlotte a deaf-friendly city. She teaches ASL in private and group classes, and she's in the process of becoming a certified deaf interpreter. She's profoundly deaf, meaning she can't hear anything at all, yet she can translate between the deaf and hearing through sign and lip reading. Turpin envisions a city where more people know at least the basics of ASL—especially people who work in restaurants, retail, schools, and emergency response. "I want to train everybody," she says.
The week before my first Wine 'n' Sign, Heynen, Turpin, and other regulars give me a few lessons about ASL. For one, everyone who signs has a different accent. Each person inserts personality into their signs, especially facial expressions, which is why people get to know someone faster through signing than speaking.
"It's impossible to learn sign from just one deaf person. Everyone has a different accent in sign, everyone has different ways of expressing different words," Turpin says. "You need a group."
Another lesson is that hearing people can spell out their names with the ASL alphabet, but they must wait to have a unique sign bestowed on them by a deaf person. It's honorific, earned. Often, a sign for a name incorporates the first initial of that name and a movement related to that person's interests, personality, or a physical feature.
***
DESIRÉE FRASCA began learning sign at Common Market even before Heynen started Wine 'n' Sign. About three years ago, she came to grab a coffee during a bad day and a worse mood. A man stood in her way. "Excuse me," she said. He didn't move. "Excuuuse me," she repeated. Again, nothing. So she tapped his back and again said, "EXCUSE ME."
That man was Fortner. He smiled and motioned that he was deaf, and then moved to allow her to pass.
Frasca felt awful. She began to learn signs so that each time she saw Fortner in Common Market, she could talk to him. Soon, Fortner was helping her learn more. Fortner doesn't remember their awkward first meeting, but she still shakes her head at the memory. That moment changed a lot for Frasca: It introduced her to a new friend and a new career: She's now in CPCC's interpreter program. She's even adopted a deaf dog and trains her with ASL commands.
"One of the things we talk about (at CPCC) is: 'Are you there to help deaf people as an interpreter?' No, you're not there to help the poor deaf person, you're actually there to help the poor hearing person who can't sign," Frasca says. "Deaf people can't learn to hear. Hearing people can learn to sign."
When people come to learn sign, Heynen says, they come with a compelling reason. In story after story I hear during Wine 'n' Sign, that reason is friendship. Someone met someone deaf at school, at church, in line at Common Market, and they needed to learn ASL to be a friend. So they did.
After hours of conversation and cheeks hurting from laughter, I close my notebook and begin to head out. Turpin stops me. "I have your name," she tells me. She begins to sign a J, a fist with an extended pinkie that does a little J-shaped swoosh, but instead of the swoosh, her pinkie moves as if it's a pen writing on paper.
I'm honored, and sign "thank you" to Turpin. The table around her is full of people—hearing and deaf, speaking and signing—who refused to allow language to interfere with community.