Inside the 'Bubble', Charlotte's New Champagne Bar and Lounge
The long-awaited venue opens at the EpiCentre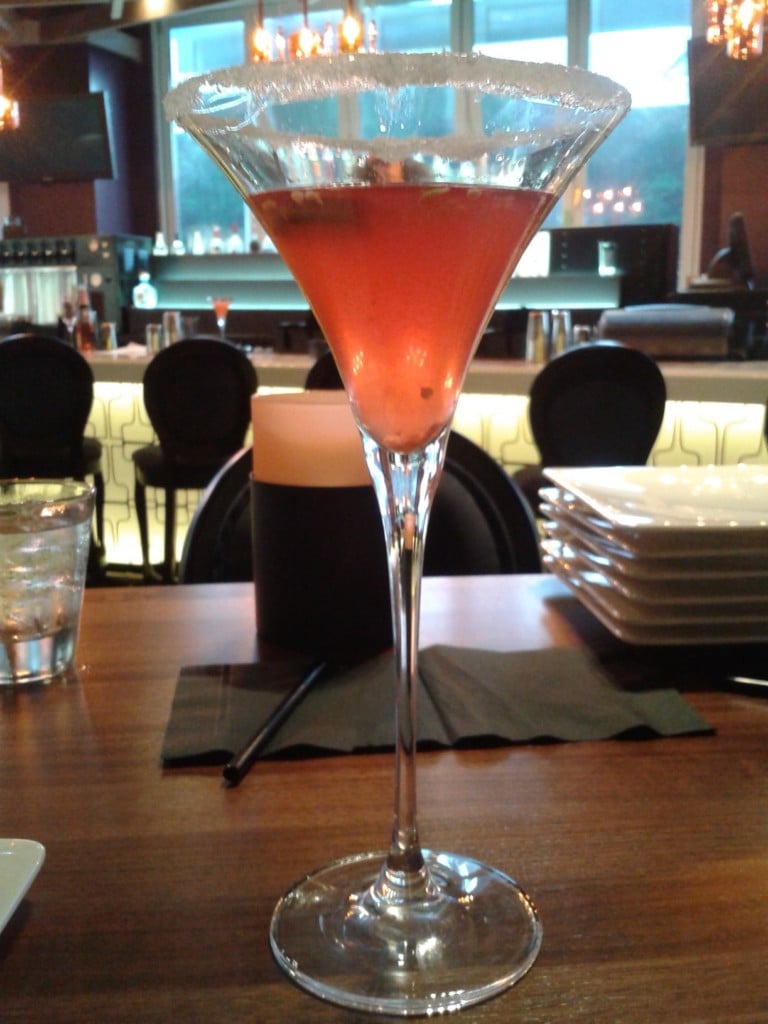 For about three years, there was a particular space at the EpiCentre that might've caught your attention. Next to Suite, there were several windows completely covered with a large "B" logo and the words "Bubble". After much delay, Bubble Charlotte is finally opening its doors to the public this Friday, May 17. And I think you'll find that Charlotte's first champagne bar was worth the wait.
Bubble held a Media Day yesterday, and about 15 of us journos seized the opportunity to sip drinks at 4:30 in the afternoon. But before corks were being popped on bottles, Bubble's operating partner, Bourke Floyd, took us on a tour of the venue, explaining the significance of many of the design elements.
Even without a guided tour, you'll be impressed with Bubble's décor. The space was designed by Cal Fortis and his team at Big Time Design, who are responsible for designing notable nightlife venues in Miami and New York City. There was great attention to detail paid to the wallpaper, lighting selection, floors and the elevation of them, marble sinks in the bathrooms, and several other touches. You'll certainly take notice of the large prints of Barbie dolls enclosed in glass along one of the walls.
Bubble is offering more than
30 different selections of champagne
, which is part of its statement that champagne is no longer only for special occasions. In fact, behind one of the two bars is a special bottle system that allows them to sell any champagne by the glass—including the extremely pricey brands—keeping the remainder fresh until it's all been served.
The bar also specializes in signature cocktails it calls N-Tinis, which are infused with liquid nitrogen and chilled to -320 degrees before serving, creating a cloud effect above the martini glass. There are also about 50 different wines on the drink menu.
It's an intimate space with seating inside for about 85 people. A handful of large, semi-circle booths dominate the center of the room. There's a bar in the back, and a second bar in the area near the pub table seating. In the corner, about midway between these two areas, is the DJ booth. Bubble has also hired an attractive, mostly female wait staff, which is a customary part of the premium nightlife experience (cheers to that).
I expect that Bubble will take on a vibe similar to its neighbor below, Enso Asian Bistro & Sushi Bar (Bubble's main entrance is actually on the first floor next to Enso, which leads you up a flight of stairs), as well as Osso Restaurant & Lounge at NC Music Factory, in that there's seemingly no separation between dining and nightlife. The bar, lounge, and dining areas are integrated, and DJs play multiple nights a week at each of these hotspots. Personally, I like this trend we're seeing in Charlotte. It allows, among other things, the I-don't-go-to-clubs-anymore-crowd to still enjoy the elements of nightlife they desire—good drinks and good music in a sexy atmosphere. There's also an outdoor patio, with seating for about 20, overlooking the busy intersection of North College and East Trade streets.
You'll be able pair your drink selections with some tasty small plates, including salads, seafood, flatbreads, and a couple of chicken and steak dishes.
Bubble Charlotte, second level of the EpiCentre, 210 E. Trade St., bubblecharlotte.com. Open daily, 4 p.m.-2 a.m.