Inside the Charlotte Airport's Evolution
Things changed in 2020 at the world's seventh-busiest airport, but CLT fared far better than others in the year of COVID. Airport leaders explain how they've kept the planes aloft when so much else was forced to remain on the ground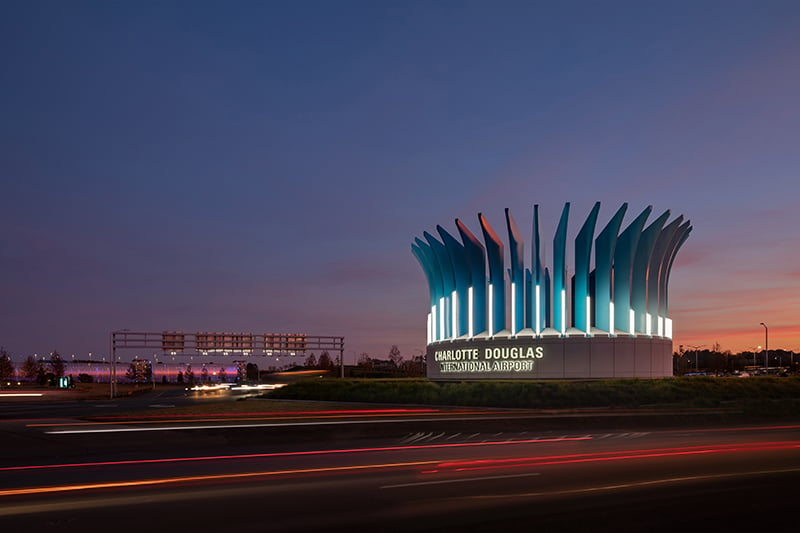 In a normal year, more than 50 million travel through Charlotte Douglas International Airport. You're likely one of the tens of millions in 2020 who didn't, so things might look a little different at CLT the next time you do fly. Historically low ridership didn't halt several projects at the airport that are part of a many-pronged master plan that concludes in 2035.
In 2015, the city-owned airport began a $2.5 billion expansion and upgrade. Among the projects in this phase are a Concourse A expansion that was completed in 2018, a Concourse E expansion to be finished this summer, a new runway whose construction just started, and the marquee item: the massive Terminal Lobby expansion, which is four years away from completion. (More on that last one below.) The plan is called "Destination CLT," and it's the most expensive and thorough in the airport's 39-year history.
Business Insider said in January that the industry has been "decimated" due to COVID-19, so it's surprising that so much of the master plan remains intact. While timeline adjustments were made across the board, CLT leadership says our airport fared far better than others, and the reason is American Airlines. "We're their second-largest hub," says Jack Christine, chief operating officer and a 24-year veteran of the city's aviation department, which owns and operates Charlotte Douglas International Airport. "They've made it very clear that they believe they're going to come back out of this pandemic, and the way they're going to do that is leveraging the hubs in Dallas and Charlotte. We responded by not slowing things down."
Overall ridership in 2020 was 60% of a typical year's rate, markedly higher than the national average. That's "driven in large part by connecting passengers," Christine says. CLT's position as a major connector for American Airlines riders was pivotal. Trips that begin in Charlotte are still dramatically down.
So what's new at the seventh-busiest airport in the world in total aircraft movements? Below, Christine and Ted Kaplan, interim chief business and innovation officer, walk Charlotte magazine through those upgrades, from parking and new food options to the reason Queen Charlotte currently lives in a box.
Airport Arrival and Check
When the shutdown arrived in March, CLT was nearing an announcement on major changes to airport arrival. It just so happens that many of the upgrades to CLT parking are in line with the so-called "new normal": a new revenue control system, intended to take the stress out of getting to your flight, is touch-free and requires no face-to-face contact with staff. You can now select "Book Parking" on the cltairport. com homepage to work out the logistics before arrival. Available lots to book are curbside valet, the hourly deck, Long Term Lot 1, and two daily decks. Not all of the lots are in this new system yet, but the new process immediately garnered praise from customers.
Now, travelers can see real-time security checkpoint wait times online, too, via the app or website. The virus forced all high-traffic venues to adjust, but the parking changes are part of a major, permanent shift at the airport. "This is clearly going to be part of our reality for the future: Any sort of con- tactless experience we can bring to the passengers, whether it be purchasing anything at the airport, goods, or food and drinks, or how they booked their parking in the parking experience," Kaplan says.
Now that it's easier to enter the airport, let's see what's changed across its many corridors.
Food and Drink
Renovations wrapped on concourses A and C last year, along with some fresh options for food and beverages. The Broken Spoke, a cocktail bar and sister concept to Great Wagon Road Distilling, opened in mid- February 2020 after a year of preparation. Less than a month later, it closed due to COVID. It only recently reopened and joins a growing number of local businesses that have satellites at CLT.
Rhino Market & Deli opened its Concourse A location, the restaurant-grocer's fifth, a couple of months before The Broken Spoke. The local brewery scene's grown its airport footprint over the past couple of years: In December, NoDa Brewing Co. reopened its Concourse A taproom after the shut- down, with 11 beer selections, to-go cans, grab 'n' go meals, and an arresting mural from artists Matt Hooker and Matt Moore. Olde Mecklenburg Brewery has Captain Jack's Tavern in Concourse E; Asheville's Wicked Weed expanded there, too, just a couple of months before the 2020 shutdown.
At each of those Charlotte-born taproom, bar, and restaurant concepts, you'll see a sticker that marks them as a "CLT Local: This Business Is a Carolina Original." Kaplan says the move is part of a national trend. "We've seen a shift in airport environments from having restaurants that are national brands to airports really focusing on local chefs and local restaurant concepts," he says. "It's similar to (the trend of) restaurants using local ingredients and goods. We know our passengers traveling through our airport are interested in what's local, and these badges are part of our effort to better identify and better promote them."
That mentality is beginning to show up in the airport's most exclusive areas, too: Joe Kindred, a James Beard Award nominee who owns Lake Norman-area restaurants Kindred and Hello, Sailor, crafted the menu for the recently opened Centurion Lounge for American Express cardholders. It's the first of what Kaplan says will be more boutique lounges at the airport.
Public Art
Because of the airport's civic ties to the Arts & Science Council, more "CLT Locals" than ever are appearing in its fine art displays. And the public art inside and outside of the airport is more than just decoration.
Over the past two years, CLT has set out to reconsider its place as Charlotte's "front door." The architectural crown monument that now marks the entrance on Wilkinson Boulevard at Josh Birmingham Parkway is part of that effort. A concrete structure is topped with glass fiber panels and illuminated metal fins; nearby, three "CLT" signs are backlit to extend the sleek yet welcoming motif. There's a pragmatic aspect to it, too, as drivers have long complained about a lack of distinct markings to enter the airport.
Ben Premeaux's "Connections CLT" is a new experimental photographic exhibit inside the building. The work takes viewers into actual homes in the Charlotte area and runs across a wall in Concourse A. Amy Bagwell, Herb Jackson, and Nico Amortegui are just a few more examples of Charlotte-bred talent making its way into these spaces.
International artists are helping shape the corridors, too: Frankfurt, Germany-born, Los Angeles-based kinetic artist Christian Moeller created the massive "Loops": The work, inspired by aircraft holding patterns, is part of the 51,000-square-foot East Terminal expansion. The piece officially debuted in November 2019.
Each of these new exhibits and sculptures give passersby something to occupy themselves between flights while they learn about the city. Over the past year, CLT visitors were more apt to float around. In general, many have "spread out a little bit more, and people don't spend as much in the hold rooms," Christine says, "and it's changing the dynamic about where people go in the building between flights or when they're waiting. They might be in the food court more, or in the wider circulation areas. We watch that, you know; we want to learn more about that as we go because that'll help decide how we move forward."
One exterior piece of art you might notice is missing now is the famous Raymond Kaskey sculpture of Queen Charlotte. The 15-foot work was removed last year for extensive cleaning before she moved inside, as part of the biggest CLT project to date.
The Terminal Lobby
The Terminal Lobby is what the airport calls a "signature project" and remains open throughout all six phases of construction. The $600 million effort adds 175,000 square feet to the lobby while renovating another 191,000 square feet. When it's completed in four years, you'll notice more security lanes for smoother entrance, more space for baggage claim and ticketing, and less congestion that would otherwise make travel something to dread. The project was designed by Gresham Smith, a firm behind major projects like the Nashville Yards.
The new lobby consolidates the existing security checkpoints of A, B, C, D, and E into three bigger, more efficient checkpoints. A massive 146,000-square-foot glass canopy is planned over the pedestrian sky- bridges and roads between the terminal and the complex for parking and rental cars. The skybridges mean no more Frogger as pedestrians won't have to cross through traffic to exit the facility.
The project was designed in 2017 and 2018; construction began in 2019. I ask Christine if airport officials had discussed a pause in work because of COVID. "When you talk about stopping something like that," he responds, "it's kind of like trying to stop an aircraft carrier.
"We actually looked for opportunities to accelerate the project," Christine says. "And we did accelerate a little bit on one of the milestones, which was reconstructing the checkpoint to put in automated screening lanes. We (originally) had some milestones in there that assumed we had to stop construction for a while, because we anticipated big summer crowds. Well, we didn't see that. So we allowed the contractor to just keep on working."
While work on the Terminal Lobby continues, more projects begin and end this year: a Concourse E expansion with 25,000 square feet of additional room wraps this summer, while construction begins on a fourth parallel runway, which will be the longest at the airport at 10,000 feet.
In recent press releases, Christine is quoted as saying, "We're building an airport fit for the queen." Kaskey's Queen Charlotte will be installed midway through construction but remains encased until her lobby debut in 2025. Her space inside the new lobby even has a name: "Queen's Court."
The Future
As for what's not changing at the airport, Christine points to a broader mentality: The airport must reflect the city it's growing alongside.
When planning began for the Terminal Lobby expansion, Christine's staff conducted a visioning exercise. "We looked at the different things that we felt made Charlotte unique, from a regional perspective and perspective coming into the airport," he says. "Southern hospitality was one of those things that rose to the top. We're always looking for ways to translate that into the things we do here, from an operational perspective, from a customer service level, and so on."
The rocking chairs are the most obvious and famous example of CLT's tether to Southern hospitality. They originally were placed as props for a 1997 exhibit called Porch Sitting: A Charlotte Regional Family Album. People began to use them, and when the exhibit was packed away, public outcry brought them back. They've since become a trend that CLT's press department says has been duplicated around the world.
With all of these changes, I have to ask: Those aren't going anywhere, right?
"Oh, no, but they might get moved around a bit while we work on all of these other projects," Christine says with a laugh. "But they're sticking around."
Andy Smith is executive editor of this magazine.