Inside the Making of Moxie Mercantile's Sister Store, Betty
Michelle Castelloe adds kids' apparel and accessories to her retail bag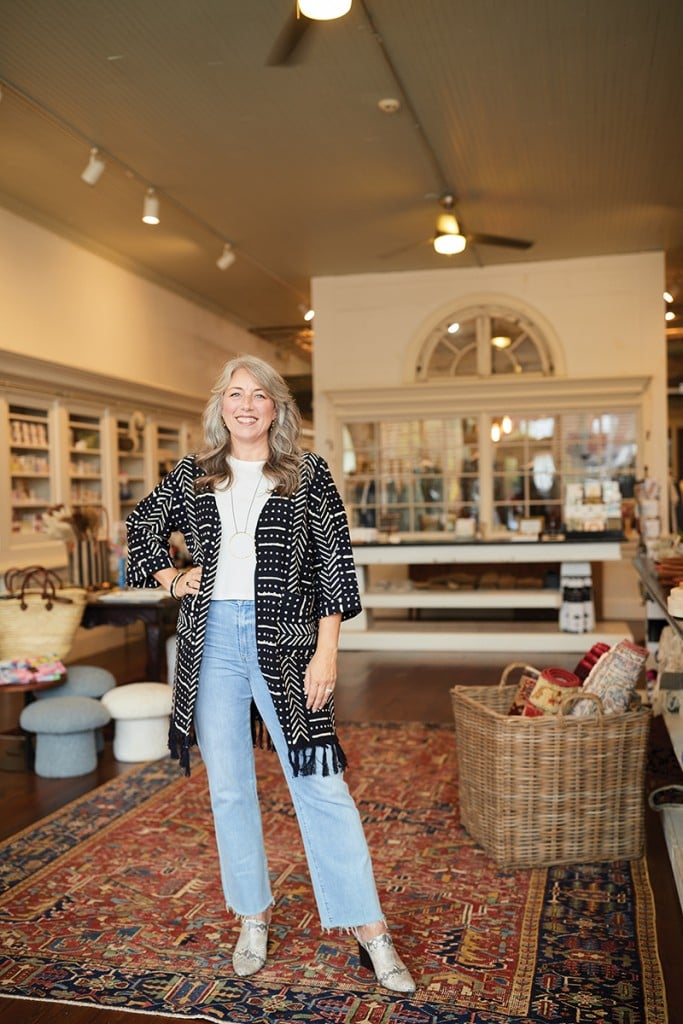 As a child, Michelle Castelloe would pretend to ring things up on her grandparents' antique cash register at her imaginary store. She pictured herself as a shopkeeper, and her grandfather often used the word "moxie" to describe her. "He was born in Maine, and there's a soda there called Moxie," Castelloe explains. "It's awful, but he drank it all the time. He used to use that word to describe me—somebody who's got some guts, who's brave, who's willing to take a risk. I always knew I'd use the word 'moxie' in my brand."
It stayed with her through a winding career, from a seemingly comfortable corporate position to the fulfillment of her dream to own her own boutique. In 2015, Castelloe opened Moxie Mercantile in an old bungalow in Commonwealth. The boutique, which began with three employees, sold women's apparel and home accessories, plus a mix of vintage finds and jewelry by local artisans. Three years later, she opened a second store in Davidson.
In May 2021, Castelloe opened her third and largest location in a 2,700-square-foot space in downtown Matthews. Five months after that, she opened her fourth store, a boutique called Betty, in the former City Supply Co. space on Thomas Avenue in Commonwealth. "It came along faster than I was expecting," Castelloe says. "It feels kind of like having Irish twins with the Matthews location."
Betty by Moxie Mercantile focuses on children's clothing, adult apparel, toys, gifts, and eco-friendly brands like Sanctuary Clothing, Ophelia and Indigo, Kind Roots, and Zestt Organics. The store's name is a tribute to 87-year-old Betty Ziegler Mims, who owned Bride's House of Originals, which occupied Moxie's Commonwealth location before she sold the building to Castelloe.
The title of shopkeeper didn't come easily, though. Castelloe studied sociology and criminology at the University of New Hampshire, but, instead of going to law school, became a flight attendant for United Airlines. After she and her husband, Clifton, settled in Charlotte, she spent more than 20 years in the corporate world and held a number of positions at the clothing retailer Anthropologie, including visual manager and brand director. She also had four daughters, who now range in age from 8 to 17. "It became kind of a joke," she says. "Every time I had a baby, I got a promotion."
Her salary provided a comfortable life for her family of six, but Castelloe wasn't fulfilled. She continued to work for Anthropologie after she opened the first store but decided to move on after a company restructure in 2017. "I wasn't doing anything 100%," she says. "My heart was at Moxie. I was trying to be a parent, a corporate brand director, and run a small business. I worked with a life coach because I was terrified to leave the safety net of the corporate world."
Castelloe remained at Anthropologie through the Davidson store's grand opening in 2018, then finally made the leap to full-time shopkeeper in 2019. Business was good. She'd even bought the building on Commonwealth Avenue that housed Moxie's flagship location as a real estate investment. "I didn't need to take a salary because I stayed at Anthropologie until 2019, so we had enough to get through the pandemic," she says.
In addition to her retail ventures, Castelloe launched a consulting firm called Moxie Huddle to help nurture artists and business owners. "I work with small makers and creators who don't have the business savvy and don't get paid enough," she says. "I love to see them succeed and get their margins where they need to be, not just doing it as a hobby."
Today that little girl who dreamt of being a shopkeeper employs a team of 26, mentors three to four artists a year, and manages four stores. "I'm pretty darn liberal and believe we're here for the common good," she says. "It's a tough place to navigate, when you risk losing business over asking people to wear masks. But I'm teaching my kids through what we're doing. And this brand is curated by me, so if I compromise my authenticity in any way, you'll see it in the brand."