Inside the R U OK, CLT? Event Series
It aims to lighten the mark mental illness makes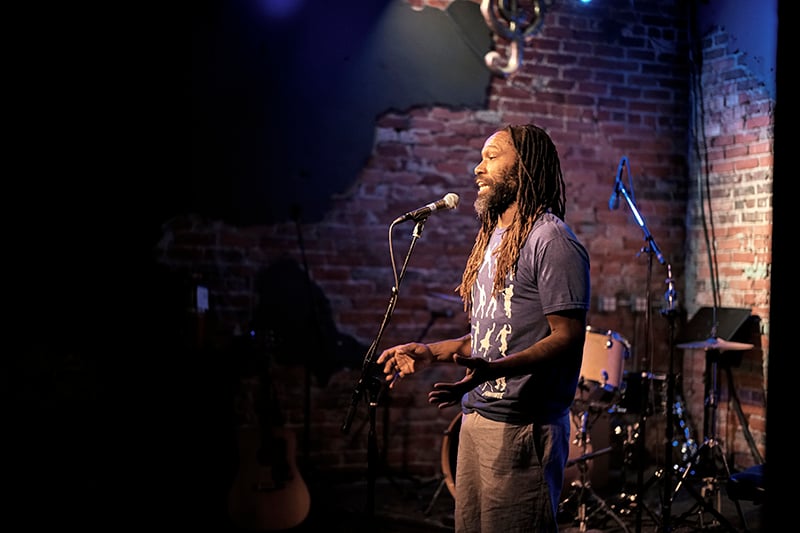 GLENN PROCTOR—retired newspaper editor, Marine Vietnam veteran, cancer survivor, suicide prevention instructor, and alcoholic—steps up to the mic at The Evening Muse in NoDa on a warm evening in May. "Do Not Give In To the War Within," his black T-shirt reads. "End Veteran Suicide." After he introduces himself, his struggle with survivor's remorse from his time in Vietnam, and the hesitance of people to talk about the subject of mental health, he asks the crowd of about 80: "What's that S-word?"
They all know it, and they shout it back to him.
"Stigma."
Proctor was in his early 20s when he heard a gunshot from a nearby room and discovered that his grandfather had killed himself. The suicide didn't contribute to Proctor's later struggles, but it led him to work with the national organization Mental Health America to try to prevent it. "As much as we think we know about mental health and suicide prevention," he says, "we don't."
Proctor has come here as part of his MHA work to collaborate with Joe Kuhlmann, who owns the Muse, and Kelli Raulerson, a friend of Kuhlmann's and member of the board for MHA's Charlotte chapter. Last year, Raulerson and Kuhlmann were chatting about the snags she hit trying to promote events to support mental health services. The topic made people nervous. They shied away from it. "As I started to talk to my family and friends about coming to events with MHA," Raulerson tells me, "they'd say things like, 'Oh, mental health, really?' and kind of give me a raised eyebrow."
Kuhlmann and Raulerson came up with an idea: a venue change. What if, they thought, we started a series that combined honest dialogue about mental health with the work of musicians and artists—people generally accustomed to exploring their emotions—in a setting that encouraged people to express themselves without reservation?
The two hosted the first R U OK, CLT? event at the Muse on February 19, with short sets by musician Reeve Coobs, comedian Tara Brown, and poet Jessicah Shirah Kean. They've held it on the third Tuesday of every month since. "We're trying to bring people into an environment where it's a little easier to be vulnerable and talk about your feelings," Raulerson says just before the May performances, "because you're opening up, you're hearing music, you're hearing poetry …"
We're in the front row of chairs, a few feet from the stage. "It's very safe, very open, very community-oriented," Kuhlmann says. "Mental health needs to be tackled summarily, with all of us, and not just with everyone feeling isolated and on their own. So this is a way we can create a bonding agent."
It's not meant to replace formal therapy, Raulerson adds, but "when you're going to talk to a professional, it's a doctor-patient relationship. What we're trying to create here is a peer-to-peer moment where, 'I have something I want to talk to you about, you're going to listen.' There's just a connection and an exchange there that you're not going to get in a clinical setting."
The performances begin a few minutes later. Among the other guests is a pair of young women, friends who've built a bond through pain. Ashlee Joy Hardee is a local musician and member of the now-defunct band Matrimony whose 21-month-old daughter, Cecelia, died of an undetermined cause in July 2018. Her friend and hairstylist, Elise Winchester Rinaldi, who's suffered for years from depression, anxiety, and obsessive-compulsive disorder and last year lost her father-in-law to cancer, helped Hardee through her mourning and, along the way, discovered her own creative voice.
At the May event, Hardee sits unaccompanied at a Yamaha digital piano, bathed in mauve and blue light on the stage, and unveils a collection of songs—including one titled "The Edge of the Known"—that emerged from her grief. Rinaldi summons up the guts to take the stage after her friend and read a poem about her forced march through mental illness. "My comfort is to hide," she recites. "Gaia, guide." It's her first public reading. She leaves the stage to applause and beelines to the bar, where Hardee folds her in a long, warm embrace.
The two are collaborating on other songs; Hardee composes the music, and she and Rinaldi write the lyrics. Writing has been "super-cathartic," Rinaldi tells me outside the club after the event. "We've actually had a really beautiful journey." (Hardee, who doesn't feel like talking, nods in agreement.)
"I started writing because I couldn't talk to my husband. It used to be too painful," Rinaldi adds. "I'm ready—ready to speak my truth and work through this garbage." It makes me think of something else Proctor said, referring in general to mental illness, during his segment: "It's an epidemic, but there's hope."
Discussing mental illness openly and without shame, Kuhlmann and Raulerson contend, is something that can help build that hope, especially given how common it is—one in five American adults, or 46.6 million, experiences it every year, according to the National Alliance on Mental Illness. One of the few times when mental health occupies space in the national discussion is after an otherwise unexplainable episode of violence, like a specific one at UNC Charlotte in late April that wasn't far from anyone's mind at the May event. Kuhlmann addresses it up front.
"Three weeks ago, our community was assaulted. I'd like to take a moment to …" He catches himself. "Let's just have everyone stand up and join hands." The crowd complies. What Kuhlmann says amounts to a kind of secular prayer. Heads bow. Violence underscores the need for health, he says—to be well in ourselves and with others. "We're going to be present, we're going to show up," he concludes, "and we're going to take care of each other."
Greg Lacour is the senior editor for this magazine.