Interview: Former Mayor Anthony Foxx on the Gold Line
He caught heat for the 'train to nowhere' before he left Charlotte to serve as U.S. Secretary of Transportation in 2013. Now, with Phase 2 of the three-part project done, he reflects on what it means, what it'll take to build Phase 3, and what he's up to now as chief policy officer at Lyft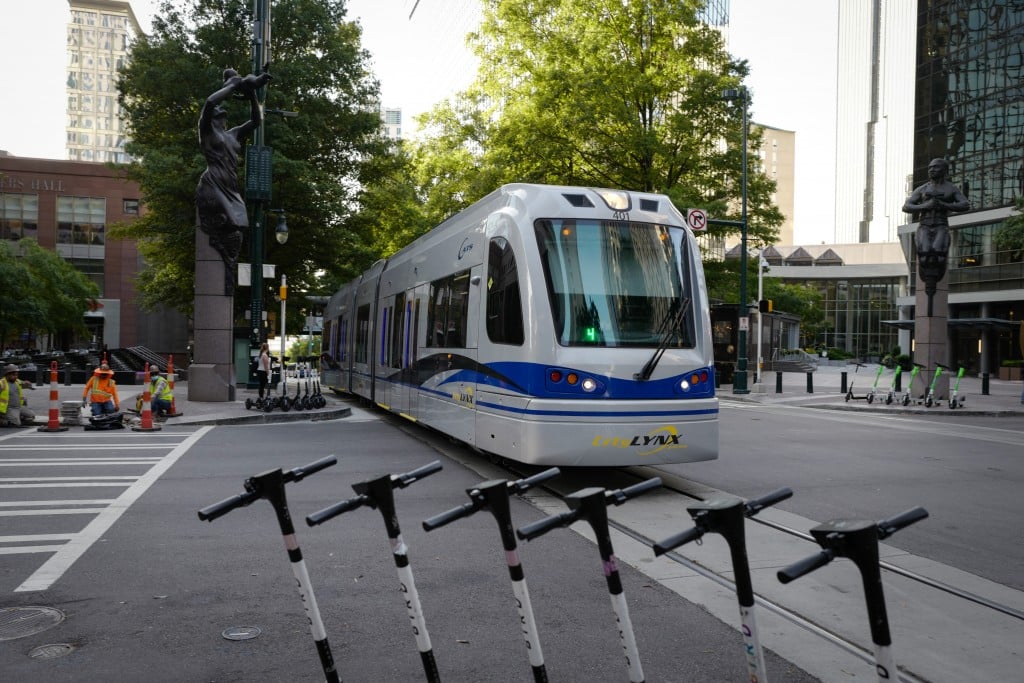 On the morning of Aug. 30, Anthony Foxx—former Charlotte mayor and former U.S. Secretary of Transportation, now the chief policy officer for rideshare giant Lyft—posted a Twitter thread that came across as less celebratory than relieved. "Welcome, Charlotte streetcar," it began. "It's a long story."
The streetcar project—or, as it's formally known, the CItyLYNX Gold Line—was the biggest political football of Foxx's tenure as mayor, from 2009 to 2013. Foxx, who grew up on the west side, and city planners saw it as a way to bring economic growth to the long-neglected east and west sides of town and provide affordable, convenient public transit to residents there. Its opponents, who frequently called the project the "train to nowhere," objected to its cost and the prospect that the city would have to raise its property tax rate to help pay for it.
The city didn't have to raise taxes. City capital funds and a Federal Transit Administration grant covered the $150 million cost of the Gold Line's second phase, which added 2.5 miles to the 1.5-mile Phase 1, which cost $37 million and opened in 2015. Trains began to run along the length of the new line Aug. 30, and Charlotte finally had a rail line that linked the east and west sides through uptown.
But the full Gold Line plan calls for a 10-mile line from the old Eastland Mall site to the Rosa Parks Place Community Transit Center, off Beatties Ford Road near the I-77/85 interchange. It's unclear how much the line's completion would cost or where the money would come from—and a failure to complete the line would mean limited benefits for the residents it was designed to help.
Foxx and I discussed these and other issues during a conversation in late September. Questions and answers are edited for style and clarity.
Charlotte magazine: You caught a lot of heat for your Gold Line advocacy when you were mayor. What's it like to see it realized? Any sense of vindication?
Anthony Foxx: These things are always tough. They're tough politically because you're articulating a mode of transit that people can't see, touch, and feel at the time. I remember that the light rail line was very controversial. This one was close to my heart because when I came into the role of mayor and looked at the city's tax base, 75% was coming from the southeastern wedge, and the rest of the city was kind of sucking wind. We spent most of my council years building up the entire city, but as far as the east and west sides of the city were concerned, we were doing things like putting police substations there, working with the Community Economic Development Corporation to put business parks in these areas, trying to reverse decline in a community-sensitive way.
And the transportation aspect was one that had only been negative in those areas. You know, Highway 16 bifurcated a neighborhood, (Interstates) 77 and 85 had also taken away a number of community assets. So when people heard that we were looking at a transportation project, there was skepticism in some corners, even in the corridors, but certainly across the city. It was unusual to see the city promoting a transportation project in these areas. Some called it the "streetcar to nowhere." I think there were socio-economic and perhaps even racial undertones to some of that. So it was tough, because you're talking to somebody who grew up in the city that made integration work. And it was hard to endure a lot of that.
CM: When you were dealing with this as mayor, Charlotte was still in the post-2008 recession years. Since then, the housing market has blown up, and affordable housing is a big issue. Are you concerned that the access the Gold Line will provide to the west and east sides might accelerate the displacement of people who live there?
AF: Absolutely, it's a concern. I think the countervailing consideration was that these corridors had for decades been on the decline, and the people there, like my grandparents, deserve to have decent access to food, prescription medicine, dry cleaners, basic community services. But a lot of those services and retail activities just never found their way there. So there's an important balance to be struck. I'm happy to see that there's an effort to utilize land trusts on the west side. I think that is a critical factor. Some of the institutions along the corridor, like Johnson C. Smith (University), like Friendship Missionary Baptist Church, my home church—those anchor institutions will continue to be critical to maintaining the balance. But, you know, you can't do this without a lot of attention to detail, and certainly the affordability of those areas is a critical one.
CM: And, of course, the alternative is the status quo.
AF: Right. Growing up, my grandparents drove across town to get groceries. They drove past Wayne's, and the green meat in Wayne's, to get to the grocery store.
CM: Is that the Wayne's on Graham?
AF: No, Wayne's was where the Food Lion on Beatties Ford Road is today. It was a big step to get Food Lion to come in there. I think a lot of people who were criticizing this project would have a lot more credibility if they spent a couple of nights on the west side and bought their food there and lived there. It's a different experience, and until you've lived it, it's really hard to understand it.
CM: What are the major policy areas you've been concentrating on at Lyft?
AF: It's fascinating. There's a lot of interplay with transit, actually, depending on the city. A very high percentage of our rides start or end at a transit stop. So I'm still interacting with transit agencies across the country as well as cities. There's an awful lot of work that we're doing and continue to do around ensuring that the deal between our platform and our drivers is strong for them as well as for us, and striking the right balance there. So I'm involved at the federal, state, and local levels and in dealing with all sorts of issues that come up for Lyft. We have some activity even in Charlotte, where we're helping people who live in food deserts get to healthy grocery stores, helping people who are looking for jobs, and we've helped people get to the polls. These are things that utilize the superpower of our platform to try to do good for the community overall. And we're doing that all over the country.
CM: How has your experience at Lyft, especially after serving as Secretary of Transportation, informed your sense of the need for a diversity of transportation options?
AF: Honestly, from my vantage point, there is absolutely no replacement for public transit. I think there are things that platforms like ours can do to accentuate it; I think there have been, in some cases, things we can do together with transit agencies that complement both services. But there's so much that public transit agencies do that no business would ever do that is nevertheless critically important to our society. So I'm a very strong proponent of transit. Some of my colleagues from DOT—the CTA president up in Chicago, Dorval (Carter Jr.) was my onetime chief of staff. Peter Rogoff, who runs the Seattle transit agency, is a former undersecretary of policy under me. I remain very tight with those folks because the function and the service they provide is still critical, in my view. And I believe that in Charlotte as well.
CM: I ask because that's been one of the more common arguments against investment in transit systems: 'We're doubling down on this outdated technology.' You're saying it's not an either-or …
AF: It's a both-and. And you look at places like Austin, which has passed a massive package. Seattle has passed a massive package. Los Angeles has passed a massive package. And the conversation in Charlotte is very consistent with that. So I think the future for public transit is very strong.
CM: What can be done in a big-scale way to develop more transportation options for suburban, exurban, and rural communities? Because there you have not just the logistical problems but cultural and political ones.
AF: First of all, I think economics need to drive a lot of it. So we have to look at where the job centers are for people in suburban, exurban, rural areas. Where are they going to plug into the economy? If you look at the country, we have, I think, 11 megaregions, almost all of them multi-state, that pick up all of these different areas: urban, rural, etc. And the problem we have with transportation is that we don't plan based on our economy. We plan based on political lines.
In Charlotte, there are, like, five (city and regional planning organizations) in the region, and they're generally aware of what the others' priorities are, but they're not really forced to plan together. From a public investment standpoint, I think that's the biggest missing piece for the country, having these planning organizations that are really deciding, you know, is the highway the most important thing? Is the express lane for transit the most important thing? How do you do that? And I just think that transportation planning is really disaggregated from the economic drivers in regions.
CM: Anything you want to add about the Gold Line or anything else transit-related in Charlotte?
AF: I thought this more than 10 years ago, and I still think it: It's better to have it than not have it. The line that you're getting now is the line we were pushing for: the four-mile stretch and the new train sets, which are 70-foot trains that look and feel just like the light rail cars.
But there are some things that I think we have to watch out for in the future. First, it was always my view that the operating costs of the streetcars should be picked up by the MTC and by the larger region. What Charlotte did, in effect, was to advance the streetcar using local money and write down the cost of the overall 2030 Transit Plan. So … I think at some point the operating costs of the streetcar need to be picked up by the region.
Second, there was a lot of discussion about having tracks in the middle of the road and the streetcar running in mixed traffic. I do think—and did think, and did say—at the time that we should look at dedicated lanes for the streetcar. Safety's a part of that driver, but also maybe giving it a bit of a travel advantage over cars. Hopefully, at some point that can get looked at; it probably would require expanding Beatties Ford Road and Central Avenue.
Third, I'm a little worried about the train station. The streetcar is going to run outside the train station; theoretically, the light rail is going to be inside it. I think that's a mistake. I think it would be far better for the Gold Line to run inside the future train station in the city so that people can easily move from one system to the other.
CM: Do you think that the completion of Phase 2 with just federal and Charlotte money will make it more difficult to get Phase 3 done?
AF: Well, let me put it this way. On its own, yes. But if it is part of a much larger sort of Big Bang approach to getting more of the projects done, I think it makes a lot of sense. I've heard people say, "Well, maybe we don't go out to Central Avenue now because people will not like it," and new leaders have to think about these things differently than we did. But, my goodness, we got the toughest, most expensive part of it done. Now it's just a question of getting it out. I'd love to see it get as far as this new center that they're doing on the Eastland site. I think it would be incredibly, incredibly powerful.
CM: What should elected officials think about when they consider funding for Phase 3?
AF: When you get on a bus to go to the central transfer station, the whole idea is that you can get anywhere in the city on it, and our fixed-rail system should have that same kind of nimbleness to it. So, you know, I think the Red Line should get done. I think the Silver Line should get done. I think if they want to go out to the airport, that's awesome; we should do that, too. But we have to think in terms of the interconnectivity throughout the city.
One of the things that I've always thought about transit is that it's one of the ways in which we have these casual interactions with people that we would never interact with on our own. Had we not done this project, another concern or fear I would have had is that we'd have a two-tier transit system: a bus for the poor folks and fixed rail for everybody else. That's no way to run a city.
Greg Lacour is the incoming editor of this magazine.