Is "Local" Food Dead?
Chefs who do the most local shopping aren't using the term "local" anymore. So who is?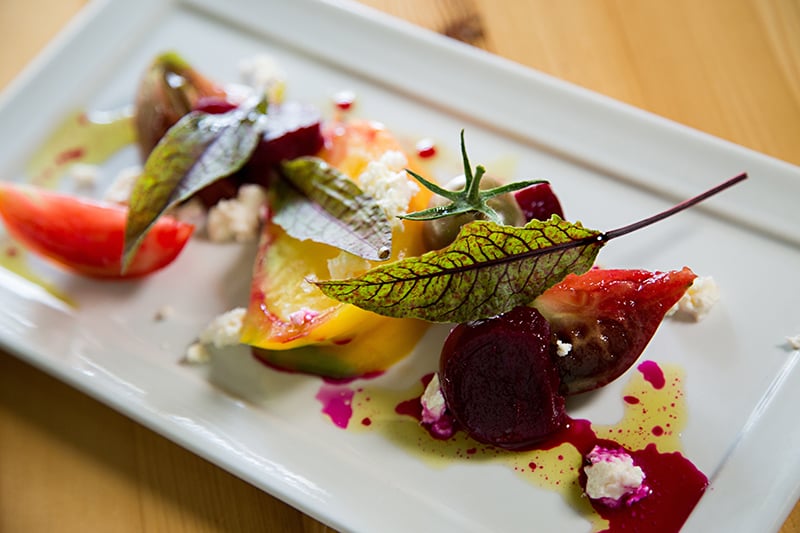 ASK CHEFS at locally sourced restaurants what "local" means at their places of business, and they'll respond with what's not local—a much shorter list. Sometimes, proteins are not just better in price, but also better in quality, when they come from farther away. Other times, what the chefs need is simply not grown here: "What would we be without lemon juice?" Chef Joe Kindred jokes of the citrus acid he uses in most of his food. A few months of the year, there's just not much in season. Even Heirloom, Clark Barlowe's North-Carolina-sourced concept, has to look to Georgia for olive oil.
Chefs at Kindred, Passion8, and The Asbury don't want to use the word "local" because they don't want to mislead customers who expect every item to be from nearby. Yet many restaurants that serve a far smaller percentage of local ingredients plaster the word all over menus and websites and window-fronts.
"That word has just been—I have to be honest with you—bastardized, that word 'local,' " says Jessica Annunziata, owner of Passion8 with her husband, chef Luca. "When I describe what we do and in what style and (in) what vein the restaurant is, we say we source from upwards of 40 to 50 farms at peak seasonality. And I don't even use the word 'local' anymore."
The Annunziatas made the shift to using local products a decade ago, back when their restaurant was a small bistro in Fort Mill. They remember asking Tega Hill Farms to cut the blossoms from zucchini to be served as a dish, a rather surprising request at the time. Stu ed squash blossoms are now on menus all over Charlotte.
Another founder of the Charlotte area's local food movement, Tim Groody, chef and owner of Fork! in Cornelius, says "local" has simply become "a buzzword."
Kindred Restaurant in Davidson serves as much from the community as it can, but also avoids advertising it.
When the restaurants who best fit the description don't want to use the word, one is left to wonder: Who does? And should they? Local, farm-to-table food is one of the most important culinary trends we've seen in decades. On menus around the city, you'll see the word used without definition: Is "local" within 10 miles? Twenty-five? Fifty? The state? The South? Certainly, it can't be a word for a restaurant that sources only its tomatoes from a local farmer or throws microgreens on top of a dish.
Somehow, though, that's what it's become. And it's keeping truly local restaurants from using it.
"People use that word 'local' just to raise prices," Groody says. "It's a way to 'hype' themselves up in a certain way, but in reality it means nothing."
With no regulations on who can describe their restaurants in what way, Groody, Annunziata, and others are le to search for new words that might carry more meaning. To them, sourcing locally is a given at their restaurants. "Utilizing local stuff is just like—that's what we do," Joe Kindred says.
Groody describes his restaurant as "fresh," "locally sourced," or "farm-to-table," but he's moving toward saying "pesticide-free." He buys as many organic and hormone-free goods as he can, yet he worries that labeling his restaurant as such will make the consumer assume it's expensive.
To be fair, dishes at Fork! aren't cheap. Yet neither are the ingredients he purchases. He has to pass some of that cost to his customer. That's what makes faking "local" so pro table: Consumers expect and accept higher prices when they think they're getting a superior product.
"We spend so much effort, and let's be honest, a lot of the time, there's a huge premium for that product," Jessica Annunziata says. Passion8 also sources foods grown humanely and sustainably. "When we are fortunate to find something really special that comes from somebody we've been working with for three years, we're excited about it. We want to tell everybody, and that's why it's just deflating that these other people do not care as much and are just doing it for all the wrong reasons."
At Heirloom, Barlowe gets all of his ingredients, with the exception of lemons and olive oil, from North Carolina. He labels his restaurant: "Sourced locally from North Carolina."
Paul Verica, of Heritage Food + Drink in Waxhaw, uses the term "farm-driven."
Kindred calls his restaurant "ingredient-driven," or a "neighborhood restaurant that supports the community," and despite cooking with Carolina-grown produce and seafood, is afraid saying "local" might mislead the customer.
"I have set boundaries, and if I said I'm a farm-to-table restaurant, then I'm not going to lie," Kindred says. He wouldn't call his restaurant "farm-to-table" unless he got every item from a nearby farm or water source, even in seasons when cost and availability might make that difficult. He simply can't afford to do that—and if he did, his customers likely wouldn't pay for it.
So the restaurants that still use the term are redefining what it means: almost nothing.
"It's frustrating for me, with that, because we really do it," Groody says. "And a lot of people ride the coattails and say they do it—buy from one farmer, a couple items."
To really do it, turns out, means a lot more than simply buying produce. It means building a relationship with a farmer. And that can mean doing favors for each other when the need arises.
Sometimes, for instance, it's in the chefs' best interest to help keep farming pro table by buying ingredients they don't need.
"That means sometimes that you buy 70 pounds of damn plums from somebody because, guess what?" says The Asbury executive chef Matthew Krenz. "They have a whole lot of plums that they don't know how in the world or what in the world they're going to do with—and that's scary when you're a farmer and you have a surplus of something. You're going to lose it. Your crop is just going to be gone."
The relationship is one of mutual sacrifice and mutual gain—except when one side is faking it.
This problem isn't exclusive to chefs and menus. You'll see it in farmers' markets, too, where it's di cult to tell who's telling the truth and who isn't.
We hope to help change that. This month, we explore what "local" means, how to make sure you're truly buying local, and some of the farmers you'll see at the markets on Saturdays. A seasonality guide will help you identify what should be served when. And we hope to give you, reader, the right questions to ask. If you get the right answers, you'll know you're in the right place.
KRISTEN WILE is senior editor of this magazine. Reach her at kristen.wile@charlottemagazine.com or on Twitter: @kristenwile.
---
This article appears in the September 2016 issue of Charlotte Magazine
Did you like what you read here? Subscribe to Charlotte Magazine »
---