Is Philippine Cuisine the Next Big Food Trend?
Trendwatchers say so. Two local restaurants—an old standby and a new arrival—brace for impact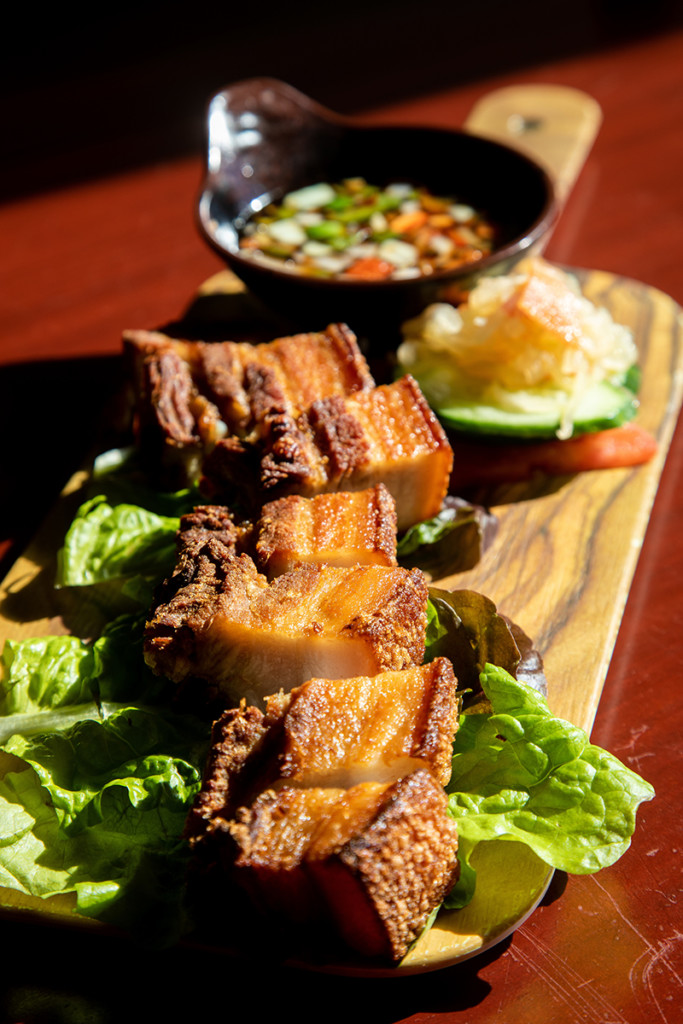 IN MOORESVILLE, almost 30 miles north of uptown, Joel's Asian Grill sits on the corner of a small shopping center not far from Interstate 77. The restaurant's nondescript location belies the interior, which transports customers from Lake Norman to the seaside. A huge shark's head explodes out of a wall painted with waves. A tangle of driftwood hangs over the bar.
Joel's menu is vast, a one-stop shop for Asian cuisine's greatest hits: Thai satay, Mongolian beef, Chinese shumai, Japanese yakitori, Vietnamese pho, and more than 100 sushi rolls. But this tropical restaurant has another draw, and for nearly 20 years, Filipino families traveling up and down the eastern seaboard have made a point to pull off at Exit 35 and ask for Joel's Filipino menu. Now, Philippine food is attracting attention nationwide, and as the trend grows, more and more diners may be requesting this not-so-secret menu.
Philippine cuisine is a fusion. The archipelago, named for King Philip II of Spain, was under Spanish control for more than three centuries. The country was also ruled briefly by Japan and the United States before it gained independence after World War II. One result of this tumultuous and bloody history is a rich cuisine with diverse influences. And because the country is made up of more than 7,000 islands, it's a diversity amplified by regional variation. "Filipino food is a little bit Chinese, a little bit Japanese, a little bit Spanish, but considering all those different ethnicities, we have our own way of presenting our food," owner Joel Jose says.
Amy Besa, cookbook author and owner of Purple Yam, a popular Philippine restaurant in New York, is an instrumental advocate for the island nation's cuisine. Despite the long history of imposed rule, Besa says three dishes were "always ours": sinigang, a savory stew; kinilaw, a raw seafood dish; and adobo, a long-marinated meat recipe that many consider the quintessential Philippine food. The country's cuisine, and these dishes in particular, are known for their distinctive sour flavor, achieved with ample use of vinegar and sour fruits. Jose says, "You'll know when you taste it: This is Filipino food."
Since 2001, adobo, sinigang, and many other dishes have appeared on Joel's Filipino menu. For most of the last 17 years, it's been the only restaurant in the region with a full Philippine menu, and as Jose often points out, it's the only Philippine restaurant in the Carolinas. At least it was—until last November.
A little sandwich board points to the entrance of Bachi, hidden around the corner from a Coldstone Creamery in University City. On a cold Wednesday night soon after opening, the little counter-serve restaurant is warm, and the chefs are busy. Customers sit in booths, waiting for pork gyoza or tataki or, yes, the Bachi poke bowl. Bachi is a family enterprise co-owned by the four Pahang brothers. The youngest, Basilio, handles marketing and social media. His older brothers—Leslie, Levi, and Carlito Jr.—are chefs, each with more than 15 years of experience in some of Charlotte's most popular Japanese restaurants. Basilio's sister-in-law takes orders at the counter; his mom carefully makes egg rolls by hand in the kitchen.
Even though the Pahang brothers were all born in the Philippines, and Philippine dishes are sprinkled throughout the menu, Bachi doesn't advertise itself as a Philippine restaurant. As its name suggests, Bachi plays on its chefs' experience to highlight sushi and other Japanese small plates. In part, Basilio says, that's because there isn't a strong market for Philippine food. "We didn't want to be the staple Filipino restaurant in Charlotte," he says. "It was more so, let's offer Japanese—sushi, hibachi—that everyone loves, and when they walk in, they'll say, 'They do this, too?'"
Charlotte's Filipino community consists of only a few thousand, but Filipinos make up the third-largest Asian minority group in the United States. Still, the cuisine has not gained traction in the way that Thai and Vietnamese food has. Filipina chef Margarita Fores blames a colonial mentality. Other chefs point to a state-backed program in the Philippines to export contract labor, training emigrants to work abroad as, say, nurses or aircraft mechanics. New York-based Filipina restaurant owner Nicole Ponseca argues that the effort has discouraged Filipinos from seeking out riskier careers as artists and entrepreneurs. But that may be beginning to change.
Celebrity chefs, including Andrew Zimmern and the late Anthony Bourdain, and outlets as influential as The New York Times have heralded Philippine food's arrival in the mainstream. Some Filipino-Americans are wary of calling their culture's cuisine a trend: Eater's Francesca Manto, for one, launched a video series to bring more nuance to the hype. But Jose and Basilio—perhaps unsurprisingly—see nothing but good in the growing popularity. Jose doesn't hesitate to say he's excited. "It's a long time coming," he says. "We need to be out there."
Basilio is excited, too, but cautions, "I don't see a Filipino restaurant on every block any time soon." It's a labor-intensive cuisine that takes time to prepare, and it doesn't lend itself well to the quick-and-easy nature of poke bars, for example, which don't even require industrial cooking equipment. Feedback from customers, though, at both Joel's and Bachi, suggests that the trendwatchers are onto something. Philippine dishes appear on the regular menus at both restaurants. "People are ordering Filipino dishes, not knowing they're Filipino dishes, and loving it," Basilio says. Jose says some customers, new to the cuisine, soon develop a taste for even his most exotic offerings, including dinuguan, a pork blood soup. For first-timers, Basilio recommends Bachi's lumpia shanghai, a ground pork egg roll. ("We eat a lot of pork," he quips.) When you're ready for more, Basilio has one suggestion: "Come on Sunday."
Most Filipinos are Catholic, another legacy of Spanish rule. On Sundays, just after Mass, they show up at Bachi, which offers a weekly Filipino brunch. "They come in packs," Basilio says, laughing. The restaurant gets so busy that hungrier customers opt to eat outside, even in the late fall chill. They speak a mix of Filipino and English as the chefs and four kitchen assistants make dishes, rich in citrus and tamarind, from half a world away. The door to that distant place is just around the corner, though, if you know where to look: tucked behind an ice cream shop in University City or on the special menu at an Asian fusion spot off Exit 35. "It's almost like a hidden secret," Basilio says. He pauses. "But it's not a secret."