"It Doesn't Get More Local Than This"
Behind Zio Casual Italian, a garden grows to season the kitchen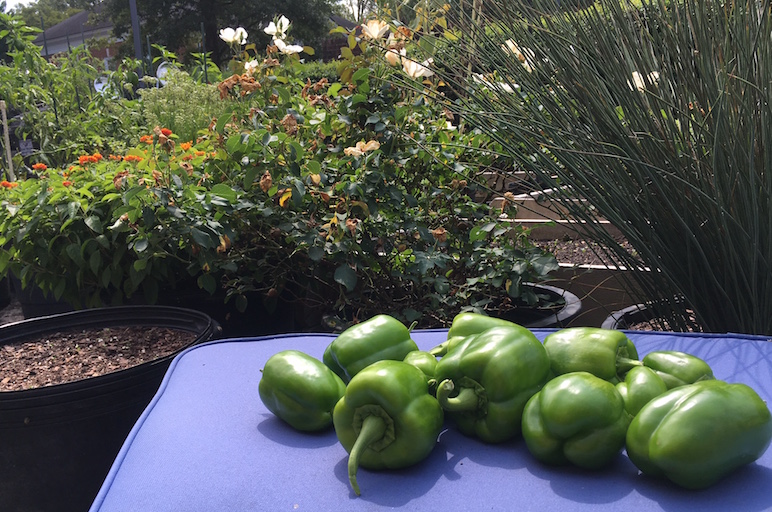 Zio Casual Italian is hard to find. It's off Providence Road, blocked from sight by the Boston Market on the corner. The classic Italian eatery, though, is almost the complement to Boston Market's over-produced, cafeteria-style service. You can see that in a small garden, planted in various raised beds and planters, quietly growing behind the restaurant.
Chef and owner Jim Consol planted the first raised bed more than seven years ago, hoping to supply at least herbs for the restaurant. A few years later, he decided he wanted to do more. "I'm going all in," he thought to himself.
He invested in more raised beds and hired a gardener. The garden has grown significantly since then—especially since gardener Barry Kelly came on about a year ago. The garden is currently in transition to fall, with peppers, eggplants, kale, arugula, Swiss chard, and more popping up in the 250-square-foot area. All of the harvested vegetables will head into the kitchen, often for a nightly special.
"It doesn't get more local than this," Consol says, looking around the garden.
This year, Kelly is trying a few new plantings, including rappini, a leafier version of broccoli. He spends about 10 to 15 hours a week tending to the space, depending on the time of year. This summer, Kelly and Consol estimate they got about 1,100 pounds of produce.
Kelly, who owns Colorscapes Horticultural Services, also holds seminars and demos in the garden. They take place at 5:30 p.m. on the third Wednesday of every month, and most of them are hands on. In August, for example, Kelly had a pick-a-plant class, where attendees could pot any plant they chose.
"I love getting everybody involved," Kelly says.
The next class will be this week, on Wednesday, Oct. 19, and will be a container planting demonstration. Those who wish to attend can call and RSVP to the restaurant. Many guests choose to wash their hands and stay for dinner. Regulars at Zio are also invited to attend a Harvest Dinner each October, supplied mostly from the garden. The dinner takes place in the restaurant's beautiful, greenery-surrounded courtyard. But you don't have to attend the dinner to get a taste of the garden—sit outside on any night, and you can see lettuces growing, while you sample the garden's bounty.