Italian Pasta Bar Coming to 7th Street Market
Zia Pia is expanding to include a hot foods bar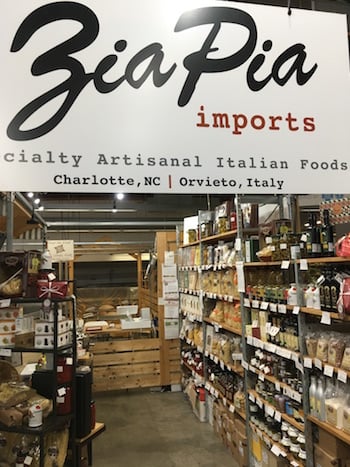 Zia Pia imports will move to the back of the 7th Street Public Market later this month to add a hot pasta bar, among other things, to its Italian offerings. Owner Victoria Zabel says she hopes to be open in the new space, previously occupied by Meat & Fish Co. and What's Your Beef?, at the end of the month, but construction delays may push that date back.
Chef David-Michael Sprowles, who came on board to help launch this new food service aspect of Zia Pia, will cook with the same tomatoes and pastas Zia Pia sells. Expect a spaghetti with sugo, a tomato sauce, for example, topped with fresh parmesan cheese or a house-made pesto. There will also be additional pasta options, salads with locally-sourced veggies, and rice dishes. There will also be a selection of paninis, some making use of the Italian jams sold on Zia Pia's shelves, and cured meats and cheeses from Italy. Aside from grab-and-go, Zia Pia will sell frozen items, such as lasagna, to those looking for take-and-bake meals.
The pasta bar will act as an anchor for the back of the market. It's covered in reclaimed shipping pallet wood, a fitting design piece for this Italian importer. There will be a few bar seats and cafe tables, and Zabel says that the expanded retail and kitchen spaces means she can host more olive oil tastings, events, and conversations with producers. Zabel and Chris Clouden, director of the market, hope the aromas from the deli will draw customers, who otherwise may have turned around after buying their coffee or juices, into the back part of the market. There are no plans yet for who will take the soon-vacant stall near Assorted Table Wine Shop.
Zia Pia imports, named for Zabel's late Aunt Pia (zia translates to Aunt in Italian), opened in the market in 2014 as an eight-by-eight foot square stall toward the back of the market. It expanded to take over the space vacated by Bar Chocolate in 2015, doubling in size. Zabel brought in products from Italy with help from Riccardo Manieri, a family friend who works as a chef there. The pastas, olive oils, tomatoes, and chocolates became popular among market shoppers, and soon, Zabel wanted to give her shoppers the chance to order the food already cooked for them.
"Our food is different from industrial—it's a food that wants to be tasted and wants to be experienced," she says.
Zabel knows this because she has tasted each of the items Zia Pia brings in from Italy, and, often, has met the producers of the products. If not, Riccardo has—whether in Italy at the producers' estates or at food shows in Italy, New York, or San Francisco.
"We definitely have very personal relationships with all of our producers, and that's the way we wanted to do it," Zabel says. "When we say I'm an importer, it sounds like, 'Oh wow, that sounds really big.' We are a small, boutique importer. We work with smaller producers. They're focused on quality, not quantity, as are we."
Even with the move, Zia Pia's new space is just over 800 square feet, including a kitchen, dry goods area, and counter space. What isn't imported from Italy will come from local producers, organic whenever possible—as it would be in Italy.
"Italian food is so simple, and this ethos of Italian food is quality of ingredients," Zabel says. "Go to Italy, talk to them. What is everybody talking about? They're talking about what they had for dinner, and how they made it."
Of course, there's no need to tell family and friends that the straight-from-Italy lasagna in your oven only required you to bake it. And they'll certainly want to borrow the Italian tradition of telling their friends about it.