James Beard Award-Winning Chef R.J. Cooper Hosting First Pop-Up Dinner
Chef R.J. Cooper will create a progressive tasting menu in first dinner since moving to Charlotte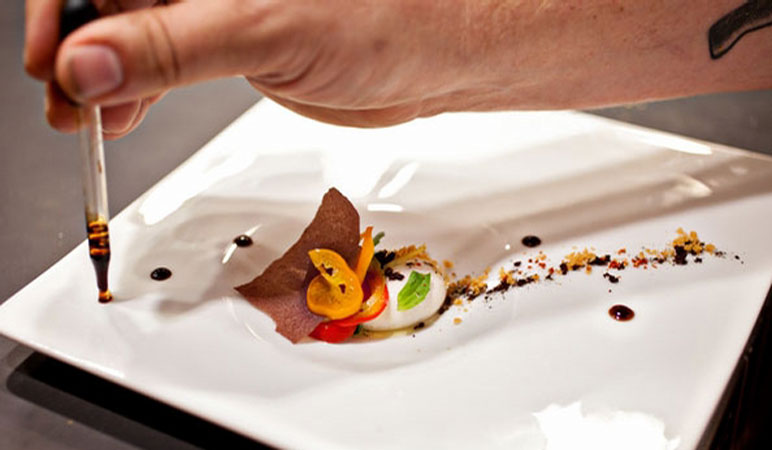 Editor's note: This dinner has been cancelled. According to Chef Cooper, it may be rescheduled for sometime in March.
R.J. Cooper, a James Beard Award-winning D.C. chef, is hosting his first pop-up dinner since moving to Charlotte earlier this year. Cooper will overhaul the Marriott City Center's culinary program; the property has been renovating its ground floors and will reinvent its restaurant.
While construction continues and the details of the new concept are finalized, Cooper is hosting a series of pop-up dinners to introduce the city to his modern culinary style. The series, |jərnē|, will serve "progressive tasting menus that will challenge your senses and delight your palates," according to an announcement about the pop-ups.
See Cooper's most recent iteration of the full menu below. It's okay if you don't know what half of this means—we don't know it all, either. Welcome to the wonder of Chef Cooper.
airbread|dehydrated tomato|black olive|chive blossom
pickled pigs feet|muscadine gelee|rye|skin
smoked trout roe|cauliflower brandade|ice lettuce|ash
lamb kibbeh|root beer leaf|whipped sheep's yogurt|sumac
ossetra caviar|kelp chawaunmushi|little brioche|caper gel|sea grass
catalina island sea urchin|preserved tomato jam|yuzu gel|squid ink sponge
preserved hen egg|date|puffed black rice|sweet white onion veloute
marble potatoes roasted in their soil|pocini pudding|white truffle gelato|veal fibers
wreckfish|bitter herbs|j-chokes|smoked hay-syrah
white pekin duck|gourd|persimmon|fermented barley butter|quatre-epices
​60 day dry beef calotte|piopini mushrooms|daikon|umami-buffalo butter emulsion
adante milange|black truffle coulis|rolled oats
bananas from the embers|preserved blueberry|cashew|blue basil
devil's food cake|white chocolate|peanut brittle|hot chocolate
​happy endings|small bites|little things