James Beard Foundation Hosting Charlotte Chefs in NYC
Prestigious Beard House dinner will take place in April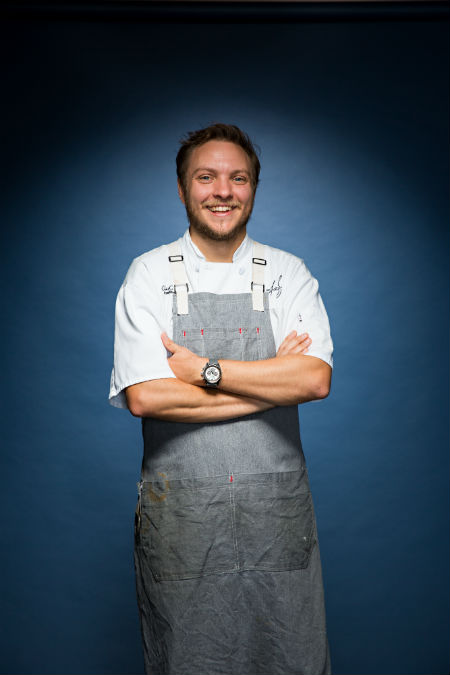 Are we there yet?
Certainly, Charlotte must be close.
There have been James Beard Foundation events, like the Celebrity Chef Tour dinners at Bonterra. The South's most well-known and well-respected food writer, John T. Edge, came to town to moderate a discussion between chefs. Heritage chef/owner Paul Verica was mentioned in a New York Times piece about preserving local produce. Kindred Restaurant was ranked among the top 10 best new restaurants by Bon Appétit.
Do you see us now, food lovers? Because we sure are trying. And there's been an exciting development in that effort.
The Beard House in New York City will host four Charlotte chefs for a dinner on April 16. Ashley Boyd, Chris Coleman, Blake Hartwick, and Verica will be representing our city in a collaborative dinner, along with mixologist Bob Peters, who will be on hand to make cocktail pairings with two of the courses.
It may not help us win a James Beard Award, but we're trying anyway. We're ready.
"In almost the 15 years I've been cooking here, you've got the most activity of chef-driven and chef-owned restaurants that I ever recall," Verica says. "And I think it's just, it's awesome. I think that's what's driving it, I think that's what's making people want to pay attention and make everybody else pay attention to what we're doing."
Hartwick, now executive chef at Bonterra, has done this dinner once before. While executive chef at Something Classic, he traveled to the city with chefs Alyssa Gorelick (then of Fern) and Marc Jacksina (at the time with Halcyon) back in 2011 for a James Beard House dinner.
This year, he says, the chefs will represent a different Charlotte, thanks to chefs such as Verica and Tim Groody who increased our restaurants' relationships with local producers.
"A lot more restaurants are on board with being in the loop with a lot of farmers—like, ten-fold [more]—than they were even five years ago or six years ago," Hartwick says. "I think that's probably one of the biggest [changes]… . I think it's just become a culture now that's set some pretty good standards for Charlotte."
Those farmers are helping to make this a standout event, with several working to grow specific items for the chefs to bring along. Coleman, executive chef at The Asbury, hopes bringing such quality goods will help their meal become more memorable.
"Charlotte has started to come onto the national scene a little bit in the past year or so and started to get some recognition. We really wanted to make a splash," he says. "People who come to these dinners are either friends of the chefs or they're members of the [James] Beard Foundation. And we're like, 'What can we do that's going to make them really remember Charlotte?' "
Another standout idea: asking Peters to come along. The Punch Room's mixologist will be making two cocktails for the evening; the chefs are usually asked to provide wine pairings. Peters says he'll serve an aperitif while guests enjoy the appetizers, something slightly bitter to "wake up everyone's palate and get them ready for dinner."
Each chef will create one passed hors d'oeuvre, and each will create their own individual course (Boyd, pastry chef at 300 East and Heritage, will cook dessert). All of the chefs will work together for the final entrée course, which will also be paired with a cocktail.
Tickets will be on sale on the James Beard Foundation's website, but the chefs will also do a ticketed dinner here in Charlotte to act as a test run for the April date. Tickets for the preview dinner, which will take place on February 28, are on sale now. Several have called this a "once-in-a-lifetime" opportunity, and they want it to go as smoothly as possible. After all, they're representing this city, and dang it, it's about time somebody paid attention to it.
"You think you have something great going, then it sort of fizzles, doesn't take off," Boyd, who grew up in Charlotte, says. "So it's good that we're going to do [the dinner] again, and I do think that the culinary scene at this point has reached critical mass. …There's a lot of momentum, and I think that being able to do this is a really good indicator of that."