John Tosco's Love Songs
Three decades ago he moved to Charlotte searching for a way to make music fun again. Now he has thousands of people singing with him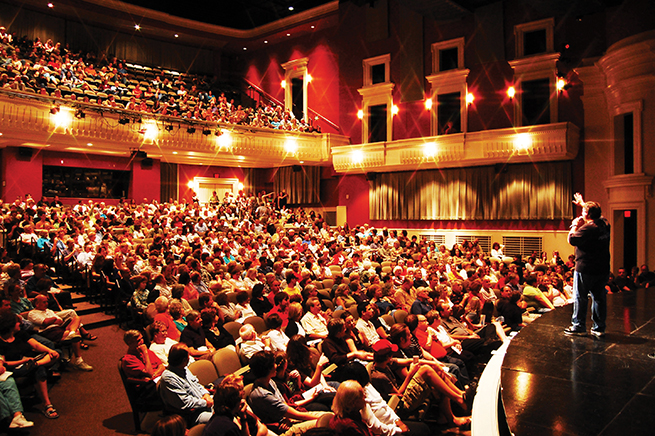 A small lineup of singers faces the stage at The Evening Muse, where a drummer, bassist, and two guitarists wail through a cover of "Hey Jude." Red lights illuminate the exposed brick behind them. Familiar chords fill the small NoDa club. But there's no audience. It's a Sunday afternoon in June, and the Muse is closed.
All the band members keep an eye on the guitarist at stage left, a goateed man in striped track pants and a Beatles T-shirt. He's strumming with his whole body, the way kids do when they think no one is watching—mouth open, brow knit, one fist raised as he shouts: "Don't you know that it's just you!"
John Tosco has loved the Beatles since he was 5 years old and saw them on The Ed Sullivan Show. He used to play "She Loves You" on a cardboard guitar in a friend's basement, lip-synching and strumming the air.
Now he's rehearsing for the 10th-annual Tosco Music Party Beatles tribute, part of a series of quarterly concerts he created more than 25 years ago. The music parties are an indie-music institution in Charlotte, so popular they often fill a 1,200-seat hall, with a roster of performers that has included everyone from American Idol contestants to The Avett Brothers.
"There's a huge following," says Ryan Deal, senior program director for performing arts at the Arts & Science Council. "They're providing a platform for local and regional talent, but they're also packing the house with audience members who want to participate."
Tosco is a teacher, a mentor, and a cheerleader for Charlotte musicians, the man they call for advice and the man who probably introduced them to their bandmates. He discovers new acts and persuades veterans to perform for free. He'll encourage anyone with a desire to perform, and he'll strum along with the shy ones so they don't feel alone.
During the rehearsal, the door to the Muse swings open to let in a little daylight. A man and a woman walk in. The man starts bobbing along to "Twist and Shout." When he realizes he's dancing alone, they leave.
Another couple wanders in. They're so engrossed in "Ticket to Ride" that they don't immediately notice the emptiness around them. Eventually, they explain their intrusion: They heard live music, and they couldn't help themselves.
Tosco grew up in Parkton, North Carolina, near Fayetteville, where his dad retired from the Army around the time Tosco discovered the Beatles on Ed Sullivan. A nun named Sister Cecilia began teaching Tosco to play the guitar when he was 8. Within a year, he performed in the school talent show and wrote his first song. Then he was teaching Sister Cecilia how to play bar chords. By the time he was 12, his parents bought him a Martin guitar. "I was a ham," Tosco admits, and his mom was his biggest fan.
She arranged gigs for him at the hospital, the psychiatric ward, the nursing home, the VFW, the Kiwanis club—wherever they would have him. At 14, he was offered a job teaching at a youth center at Fort Bragg. He couldn't drive yet, so his mom, Ann Marie, would shuttle him to gigs and lessons. She always wanted him to play old standards, like "Makin' Whoopee" and "King of the Road." Watching him perform at a bar or a lounge, she would signal him with a hand to her ear or to her mouth: Louder. You're not talking enough. You're talking too much.
In his teens and 20s, Tosco kept teaching to pay the bills, but his real dream was to be a rock star. For two years, he attended the Berklee School of Music in Boston. Then he ran out of money. So he moved to Denver, where he founded the Wild River Band. It was a country-rock band. Members had long hair and played mostly covers to please the bar crowds. By the early 1980s, Tosco says, it was one of the hottest bands in Denver.
The band played five or six nights a week, traveling to state competitions and performing at the Grand Ole Opry in Nashville. But something was missing.
Before, music had been Tosco's relief valve, the thing he did to feed his soul. It was never supposed to be a chore. Now the joy was gone. He got up in the morning and was required to entertain. "I was always 'on,' " he says. "Playing music got to be like a job for me."
So Tosco left the band and moved to Charlotte. His wife wanted to be closer to family. Their first son, Justin, had been born in Denver, and suddenly Tosco felt old. He no longer had any illusions about being a rock star.
He started teaching guitar lessons at the Community School of the Arts and at Central Piedmont Community College. And around 1985, he and his wife began inviting friends and students to jam sessions at their house. He wanted music to be fun again.
"Are you ready to keep the party going?"
Tosco, in a black collared shirt and jeans, paces back and forth across the stage at the Dale F. Halton Theater, microphone in hand. He's taking his time, spinning a story, eager to capture the audience. He gets a low roar of applause, some half-hearted "yeahs."
"Are you ready?" he asks again, his voice rising.
The cheers and screams swell. It's the April 2013 Tosco Music Party, the last act before intermission. Distinguished older gentlemen in bright-blue blazers are setting up onstage.
They have a drum kit and a saxophone player and are tuning their electric guitars.
"Well, let me tell you," Tosco continues, "that this next gentleman I've known has lived in Charlotte for many years. Many people don't realize he's a Charlotte resident."
More cheers.
"But we all know his music. …The legend, the one and only, Maurice Williams and the Zodiacs!"
And now the crowd is on its feet. A doo-wop king with gray streaks in his hair is swaying his hips in front of them. Williams wrote the 1960s classic "Stay." He wrote "Little Darlin'."
And here he is, in an auditorium at CPCC, jiving, preening, mumbling in that somewhat incoherent but familiar way: "Little darling, oh-oh where a-are you?"
Justin Tosco and his two siblings grew up with the music parties, falling asleep on the living room floor, lulled by whatever James Taylor or Earth, Wind & Fire song the crowd was strumming. In the early days, a hundred people would show up at the Tosco house with drinks and food and acoustic instruments. They wouldn't leave until 2 or 3 o'clock in the morning.
By the time Justin was 6, he was playing the Beatles' "I Should Have Known Better" on the guitar. "I was like, 'Yes! I can finally play at the music party,'" Justin says now.
His brother, Nick, started banging on pots on pans when he was 5, so his dad bought him a mini drum kit. Tosco taught his youngest, Hannah, to play the piano, and she later played bass. Justin started writing songs and formed a trio with his brother and sister when he was 13.
By then, his dad's music parties had gotten so big that they outgrew the house. The parties relocated to a VFW hall in Derita, north of uptown. Local blues legend Donna Duncan remembers seeing Justin Tosco there when he was 14, singing a song he had written. "It was pretty amazing for me, not coming from a family like that and seeing how they were such a family," Duncan says. "I think that's what lured me. Not just the music but the community of it, the family feel of it."
That feeling became a hallmark of the music parties. During performances, it's not uncommon to see gray-hairs swaying in the front rows and young kids rocking out in the balconies.
Between every few acts onstage, Tosco and the house band lead a sing-along number. Row upon row of hippies and hipsters stand up and belt out songs as if they're in summer camp. Tosco makes sure to select hits that most people will know—"Mrs. Robinson" or "Ho Hey." The act of communal singing changes the mood in the room. It relaxes people. It lowers their defenses. It lets them know what the music parties are really about. "This is not performing; this is not a job. This is being joyful," Tosco says.
His kids absorbed the message.
After discovering their trio was a hit at the junior high school talent show, they asked their dad to help them pursue music professionally. He booked them for paying gigs at festivals and bars, ferrying them around with the same ferocious enthusiasm his mom had shown him. "My brother made a joke that my dad would've booked us for a festival for the deaf," Justin says.
Their band, justincase, cut a demo in high school. Tosco put it in the hands of a music attorney, who helped them break out of North Carolina, performing at showcases for different labels in Atlanta, New York, Las Vegas, and Los Angeles. In 2001, when Justin had just graduated from high school, they were signed by Maverick Records, the record label Madonna cofounded.
Suddenly, Tosco's kids were being groomed for pop stardom. They opened for the Goo Goo Dolls, toured with Michelle Branch, hung out backstage with Alanis Morissette. And Tosco missed most of it.
His wife toured with the kids. Hannah was still in high school and needed a female chaperone. Also, the family relied on the earnings from Tosco's music lessons to pay the bills. He stayed home, taking care of the dogs, waiting for phone calls from his kids. "It was hard for me because I wanted so much to be there with them," he says, sitting in the waiting room of his music studio, where one wall is decorated with newspaper articles and photos of his kids.
"But…" he pauses, and the silence stretches. It's a rare break in his habitual cheerfulness.
After three years on the road, Maverick Records dropped justincase. Tosco was eager for them to sign with someone else. "Let's keep up the momentum. … We can still get that hit single," he urged them.
But Justin was finished. Living out of a suitcase, being away from friends—it was not his idea of fun. He was also ready to go to college.
"And I'm saying to them, 'No! Don't go to college. Let's get that single; let's get another record deal,'" Tosco laughs now.
But off they went to UNC Chapel Hill. Justin became a Montessori schoolteacher. Nick studied to become a lawyer, and Hannah became a registered nurse. For years afterward, the kids would tease Tosco that all he wanted was for the band to get back together. "But they're happy. That's what makes me happy," he says.
When justincase broke up, Tosco devoted even more of himself to the music parties. His marriage ended, and for a long time, the quarterly concerts filled the holes that his wife and kids left behind. "I was thriving on it," he says. "It was, you know, the happiestpart of my life, doing my teaching and the music parties."
Griffin Hazzard arrives for his lesson at the Tosco Music Studio with a prized new possession. "It's got that new-guitar smell," Tosco says, breathing in the $900 instrument. "Congratulations, young man."
They're sitting in a strip-mall office in east Charlotte, next door to the Glory and Power International Worship Center and across Albemarle Road from Iglesia Pentecostal y Tabernaculo de Benedicion Inc. It's a spring evening, warm outside and air-conditioned inside. Shelves of CDs and tapes surround them. Behind Tosco's desk is a wall that's covered with instruments—electric and acoustic guitars, a mandolin, a banjo.
Griffin has been studying guitar for about five years. The floppy-haired, 15-year-old Myers Park High School student is still getting used to holding the instrument. He's all arms and legs and thick fingers. As he starts to find some chords, Tosco strums with him, singing along to help him keep his place in the music. "G, G7 … where's the diminished chord?"
They launch into "The Girl From Ipanema," a seductive, Brazilian bossa nova classic that requires serious finger-picking skills. "We won't have time to really play it today," Tosco says, "so we're just gonna discover it."
This is the essence of Tosco's teaching philosophy. He encourages students to play their instruments a little every day, not practice them. If they make a mistake, he instructs them to keep going. "He really puts himself in my shoes and just, like, learns alongside me," Griffin explains later. "It's just kinda like going and jamming with a friend, I guess. But you're learning."
In 1999 Tosco Music Parties incorporated as a nonprofit. It got a board of directors and eventually moved the shows to the Halton Theater at CPCC. Volunteers helped make sure the performances went smoothly—selling tickets, ushering people to their seats, hawking snacks at intermission. Still, there are no paid employees, and Tosco does most of the grunt work. He finds or recruits gospel singers, barbershop quartets, singer-songwriters, a rare double-necked-guitar player, a 13-year-old classical pianist. A typical music party has 16 acts and, in 2013, cost $17 per ticket. No act, aside from the house band, is paid to be there. Bands perform for free because they are attracted to the camaraderie, the exposure, and the chance to sell reams of CDs at intermission.
For years, Tosco's mom, Ann Marie, drove to Charlotte from Fayetteville to attend the music parties. She understood their essence, having spent decades singing along with her son.
"She couldn't carry a tune, but it wouldn't stop her," Tosco remembers. "And that's the whole point of the music party."
As her health deteriorated, Ann Marie could no longer handle the long drive to performances. So John would drive down and sing in her nursing home.
In October 2012, Ann Marie Tosco died. John and his best friend spent 24 hours creating a video in her honor to show after the funeral. It opens with a scene of Ann Marie propped up in bed, wearing a bright-purple shirt and breathing tubes in her nose.
Tosco is beside her, his face close to hers. "What are we gonna say, Mom? Let's do it together."
They start singing a modified version of the Beatles hit "When I'm Sixty-Four."
"Will you still need me, will you still feed me, when I'm 84."
"Ta-da!" he finishes. She laughs, and he kisses her cheek, saying something that can't be heard on the video.
"I love you back," she says.
At the end of the tape, mother and son are singing again. This time they're in the nursing home's courtyard, with the sun streaming behind them. Tosco sits close to his mom, strumming the guitar softly. Her lips are moving, the words barely audible, but Tosco helps her out. "Blue moon," they sing. "Now I'm no longer alone/Without a dream in my heart/Without a love of my own."
The day before the July 4 holiday weekend, a small crowd gathers in a circle of chairs at The Evening Muse. Some people cradle guitars; some order Cokes at the bar. Two young girls in shimmering red flapper dresses sit by the stage.
Justin Taylor, a South African-born singer-songwriter, strums idly nearby. He's played at the music parties before and is full of praise for Tosco—the kind of guy, Taylor says, whom you can call for advice and get 20 minutes of pointers on what songs to play to please a crowd. "He's a real servant to the music industry here," Taylor says. "He's very selfless. He's always about lifting up-and-coming people and letting them shine."
As if on cue, Tosco appears, guitar in hand, taking his seat at the head of the circle. "Hey, guys!" he calls out and launches into The Monkees' "I'm a Believer."
This is the monthly open-mic night known as the Tosco House Party. All ages are welcome, as long as they pay $3 at the door. Tosco always warms up the crowd with a sing-along.
("If he was working a cubicle job at a bank and there were 10 people around and an instrument, he'd be doing sing-alongs," his son Justin says.)
Events like this help build a fan base for the Tosco Music Parties, and vice versa. This year, Tosco Music Parties got its first $5,000 grant from the Arts & Science Council and is using the money to develop a strategic business plan. Board members want to increase revenue (80 percent of which came from ticket sales in 2012) and give out more music scholarships. This winter, the music parties will relocate from CPCC to the Knight Theater, in the heart of uptown. Tosco may even get a paid administrative assistant. "A lot's not been getting done because I want to have a life," he says.
Back at the Muse, the sing-along circle grows. The event will sell out by 9:40 p.m. But for now, Tosco is still warming up the crowd, urging it to belt out "Stand By Me." He's strumming and tapping his foot, shouting over the growing din: "Everybody sing it!"
Lisa Rab is an associate editor at this magazine. Reach her at lisa.rab@charlottemagazine.com or on Twitter at @lisayrab.