Joy by Design
The co-owners of Circa Interiors & Antiques on how their designs help foster a relaxing, nurturing environment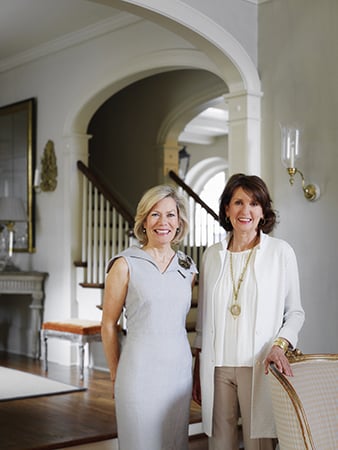 Whether you speak to Jane Schwab or Cindy Smith, their design advice will be the same: "Celebrate and enjoy your home." The co-owners of Circa Interiors & Antiques take this to heart throughout their designs. It's also what they inscribe when asked to sign their book, The Welcoming House, published last year.
How would you characterize Circa's aesthetic?
Cindy Smith: We are classically inspired with an eye on the new and the now. We're not caught up in the latest trend, but certainly we like to bring things from the current day into our timeless interiors.
Jane Schwab: When we design, we're thinking about function, practicality, and how a family lives and entertains, and then we want it to be beautiful at the same time.
How do you balance the classic and new?
Schwab: A lot depends on the client. They come to the project with a collection of things, whether it's family pieces or pieces they have acquired that they love. We incorporate those pieces by balancing them with new artwork, interesting accessories, and thoughtful fabric selections.
Smith: We're very careful in all of our selections to buy things that have lasting value either for their beauty or the material that they're made of…It helps create a more timeless interior.
How do you approach designing for a home?
Smith: We try to start with an overall plan, although we're always open. We like to instill a spirit or a mood into a room that makes people feel welcome.
Schwab: During the process and planning, we want to get to the point where we go, "Ooh, I love that!" Then we know we are accomplishing our goal. Whether it's a combination of colors or the furnishings, we want to elicit an emotion.
Cindy Smith used purple accents to design this rustic-yet-casual porch.
Why does your approach work so well?
Smith: When there's no editing, there's no calm. Everything cannot be the star of the show. With a plan in mind, you know what your focus is going to be and what is going to the big player in the room.
Schwab: And you can keep your clients from making costly mistakes. The layering process is very important and needs to be well-edited. That's a real collaboration between the client and the designer. You want things that are going to bring them joy and pleasure. If you have too much, then your eye never gets to rest, and you can't appreciate the beautiful things that you do have.
You have been working together since 1988. What do you each gain from the collaboration?
Smith: When you work with someone who has the same goals that you do, the same inspiration that you do, and what you are trying to achieve is basically the same, it allows you freedom to really express yourself knowing that the other person will allow you to go with it and then rein you in when it's time. They can help you give the best of yourself.
How did publishing The Welcoming House affect your design work?
Schwab: It reaffirmed our commitment to what we do: creating comfortable, beautiful homes.
Smith: The response to the book renews our belief that people want their homes to be a place that can recharge and refresh them at the end of a busy day.
Schwab and Smith's book, The Welcoming House, was published last year.
What trends do you appreciate right now?
Schwab: Great contemporary art. There are many artists today doing really interesting things with color and composition.
Smith: And that art can make a house current. When you liven things up with something contemporary, it keeps you current and fresh.
Schwab: That balance is what's so great.
Smith: Nevertheless, be careful to look at a trend for what it is and not invest a lot of money. There's always a place to be adventurous as long as you're careful not to over-spend.
What one quick tip for summer entertaining would you offer?
Smith: Never underestimate the power of presentation. It can be good food from a takeout place—if you present it beautifully, people feel special.
Schwab: If you are the hostess, let your guests see that you are enjoying yourself. When they see you relaxed, then they also have more fun. They leave with a wonderful feeling. That's what it's all about; it's about creating moments and special memories with your family and friends.