Just Jane
Five years removed from scandal, United Way of the Central Carolinas has remade itself behind the leadership of not-so-secret-weapon Jane McIntyre. But are United Way and McIntyre equipped to connect with the Kickstarter generation?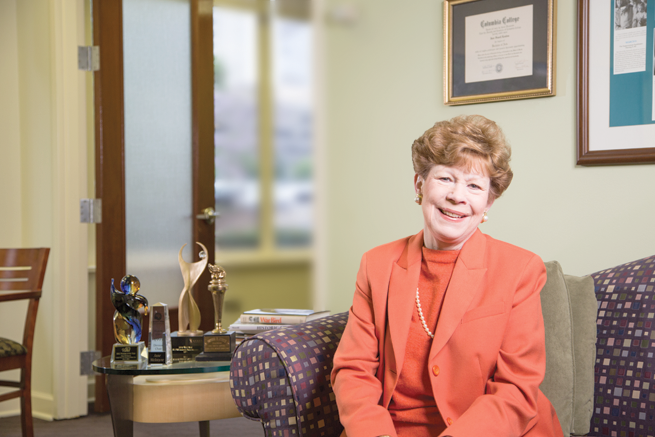 Jane McIntyre accepts the $75,000 check printed on a huge posterboard and pretends it's too heavy for her to hold. People probably pull that same gag at ceremonies where giant checks are passed all the time, but when McIntyre does it, it's actually funny. The crowd of 100 giggles. The attendees giggle when she waves a copy of her speech in the air. They giggle when she makes a show of stepping out from behind a podium nearly as tall as her. Even though it's a regular workday afternoon in February, the drab second-floor South Brevard conference room feels like a cocktail party, with McIntyre, executive director of United Way of the Central Carolinas, the hostess who knows how to make all of her guests feel wanted and appreciated.
McIntyre just told the room that 33,000 donors gave $100 or less to the United Way's campaign and reiterated her belief in the importance of broad support from small donors. Still, the nonprofit is just shy of reaching its annual campaign goal. But today is Big Check day, when suits from Duke Energy, Bank of America, Family Dollar, and Ingersoll Rand are delivering $35,000 to $75,000 each. That means meeting the lofty campaign goal of $21.2 million. That means McIntyre, 65, has done it again.
"Now maybe some of us can get some sleep at night," she tells attendees at the end of the ceremony. They giggle.
Don't think for a minute that she's talking about herself.
If you played hooky during the last company-wide United Way session at your office, here's the cheat sheet: the United Way is an umbrella agency in the nonprofit world, meaning it raises money for smaller agencies that often can't afford to have full-time staff members work on fundraising and other needs. In 2012, the local chapter gave $16.5 million to 87 area agencies serving vulnerable populations, such as people in need of emergency housing or mental health care. The chapter says 352,000 people in its five-county region, many of them children, received a service from a United Way-funded agency in 2012.
My first sit-down interview with McIntyre was canceled when she slipped and fell outside her home the night before; she needed to spend the day at doctors' appointments, and she needed to soothe two painful black eyes. She still carved out an hour and a half to speak with me by phone.
"Do not try to deadhead your pansies in the dark," came the drawl when she picked up the line.
McIntyre is that Southern woman, the one many Northerners believe exists only in books: the kind who knows her colors (good luck spotting the titian-haired McIntyre in anything other than creams, ambers, and golds) and tells charming anecdotes about her grandma (the dirt-floor laundry room where she washed church linens, the homemade biscuits delivered to the home-bound). And there's one more thing about this type of woman: she takes zero crap.
In 2008, when news broke that McIntyre's predecessor was making $365,000 a year plus benefits including a luxury car and a retirement fund worth millions, the United Way's name became associated with gross mismanagement across the region—and the public was outraged to learn the board had rubber-stamped everything. As if that weren't enough to send the nonprofit's donations into a nosedive, a few months later, the financial crisis hit—in a banking town.
"The community was angry," says McIntyre, who was head of the YWCA, which was partially funded by the United Way, "and they took it out on the staff, who were innocent."
Angry is a fair word, but it was more than that, something that in Charlotte is even worse: national embarrassment. Our comparison-wired city had long taken great pride in the local chapter, touting that ours was one of the top fund-raising United Ways in the country. Suddenly Charlotte had an ugly headline that played out for months; even today, when you're typing United Way Carolinas into Google, the search engine helpfully auto-suggests the word "scandal." McIntyre was signing up to not just fix a nonprofit in shambles but to help rebuild a piece of Charlotte's ego. The feat seemed improbable.
But to wonder why McIntyre would want the post is to not know much about how she operates. McIntyre cut staff. She cut the budget. She took a salary of $142,000, which has not changed. She went around the building unplugging unused appliances. She untangled even the tiniest bits of red tape. Her first week on the job, she tried to send a staff-wide email. Her computer couldn't do it. She asked her assistant for help. Her assistant couldn't do it. They called in tech support. Tech told her the staff-wide email option had been disabled. No one was allowed to use it.
"And here I was thinking I'd been hired to be in charge," she says, laughing.
The email story is a favorite of hers to tell. McIntyre knows that being genuine while being strategic isn't contradictory. It's all part of her leadership style: Be honest and people will see that earnestness in you; at the same time, there's no need to bore them.
Of course, with the damage done to the United Way, bureaucratic IT rules were the least of the challenges.
McIntyre was signing up to not just fix a nonprofit in shambles but to help rebuild a piece of Charlotte's ego. The feat seemed improbable.
Historic social change swept through the United States in 1968, though it wasn't completely trickling into small-town South Carolina, where McIntyre graduated from Columbia College that year.
"Back then, there wasn't much for women to choose from. Music director? Nurse? Teacher?" McIntyre says. She went with teacher, focusing on special education as her husband's career in the Air Force took them to places like Maryland and Nebraska. After the birth of her first daughter at age 24—she'd have three girls in fewer than five years—she stayed at home and then mixed in some part-time work.
As she was sorting out how much she wanted to be at home with the kids and how much she wanted to be at work, the family moved to Charlotte. But something else happened too. When she arrived home from the hospital after the birth of her second child, family members immediately noticed a large bulge in her neck. She went to have it checked. A doctor walked into the exam room and, without even touching her neck, said, "that needs to come out."
Although she'd been raised with religion, cancer at 27 gave her faith.
"It should have been the worst time of my life, but it wasn't, because I realized the power of faith then. Faith transformed me. Cancer forced me to grow up and no longer be a little girl; I think you're still not quite grown up in your twenties. I didn't take one day for granted after that. You've got to live to the max. One day you look up and say: It's time to go to work."
Sales rep for ladies' apparel. In business with a friend. Junior League. Church vestry. Her first financial gift outside of church, in 1976, was to United Way.
When all three girls were in school, she decided to run for the Mecklenburg County school board.
"A little weird, I know," she says. "I knew people would think I was crazy, but my husband didn't." She was elected countywide in the 1987 nonpartisan race and was on the board more than eight years, serving as vice-chair.
A 1987 article in The Charlotte Observer describes the day McIntyre filed for a school board seat for the first time as "a scene resembling a political convention … More than 75 supporters waving signs, wearing placards, and holding balloons chanted 'Jane, Jane' for several minutes before she filed."
After she won the race, a story included quotes from runners-up, who admitted they would mimic McIntyre's campaign in the future to avoid being beaten again. She'd organized early and worked hard, the article noted.
She worked at a bank. She began volunteering at Charlotte Memorial Hospital (now Carolinas Medical Center), putting the girls on the bus and then heading to the hospital.
"I cannot believe I did this," she says now in an incredulous voice, "but I called up the hospital CEO and said, 'I want to work for you.'"
You have to wonder whom the incredulous voice works on: Ashley Wilkes? The Tarleton twins? McIntyre seems to unfailingly go for "it," whatever "it" is in the scenario, and her drive and success surprise no one who's worked with her. But her incredulousness is real. It's as if she's the movie character who can't believe how life is unfolding; we're the audience in the theater calling out, Of course you got the job at the hospital. Of course you ended up working for the health-care foundation. We knew you would!
"That's where I learned about fund-raising," she says. "That's where I learned it was all about relationships."
While working at the hospital full time, she went back to graduate school to get an executive MBA at Queens University's McColl School at age 48. "It was very hard, but I loved it," she says, a favorite phrase.
At Caribou Coffee on East Boulevard, a few days after her fall, she's telling me about getting the MBA. Perfect makeup application hides the black eyes, which she says are turning yellow. "A lot of the people I was working with were in their twenties and thirties, and some of them had two, even three degrees," she says. "I was behind in my career because of the years working part-time and having children, and I wanted to be competitive. I was thinking about a master's degree in health-care management when someone told me, 'You work with a lot of men. An MBA will get you more credibility.' And it was great advice."
Soon after, she was chief at the YWCA Central Carolinas, a longtime Charlotte nonprofit that helps women and families. It was in serious financial straits. By the time she was finished nine years later, the YWCA was debt-free and had an endowment, a capital campaign, housing for homeless children, and an after-school program. She felt satisfied with the YWCA but was not done with achieving in the workplace. Her husband had retired after accepting a buyout from Duke Energy, and McIntyre had assumed she'd do the same, but she still wanted more.
Is she ever scared? Pause. It's clear she's really trying to come up with one example. "I can think of one time.
It was right before going into surgery to have my aortic valve replaced. But I think fear was appropriate then."
"I was blessed with a lot of energy," she says, opting for water at Caribou instead of coffee. "I tell you, you can only read so many books."
When asked, as a woman born in 1947, whether she ran into gender barriers or sexist comments as she sought out one leadership role after another, she pauses in a way that suggests such a concept is as relevant to her life as the finer points of rolling sushi or do-it-yourself drywall.
"I had a father who told me I could do anything and not to limit myself," she says. Another pause. "I never thought about it. You know, there was one time when I was on the school board and we hosted guests from Russia; all men. It was 1988. We decided to all go to City Club for lunch, got a big table, and through a translator—also a woman—they asked why we were the only women in the room. I was speechless! I just never noticed."
According to the 2000 Social Capital Community Benchmark Study, with research from Harvard and several foundations, Charlotte is one of the most charitable cities in the nation, measured in both volunteer hours and in dollars per capita. The reasons why are a sociologist's dream: The city's relatively wealthy. There's a large faith community. Lots of corporations mean lots of well-muscled, wide-reaching workplace giving campaigns. It's more than that too: a distinctly Southern social scene that involves lots of parties in the name of good causes. A sense that the city is so young that by donating, you're building something new.
Even the city's racial demographics could be considered a factor: more than a third of Charlotte's population is African American. Studies by the Chronicle of Philanthropy and the W.K. Kellogg Foundation found African Americans participate in charitable giving at rates higher than any other racial group.
But 2008 changed not just the local United Way but the economy and the workplace. Charity experts agree the models that succeeded in the city for so long will never return to their pre-recession success.
"In 2008, it was looking pretty bleak, and a lot of people who'd been here for a long time were uncertain whether the United Way could or even should survive," says Carson Dean, executive director of the Men's Shelter of Charlotte, which receives support from United Way.
The Arts & Science Council, once the largest arts and culture fundraising organization of its kind in the country, saw a 40 percent drop in workplace giving in 2008.
"The workplace and the workplace-giving model has fundamentally changed," says Scott Provancher, who started as president of ASC around the same time McIntyre started at United Way (he announced in May that he's leaving this summer). "For a certain generation, workplace giving fit with how they thought of the world, that you gave money to a reputable organization and trusted it would be dispersed in an efficient, effective way. Younger people want more of a connection, even if it's a virtual connection, to exactly where their dollar goes. People have a healthy skepticism for institutions that wasn't there before."
Call it the Kickstarter Generation. The hottest movement in the fundraising world are websites based on the kickstarter.com model such as donorschoose.org and indiegogo.com, where donors can give directly to projects, be it money to help an artist produce an album or supplies for a public school teacher. The New York Times, in perhaps an overly generous move, deemed Kickstarter "the people's NEA."
The mixed bag about the project-specific websites is that "it can make donors believe infrastructure isn't needed, which isn't true," says Brian Collier, senior vice president at the Foundation for the Carolinas. "The ASC and United Way understand you need administrative staff and fund-raising staff and all that infrastructure that goes along with a well-run nonprofit. You need organizations that can see the big picture. A percentage of every dollar has to go toward infrastructure for a larger vision."
Dean says that the Men's Shelter doesn't have the staff to do significant fund-raising and advocacy on its own and that it depends on the United Way for those services as much as it depends on the agency for financial support. And he thinks that McIntyre, through her cuts and tweaks and vision, has brought the local United Way back from the 2008 brink.
"When we were asking ourselves at the shelter, 'How can we be more impactful?' Jane connected us with marketing experts," Dean says. "It's things like that—they aren't going to show up in any annual campaign numbers. I'm still not sure people in the community fully understand how focused and committed Jane is to helping people in need."
Perhaps salvaging a tarnished organization's name and power won't be the most challenging thing McIntyre pulls off at United Way. Instead it will be ensuring the future success of the organization by connecting with a generation of freelancers and social entrepreneurs who think of large nonprofit administrators as middlemen.
McIntyre says she's not sure when she'll retire. She's happy with the turnaround. Even if "scandal" pops up in Google, it's not popping up in Charlotte. Reporters stopped showing interest in events where the United Way offered up the year's accounting books. The chapter just bagged a big one: new-to-Charlotte Chiquita is on board. Proceeds from the Chiquita Classic, a professional golf tournament held here, will go to Charlotte's United Way.
Thomas Federl, director of global community relations for Chiquita, says his company didn't find out about the 2008 scandal until after the company had committed the Classic's proceeds to the United Way. Did he worry?
"No, because we'd met Jane," he says. "It's no surprise to me that they now have a great reputation again. Once you meet Jane—it's clear that she would be someone who could turn it around."
Still. There's that nagging concern about the future, about prepping United Way for the changed landscape of fund-raising.
"I love Facebook," McIntyre tells me, sliding through photos on United Way's page. As her tidy peach-polished nails trace the screen, she's talking authoritatively about using social media and her i-gadgets and the Web to connect with younger donors.
Perhaps salvaging a tarnished organization's name and power won't be the most challenging thing McIntyre pulls off at United Way. Instead, it will be ensuring the future success of the organization with a generation of social entrepreneurs.
When I ask her whether she has specific plans to target the younger audience with a website like ASC's Power2Give, she doesn't give me a concrete answer.
Isn't she worried, I ask, about relevancy with the younger generation?
Is she ever scared?
The word "scared" is met with that foreign, sushi-rolling-and-drywall look again.
Pause.
It's clear she's really trying to come up with one example. Just one.
"I can think of one time I was scared," she says, eyes bright. "It was right before going into surgery to have my aortic valve replaced. But I think fear was appropriate then."
She puts her phone down on the tiny Caribou table and leans toward me.
"You know, I don't like feeling fearful. If you live in fear, it will stop you. Because when we leave here"—she gestures to East Boulevard—"we don't know what will happen." She looks right in my eyes when she says that last bit. It's an unexpected moment of intensity and vulnerability, which is not what you expect in a place where everyone is tripping over laptop cords and scarves on the backs of chairs.
"If you can't take the heat, it doesn't mean you can't be successful," she says. "It just means you shouldn't be in leadership."