Justice Deferred
A grand jury indicted Jerry Lee Brooks on charges that he committed a series of rapes in Charlotte—more than 30 years ago. If a conviction follows, it will be the highest profile—and most bizarre—victory for CMPD's groundbreaking sexual assault cold case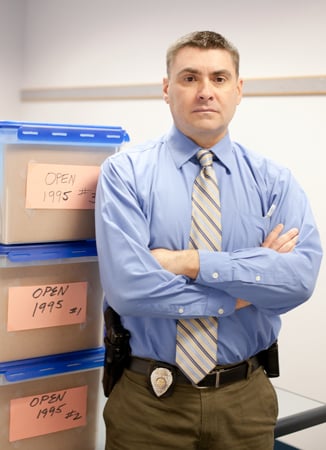 Every year as the calendar approached September 21, Mindy Sypher could feel the dread. It was heavy and gray, like an 18-wheeler barreling down the wrong side of the highway. She sat with it, waiting for the familiar blow to her stomach, the gasping for breath—every year for more than 30 years. Until last year.
Last July, Sypher, a petite blonde and mother of two, was watching the local news when a mug shot flashed on the evening news. "Serial Rapist Cold Case Solved." "I just stared at his eyes," she says. "I had to freeze the TV screen—my gut was saying this is the guy."
The 53-year-old says she remembers every detail of the last time she saw those eyes, on September 21, 1979. Sitting in her living room now, she barely hesitates as she relays them. The man in the ski mask who had broken into her home. His neatly trimmed fingernails, crisp shirt, and matching tennis whites. The purple dress she wore. His threats that he would cut her.
Watching the news that July evening, she knew nothing of the life of the man who she says raped her, the 10 other Charlotte women police believe he assaulted, or how he got caught. All she knew was that she believed she was looking at the man she holds responsible for the worst day of her life, and until that moment, she thought he had gotten away with it.
Sypher was 20 years old when she was raped. A theater major at UNCC, she liked performing onstage as much as sewing costumes backstage. She was crafty and detail oriented, and was enrolled in photography and pottery classes, still finding her way in the world. She had a part-time job at the Charlotte Merchandise Mart, working with her boyfriend. (The two would later marry, have two children, and divorce.) The couple worked as representatives for clothing manufacturers and managed showrooms stocked with Jordache and other labels popular at the time. Her job meant that she dressed well, took care to pull her outfit together every morning. She worked hard but enjoyed a relatively carefree existence—until the day she believes the so-called ski mask rapist selected her as his next victim.
That week, she left work early several days in a row, a schedule police later told her probably helped her attacker track her. The media had been reporting on the serial rapist for months. Random attacks were rare, and serial rapists were almost unheard of, so the story was getting a lot of play in the newspaper. Sypher still has the yellowed newspaper clipping that tells her story.
Sypher relays the details of her attack in a soft but strong voice. She wants you to understand the magnitude of the violation.
It was a warm September day, and Sypher wore a thin purple shift dress. Pantyhose covered her legs, despite the heat. She left the Merchandise Mart around 3 p.m., hoping to beat the afternoon traffic. It took her 20 minutes to guide her green Toyota Celica south on Providence Road to get to her townhouse on Carmel Road. When she pulled into her complex, she saw trash strewn across the yard in front of the condo she shared with her boyfriend. He was out of town, so it was up to her to collect it; trash pickup was the next day.
When she came back into the house, she started down the hallway to wash her hands in the kitchen. She never made it. She could see a sliver of light coming from the front door. She thought she'd accidentally left it open. She reached to shut it and bolt the lock when a man jumped out from the bathroom just off the foyer. He grabbed her from behind and she noticed his perfectly manicured hands. She looked down and saw pristine white tennis shoes. His face was covered with a mask, only his eyes and lips visible. Stunned, her first thought was that it was a friend playing a joke. The shoes and the nails didn't fit her mental image of a rapist.
Her attacker told her he was there to rob her, but Sypher knew instinctively he'd come for something else. The clean-cut man she guessed was about her age threatened to cut her if she didn't perform oral sex. He straddled her. He raped her. He wore the ski mask the whole time.
Sypher relays the details of the attack in a soft but strong voice, almost as if she's telling someone else's story. She omits nothing, glosses over very little. She wants you to know it was rough and humiliating. She wants you to understand the magnitude of the violation.
"He just shoved my head down on him, told me to take my clothes off, and you're pleading …" she says, drifting off for just a moment. "He told me to just shut up and do what he says or he's going to cut me. I took my pantyhose off and my bra off and then he proceeded to throw me down and rape me right there in my foyer. You just reach down deep inside, thinking, 'What can I do to satisfy this idiot and get him out of my house?'"
When it was over, her attacker used her bra and panties to tie her up. He looked straight into her eyes and told her he would come back and kill her if she called the police. Then he walked out the front door. Terrified, she put her dress back on, locked and bolted the door, and called a friend from work for help.
In the days that followed, police asked Sypher to attend a meeting with a handful of other young Charlotte women who'd had similar experiences. At that point, police believed the ski mask rapist had attacked five other times, but they had few leads. Investigators got the women together to compare notes. They were all about the same age and all had recently been car shopping or traveled to the airport. A couple of the women had been cut with a knife during the attack. They all spoke with certainty about a ski mask. That was all they knew for sure. Police didn't have much.
Months passed with no arrest. "I thought about it every day for several years," Sypher says. "It's a violation of you, and it takes a piece of your soul."
"I ended up quitting school," she says with a pronounced sigh. It's clearly a decision she deeply regrets. "Once you've been stalked, everything scares you." She lived in constant fear, always wondering who might be following her. Who might be just out of sight.
Eventually she married, started a family, and found work as an administrative assistant. After about five years, she gave up the hope of ever seeing the face behind the mask in a courtroom. Now remarried to the man she calls the love of her life, she was working from home when the news report came on. Police had DNA evidence connecting 62-year-old Jerry Lee Brooks to at least three rapes. They said they had caught the ski mask rapist.
Detective Troy Armstrong heads up the Charlotte-Mecklenburg Police Department's sexual assault cold case unit (a separate cold case unit investigates homicides). He is boyish, with dark hair and a young face, and seems upbeat despite the heavy burden of the cases he works. The unit includes his small office, which he shares with another detective, and a conference room filled with stacks of plastic containers, each stuffed with yellowing files. Armstrong started the unit in January 2006 and is the only full-time member. He jokingly calls himself an inspector, a nod to the guidance he got from Scotland Yard when he came up with the idea for the new squad and realized there weren't any in the U.S. to use as models. "Charlotte is way ahead of the curve," he says. "The majority of the departments in the country, you'd be hard-pressed to find a report from twenty years ago." Finding physical evidence is even more rare. It also helps that, unlike in some other states, there is no statute of limitations for the crime of rape in North Carolina.
One of the first cases he looked into was the 1981 rape of a pregnant woman at her home in an apartment complex in east Charlotte. She was asleep on the couch when a man broke in and attacked. Armstrong discovered the case in 2002 while going through old boxes left behind in a retired sergeant's office. At the time, Armstrong was on light duty due to a shoulder injury, and had not yet formally created the cold case squad.
The 1981 case bothered him more than most because it involved a pregnant woman. "I started doing some research on that and it turned out we had evidence left," he says from behind his cluttered desk. There was no such thing as DNA testing in the 1980s. The best detectives could hope for was a blood-type match and semen on clothing to prove there had been a sex act. That's why some of the old files included clothing and other pieces of evidence that all these years later could be tested for DNA. "You have to hold your breath," Armstrong says. "The chances of finding something to work with are real slim, almost impossible."
But when there is DNA, it's invaluable. "Victims in our cases often are not capable of making an ID. DNA is the strongest evidence we have," says veteran sex crimes prosecutor Barry Cook, who came out of retirement to work with the cold case unit.
Four years after Armstrong submitted DNA from the pregnant victim's case to the understaffed CMPD crime lab, technicians uploaded it into the FBI's Combined DNA Data Index System (CODIS), a national databank of DNA samples collected from convicted felons. It was 2006, about the same time that he convinced the higher-ups to let him start the new unit. Another four years passed before CODIS matched that DNA to a suspect. (In 2010 the feds uploaded thousands of DNA profiles into the system, taking samples from felons as their prison times ended.) Armstrong was thrilled when he finally got a hit that led to a suspect, a man named Roger Dale Honeycutt. He had been in federal prison for a sex crime involving a young girl, and his DNA was part of the massive 2010 upload. Using old police reports, archives from The Charlotte Observer, plus a lot of phone calls and knocking on doors, Armstrong and a few retired police officers (hired back part time) found a handful of rape cases in which the MO appeared to match Honeycutt's. They sent evidence from the cases off to the lab believing they would all come back to Honeycutt.
The lab results were stunning. There were two serial rapists attacking women in Charlotte in the 1970s and 1980s.
The lab results were stunning: there had been two serial rapists attacking women in Charlotte in the late 1970s and early 1980s. Some of the DNA matched Honeycutt's (he was arrested in Kannapolis in October 2010 and is in the Mecklenburg County Jail awaiting trial), but the rest belonged to someone else, an unknown.
The detective team reviewed all of the rape cases they'd thought were Honeycutt. They found a few small but significant differences: Honeycutt seemed to always strike at night, while the unknown suspect targeted women during the middle of the day. Again, the cops were at the mercy of CODIS to come up with a name. Armstrong grins when remembering the day in April 2012 they got a note from the lab saying there had been a hit. Finally, they had a name: Jerry Lee Brooks.
"He was in the system because he was a convicted bank robber," Armstrong says, his voice rising to emphasize the unusual circumstance. Brooks was not your typical bank robber. He was a bank executive who had served time for stealing millions from several facilities in North and South Carolina, including the bank where he worked in senior management. When he was first questioned about the heists, Brooks spun a story for FBI agents, claiming he was at work early one day when someone came into his bank with a note saying a bomb would detonate if he didn't hand over the money.
Brooks ended up serving time over the past three decades for a variety of offenses, including armed robbery. He was released from federal prison in 2005. Armstrong says that almost half a million dollars was never recovered.
Now 62 years old and having served his sentence, Brooks was on probation, living quietly in Surfside Beach, South Carolina, a small town near Myrtle Beach, when members of CMPD's violent criminal apprehension team (VCAT) flew down to arrest him last July.
Warrants were still being drawn up in Charlotte when the team took off in a State Bureau of Investigation plane. They were pretty sure they had Brooks's correct address, but after 30 years, they didn't want to risk losing their suspect.
When they landed at a private hangar at the airport, the VCAT officers were greeted by local cops and officers from the South Carolina Law Enforcement Division (SLED). Together, they rode to Brooks's townhouse to conduct surveillance. It was hot and muggy that day, but Brooks lived just blocks from the beach, so there was enough of a breeze to make it a good day to go for a bike ride. As he pedaled through town, officers watched, waiting for the go-ahead to make the arrest. They watched as he fixed the weather stripping on his front door.
At about two o'clock that afternoon, word came that the warrants had been signed. Brooks was back inside his townhouse. The officers took position. Agents stood on either side of the front door. Surfside police officers and VCAT team members fanned out across the yard, just out of view. A SLED agent took off his tactical gear, and dressed casually in a simple T-shirt and jeans, knocked on the door.
"Jerry Lee?" the agent asked when Brooks appeared, and stuck out his hand as though looking for a handshake.
"Yes," Brooks replied, and offered his own hand.
Immediately, the agent pulled Brooks into his front yard and cuffed him.
Brooks was charged with three counts of rape, two counts of crimes against nature, burglary, two counts of breaking and entering, robbery with a dangerous weapon, and two counts of kidnapping. A Mecklenburg County grand jury indicted him in June 2012.
The agent pulled Brooks into his front yard and cuffed him. Brooks had no idea why a team of police was at his door.
Armstrong has spent the past few months tracking down the women he believes were Brooks's victims. Though there is enough physical evidence to charge Brooks in attacks on only three women, Armstrong thinks that he raped at least 11. He's also comparing notes with cops from other jurisdictions where Brooks lived. The most rewarding part of his job right now, he says, is being able to offer some sense of relief to the small circle of women whose lives changed forever 30 years ago. The first woman he talked to lives in Asheville. "I hopped in the car, drove there, and located her. It's really hard to put into words what it was like. It was a very emotional one. … It was just such a relief."
It's the same kind of relief Mindy Sypher speaks of when we sit at a table in her living room talking on a quiet Saturday afternoon. Her dog barks anytime someone passes by. Her husband comes downstairs occasionally to check on her.
Sypher waited just a day after seeing news of Brooks's arrest to call the police. Her son urged her to reach out. She called several times before she got Armstrong on the phone. She was disappointed to learn there was no salvageable DNA evidence from her file to formally connect Brooks to her case. He would never be charged with her rape. But she says Armstrong assured her she was on the list of women police believed were victims of the ski mask rapist. "My justice is just to see him go away," she says, determination in her voice and in her eyes. "As long as he is charged for the group, that gives me solace."
Brooks is slated to face a jury this summer. Trials can be unpredictable, of course. Prosecutor Barry Cook won't talk about pending cases, but he says DNA evidence is about as good as it gets. Brooks's defense attorney did not return repeated phone calls for this story. As for Sypher, she is grateful for the work Detective Armstrong and the rest of the cold case team did on the case.
"After all these years, I think it is incredible—absolutely incredible."
CMPD's sexual assault cold case unit has investigated almost 700 cases since 2006, and solved 100. Sergeant Troy Armstrong says there are thousands more to go through.
Michelle Boudin is a reporter for NBC Charlotte and a frequent contributor to this magazine.