Kannapolis Resurrected: Inside a Once-'Dead' Mill Town's Boom
It's come back to life with a revitalization strategy similar to Durham's. Is it a new antidote to Charlotte's skyrocketing real estate prices?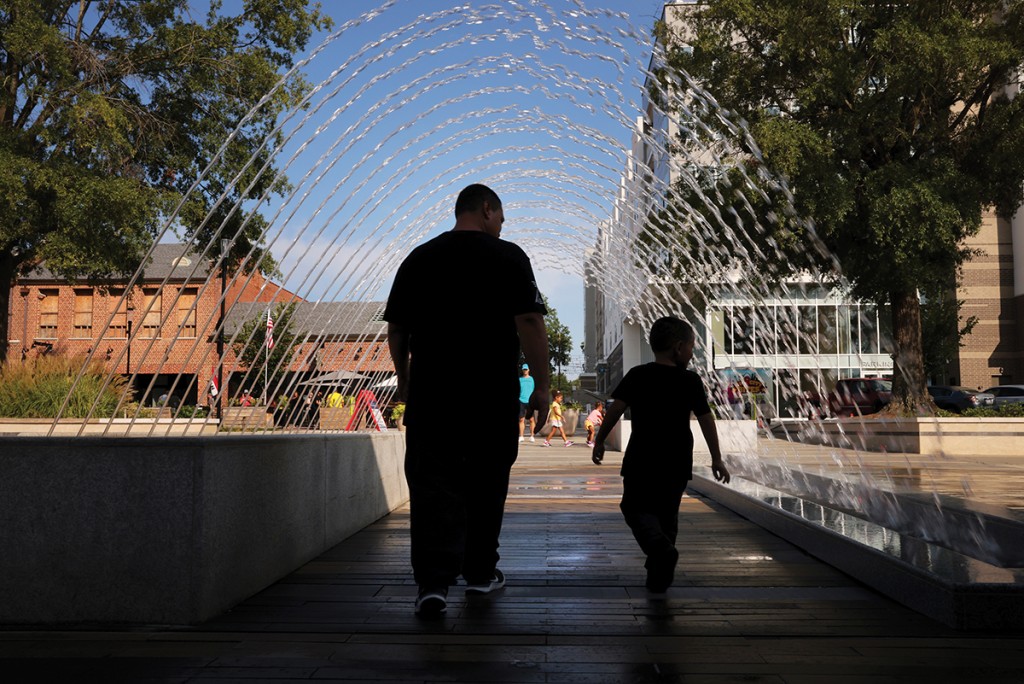 Imagine the cost to live in a Charlotte neighborhood where you could walk to a grocery store, a brewery, a park, a movie theater, even an Amtrak station—all within a few blocks.
Hard to imagine. That place doesn't exist here.
Know where it does? Downtown Kannapolis. And for Charlotteans, the costs there are hard to imagine. There, in the new Vida mixed-use district, apartment rents begin at $955, $500 less than the average studio apartment in Charlotte. Nearby homes list for less than $200,000, about half of Charlotte's average home price.
For nearly two decades, this town went quiet after its mill closed. But now, the downtown's ambitious revitalization compels a question that would've seemed laughable five years ago but seems reasonable today: Could Kannapolis exert a gravitational pull strong enough to make it one of Charlotte's affordable alternatives?
***
It's a Thursday evening in June—no holiday, no special occasion—but each corner of tiny downtown Kannapolis hosts a crowd. A steady stream of fans enters Atrium Health Ballpark to watch the Kannapolis Cannon Ballers defeat the Carolina Mudcats on Thirsty Thursday. Several hundred people pack Veterans Park with camp chairs and picnic blankets for a free concert by the Tim Clark Band. The scent of buttered popcorn stretches a block beyond the newly renovated Gem Theatre, where families watch the premiere of Peter Rabbit 2: The Runaway. Every table is filled in front of Old Armor Beer Company on West Avenue.
All of this happens within a third of a mile.
If you came here five years ago, downtown would be quiet—"dead," according to many who lived here. If you came here two years ago, the entire downtown would've been fenced off and shuttered. Yet even this June evening is a shadow of the town's former glory, when, three times a day, shift changes at the mill crowded so many people into downtown, you could barely maneuver through it.
But now, downtown Kannapolis is coming back to life.
The revitalization project comes at a crucial time. As surging real estate prices force more people out of walkable neighborhoods in Charlotte—and in New York and California and Illinois, for that matter—they seek livable, affordable downtowns elsewhere. As remote work severs daily commutes, revived Carolina mill towns like Kannapolis hope to lure new residents. It's a place that compels a visitor to check Zillow and wonder, "Could I?"
"When people used to talk about Kannapolis, they used to turn their nose up and not have much interest in living here, in hanging out," says Meredith Little, who grew up in nearby Mount Pleasant and once shared that opinion. "And right now, everyone wants to come to Kannapolis. People are wanting to buy in Kannapolis."
Little laughs as she speaks, as surprised as anyone at the transformation of the city—especially now that she's a business owner there. Last fall, she and her two sisters opened 3 jem's boutique, a trendy women's clothing and accessory shop, in downtown. Kannapolis has proved Little wrong, but her doubled profits soothe the sting.
"These downtowns (like Kannapolis) are small, but they were industrial powerhouses in their day, and so you have that urban fabric you can build on," says Chuck McShane, director of market analytics for the Carolinas at CoStar Group and a contributor to this magazine. "Places like Kannapolis, places like Salisbury, and places like Albemarle—places that were just outside the commuting distance from major urban centers—I think there's going to be a big interest in those places going forward. Places like Kannapolis have a big opportunity to position themselves."
***
Stop me if you've heard this before. A North Carolina town finds early 20th-century prosperity in textiles—then, when industry moves overseas, faces crises of economy and identity. To survive into the 21st century, it embarks on public-private partnerships that lure new industries and build attractions to entice residents to settle down and visitors to spend up. Old mills house mixed-use developments. Up goes a minor-league ballpark that anchors a district of new shops and restaurants. Rebranding begins.
North Carolinians have heard this story plenty. It's Charlotte's story, and Gastonia's, and Durham's, and High Point's.
It's Kannapolis', too. But here, the story introduces a new angle. The thing that hastened its downfall—downtown Kannapolis' ownership by one person—propels its resurgence. Single ownership of a city means interconnected fortunes of those within it. Good times are very good; bad times are disastrous. But this time, the sole owner is using that angle to the city's advantage: Renovate an entire downtown all at once, set a strategic course, then end single ownership forever.
This used to be a company town. James William Cannon, founder of Cannon Mills, owned the entire town of Kannapolis, starting in 1905. Workers rented houses Cannon owned. They borrowed books at the town library, exercised at the YMCA, took their kids to schools, and prayed at churches—all owned by Cannon. He owned the police, roads, and water and sewage systems. Kannapolis had no mayor or council. Just Cannon, and then his son, Charles, who took over in 1921. It was the country's largest unincorporated town.
Look at it generously, and the Cannons' goal was to create a town that met the personal and professional needs of healthy, happy employees. Look at it cynically, and the intention seems like tight workforce control. As older residents recall the Cannon days of cheap rent, well-maintained homes, and a thriving neighborhood, there's argument for the former. As Charles Cannon twice called the National Guard to quell unionization efforts, there's argument for the latter, too.
"It worked both ways. (The Cannon family) built the hospital, they built the schools, they did a lot of good … but then again, you were sort of owned by them, too," says Carla Clay, 74, who grew up in Kannapolis. "The uptown jail was about as big as Mayberry's. There was really no crime. If you worked in the mill and you lived in a mill house, and if you got in trouble, they would make you leave the house and you would lose your job."
For decades, Cannon Mills seemed too big to fail. In the early 20th century, it was the world's largest producer of sheets and towels. But it did fail, and when it did, the fates of the mill, city, and residents intertwined.
In 1982, David Murdock—a billionaire from California—bought the struggling Cannon Mills along with all of Kannapolis. Kannapolis incorporated as a city two years later. In 2003, the mill shut down, and 4,340 workers lost their jobs in one day. Downtown storefronts went dark as Murdock focused on a new venture: the $1.5 billion North Carolina Research Campus, housed in large university-style buildings that tower where the mill once stood.
The research in these buildings revolves around a single concept: People can live longer if they eat the right plants, and enough of them. There, scientists have devised shelf-stable fruit compounds that can nourish people in developing countries or amid natural disasters, as well as astronauts and soldiers on extended missions; they're learning to make crops resistant to pests and disease with genetics, not pesticides. Murdock began his quest to extend life span through vegetables and fruits when his wife, Gabriele, was diagnosed with ovarian cancer in 1983. Even though he didn't find an answer before she died two years later at age 43, his mission continues in these buildings.
But the campus has had recruiting problems. "We were told we couldn't get anybody to come because the downtown is dead," says Kannapolis Mayor Darrell Hinnant. He and the city manager approached Murdock with a plan. "We said, 'Well, you know, something has to happen with downtown, so if you're not going to do anything, why don't you sell it to us, and let us do something with it?"
In 2015, the City of Kannapolis bought 46 acres of downtown. Now, it's selling downtown buildings and lots, one by one. For the first time, downtown Kannapolis doesn't have a single owner. But between buying the downtown and selling it, the City of Kannapolis needed a vision to guide what would happen next.
Kannapolis needed two things for a successful revitalization project. First, it needed residents to raise their own taxes to pay for big changes in their own downtown. No easy thing, especially in a small, conservative city rooted in its history. Next, the project needed to compel millennials and Gen Zers—families, recent grads, and entrepreneurs—to find Kannapolis cool enough to move there and become its new taxpaying residents and business owners. No easy thing, especially in a small, conservative city rooted in its history.
Hinnant added a third goal: Make longtime residents proud. He wanted to stick by the people who had stuck by Kannapolis through Cannon, through Murdock, and now, through its reinvention. He wanted the new downtown to be a tribute to old days.
He had a model for this lofty plan: Durham. The City of Kannapolis hired the same group that ushered Durham from a ghost town that lost its textile and tobacco jobs to a downtown that tops lists of best places to live for both recent grads and retirees. The Development Finance Initiative at University of North Carolina School of Government (DFI) came to help Kannapolis replicate the model.
Although the law required only one public hearing to approve the city's investment, Hinnant knew the public would need more time and information. The city held three public hearings and more than 20 community meetings about the tax hike that would fund the project. The mayor and council shared concept images from DFI. They promised that a three-block section would maintain its original exteriors and oak trees to ensure that Kannapolis still felt like Kannapolis. They pledged to avoid gentrification by requiring nearby affordable housing at below-market rates; they secured funding from the North Carolina Housing Finance Agency to improve older homes—by adding things like handicapped-accessible ramps, new hot water heaters, and new roofs—so cash-strapped residents could continue to live there.
"It's important for us as a community to make sure that all this growth and reimagining doesn't gentrify our community," Hinnant says. "It would be tragic for us to have all this growth, and all of a sudden, a segment of our community has to move out because they can't afford to live in it. So part of my strategy and my commitment to the entire community is: This has to be good for everybody."
The City Council approved the tax hike in June 2015.
The first goal was achieved. Two more to go.
***
Even though the model resembles that of Durham, High Point, and others, Kannapolis had a distinct advantage: Buying an entire downtown meant the city could tear up roads all at once to improve infrastructure—water, sewer, fiber cable—and renovate streetscapes without disturbing existing businesses. For nearly two years, chain-link fencing blocked all of downtown amid construction. Then, on Oct. 10, 2019, the fences came down.
"When we announced that we were going to take the fences down, there were 2,500 people anxious to go inside the fence to see what was happening," Hinnant says. "And I'll tell you, the biggest comment I heard was, 'Wow, I couldn't believe it was going to be this.'"
The biggest change was a new linear park that runs along West Avenue. Instagram-ready seating arrangements—swings, Adirondack chairs, benches—offer places to gather amid pop music that plays from speakers hidden in the landscaping. On one side of the park are the original, renovated storefronts, now occupied by independent businesses: a coffee shop, ice cream shop, clothing boutiques, bakery. On the other side of the park is the new Cannon Ballers stadium, voted Ballpark Digest's best Low-A minor league stadium, which has a playground, splash pad, and walking paths the community can use when games aren't being held. Around the corner, the Gem Theatre—the circa-1936 movie theater—has a marquee that's lit up once again.
Around the time of the downtown unveiling, Little, 32, and her two sisters were looking for a new location for their boutique. They were committed to finding a location that all three sisters would like—a nice idea in theory but, nearly three years into their search, one that seemed impossible in practice.
"We kept hearing about up-and-coming Kannapolis and that we needed to come out there and look. So we went, back when nothing was open but the brewery and stadium," Little says. "We knew immediately. We looked at each other and said, 'This is it. This is what we've been waiting for.'"
Their visit in 2020 was intended to be a scouting trip, but the three women decided on the location that day. "We literally said, 'Sign us up right now. Don't you dare give this away.'"
Their 3 jem's boutique opened in Kannapolis on Black Friday. Business has since doubled, foot traffic is "booming," and they're upfitting the basement to store more merchandise to meet customer demand. They still run their Salisbury boutique as well, but some of their regular customers in Salisbury now drive past that store to visit the Kannapolis shop, where they can also go to the movie theater, the popcorn store, the ballpark. Little says that they see groups of high school girlfriends and 30-something moms with small kids in tow coming not just to shop but to make a day of it.
Check off goal two: Make young people dig downtown Kannapolis.
***
As of June, the downtown revitalization project is 40% complete, with plans in place for most of the remainder. Soon, a hotel will rise beside the ballpark. The city's also sold land to developers who will create high-end townhouses and condos—two projects expected to add more than $50 million in private investment.
"All of the sales that we have made so far have been sold to private companies, and they are investing their money into downtown," Hinnant says. "And so the state loves that because that's private investment bringing wealth and investment into our state and into our community."
The city's next challenge will be luring companies to set up locations in or near downtown, allowing office space to catch up with residential and retail. It seems a precarious balance without that element, as uptown is still a 30-mile trip down I-85, and traffic's getting no easier. But the possibility of rail travel between the two downtowns—as Charlotte relocates its Amtrak station uptown over the next few years—means that someone living in downtown Kannapolis could enjoy a car-free commute to uptown Charlotte within 35 minutes.
Although it's the most recent addition to the hub-and-spoke model of development in the Charlotte region, Kannapolis wasn't the first. And likely won't be the last.
"Now that the Charlotte region is growing outward, I think there are a lot of opportunities for those small-town downtowns to be really interesting places for new suburban dwellers," says McShane, citing Rock Hill as another example.
But what do older, longtime dwellers think of Kannapolis' transformation? Talking with seniors downtown, the reaction to the changes was universally positive. Clay agrees; despite her wariness about the pace of changes to come, she believes that the improvements to downtown were as much a return to the old days as the start of new ones. Once again, she sees kids line up at the Gem, and she and her friends take walks around the city.
Last spring, as Hinnant enjoyed one of the season's first Cannon Ballers games, he noticed a 92-year-old native Kannapolis resident with his friends. The mayor asked the man what he thought of the changes to his hometown, and nervously awaited his answer.
"He told me, 'I didn't think I'd live long enough to see this,'" Hinnant says. "It brings tears to my eyes that he's so happy."
Goal three. Check.
Jen Tota McGivney is a Charlotte writer who has written for SUCCESS Magazine, Our State, and Southern Living. Reach her at jennifer.mcgivney@gmail.com or on Twitter, @jen_mcgivney.