Keeping it cool
With temperatures reaching 100 degrees this week, it's time to get serious about staying cool during outdoor weddings.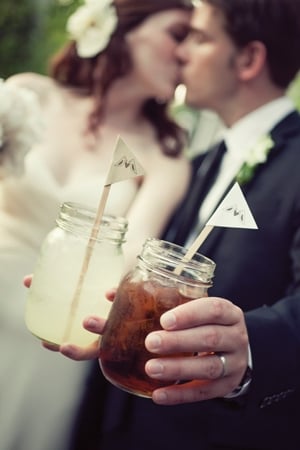 This weekend I had the pleasure of watching two dear friends get married. On the same weekend, I knew of four other weddings of friends-of-friends taking place. It's hard to deny that wedding season is upon us.
Fortunately, the outdoor wedding I attended took place at 6 p.m., allowing the power of the summer sun to wear off at least a little bit. But it was still blistering hot and humid, with temperatures hovering around 90 degrees even that late in the evening. I watched as beads of sweat rolled down the groomsmen's faces and guests frantically searched for fans or bottles of water.
Midway through the couple's vows, an overheated bridesmaid fainted. The pastor professionally paused the ceremony while the groom's mother, a nurse, tended to the bridesmaid. A few bottles of water and cool towelettes later, the ceremony was underway again. The gracious couple made sure the bridesmaid was OK before she was escorted into an indoor air-conditioned area for the rest of the service.
When it comes to outdoor summer weddings, it's crucial to play it smart – and when it comes to managing an unexpected hiccup in plans, it's crucial to remain calm.
Tips for the bridal party
Drink water. Keep drinking it. All day.
Hydration is crucial when preparing for an outdoor wedding. Even if you aren't thirsty, keep drinking until you walk down the aisle.

Don't lock your knees.
Locking your knees during the ceremony, especially while standing still often longer than 30 minutes, restricts blood flow and is one of the most common reasons members of the bridal party faint. Keep your knees bent and occasionally shift your weight.

Breathe.
It sounds simple but taking deep breaths during the ceremony will keep you mentally focused and alert.

Stay calm.
If you're feeling lightheaded or like you might faint, don't be embarrassed to slip into a seat in the audience. If you do pass out – it's OK! It happens to the best of us. You didn't ruin their big day.
Tips for guests
Drink water. Keep drinking it. All day.
Just like the wedding party, guests, too, should stay hydrated leading up to the wedding. It's also a good idea to pack a water bottle to bring with you.

Dress appropriately.
Be conscious of what you're wearing. Lighter colors, such as pastels, will keep you cooler. Loose, airy dresses also work well as opposed to tighter, more fitted clothes.

Be gracious.
You know it's hot. The couple knows it's hot. Everyone knows it's hot. Clearly, the bride and groom wanted to get married outdoors for a reason so even if you're sitting in a puddle of sweat, try to keep from looking miserable.