Kick off wedding weekend with a welcome bag
Greet out-of-town guests with a custom welcome bag.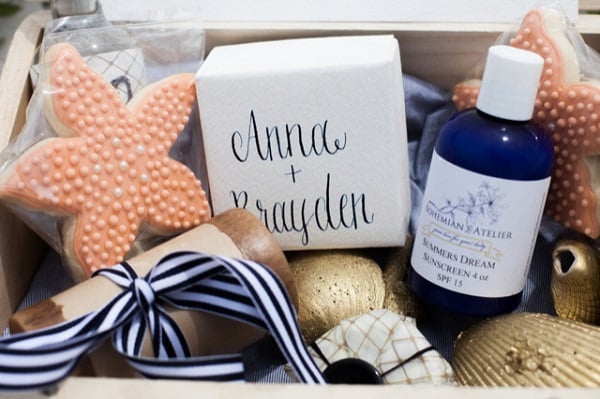 Only about 40 percent of the Queen City's residents are born-and-bread North Carolinians. With so many newcomers in the area, there's a pretty good chance you'll have friends traveling from near and far to celebrate your wedding weekend.
Give out-of-towners a warm welcome with a custom welcome bag waiting for them at their hotel.
Most hotels can make sure welcome bags are waiting for guests when they check in at the hotel or enter their room. All you have to do is put them together! (and that's the fun part).
Want to do a welcome bag but have no idea what to put in it? Check out our tips:
Fill up a fun tote
The bag is the easiest place to start. Whether it's a reusable canvas tote or paper gift bag, make sure it's cute and catchy. Incorporate your wedding colors and have your stationer create custom stickers or gift tags wrap around the handle.
Add a few sweet treats
Do you and your groom love Starburst? Throw a pack in there. Do you love salty treats while he craves something sweeter? Incorporate your favorites with custom "sweet and salty" treat bags. Choosing a few snacks that represent your taste is a great way to add some personality, but, more importantly, your guests will welcome the sweet treat after a long day of travel.
Pop the champagne
There's nothing cuter than a mini bottle of champagne. They'll fit perfectly in your goodie bag and set the tone for a fabulous weekend. Make it stand out even more with custom labels.
Always say thank-you
Nothing says 'thank-you' quite like a personalized, hand written note. Express to your guests just how thankful you are that they're sharing in your big day and make sure to add a thoughtful note on how they've influenced and supported you over the years.