King's Kitchen Adding Bakery Counter
Goods from King's Bakery will soon be sold to the public near the entrance of King's Kitchen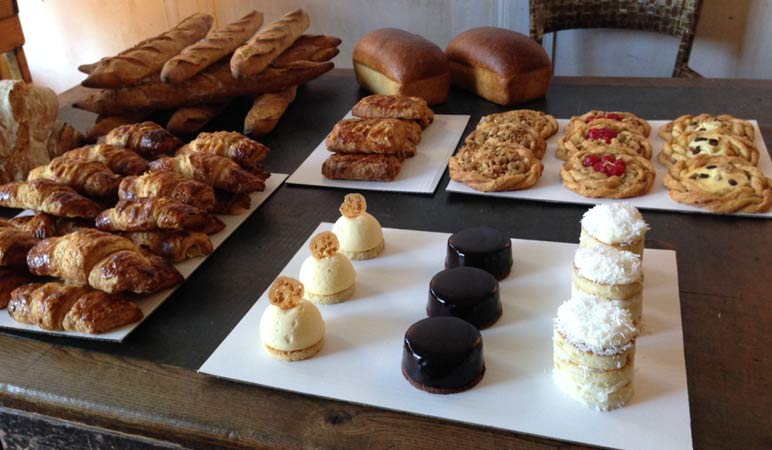 Chef Jim Noble, owner of Noble Food and Pursuits, really loves good bread. But here in Charlotte, he couldn't find anything like what he tasted in France. In 1983, he had a bakery he loved in Greensboro. When the owner left for Myrtle Beach, Noble took over the shop. That bakery his since closed, but Noble has continued baking bread and desserts in-house to supply his restaurants, including multiple Rooster's locations and The King's Kitchen.
Recently, Noble decided to put more resources into the bakery, located around the corner from The King's Kitchen and called The King's Bakery. He went to Johnson and Wales, and asked for a recommendation on graduates who loved bread. He learned about Chef Mike Pappas, whose methods earned him mention in the book Bread Revolution, and hired him to oversee the bakery this past December. It has since grown to also supply littleSpoon, Marriott Center City, and Sycamore Brewing Company. And soon, you will be able to walk into the King's Kitchen for a taste of their treats and breads yourself.
A grab-and-go pastry counter is being installed near the entrance of King's Kitchen, with lighting fixtures made from old mixing paddles. Noble and Pappas hope the pastries will familiarize more people in Charlotte with their baked goods.
"If we did nothing else but make bread for ourselves, that would be fine," Noble says. "But the product is really so good and there's such a void in the Southeast in general for what good bread is, that I think we want to do more to make it available to people."
The menu will include breads, croissants, Danishes, and "classical desserts with a modern context," Pappas says. For a savory breakfast, grab a croissant monsieur—stuffed with ham and cheese—on your way into the office in the morning. Looking for something sweeter? The Charlemagne, a walnut raisin cream cheese Danish, can help you there. If you don't mind getting a bit messy, the Sticky Situation sounds decadent: a brioche sticky bun with butterscotch and a toasted pecan crumble.
Like The King's Kitchen, proceeds from the bakery will go toward helping fight homelessness and hunger in Charlotte. Prices for the breakfast items will range from around $2.50 to $5. They expect to be selling in about two weeks, so keep your eye on Dine + Dish for an opening date.