Ladies First: Lacrosse in Charlotte
Local girls join the growth of the sport across the country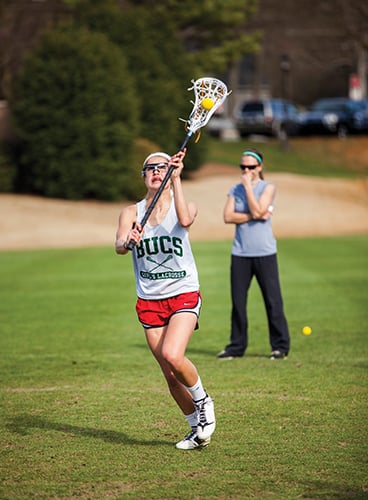 Riley Harrison arrived at her first girls' lacrosse practice in third grade and immediately realized she didn't fit in. Or rather, her stick didn't.
"I showed up with a boys' stick," she says. "I didn't even know there was such a thing as a girls' stick."
Her father, a former college player, had taught her to play catch with his old sticks. But a girls' stick has a shallower pocket, which makes a big difference when throwing and catching. "The other kids made fun of me, and I remember I was like, 'I never want to play lacrosse again.'"
But she did. After a shopping trip for a new stick, Riley found that the early years of catch with her dad paid off. "In clinics, I got mixed in with middle-school girls," she said. "I looked up to them, and it inspired me to get better."
Now 16 and an attacker for the lacrosse team at Charlotte Country Day, Riley is among a wave of local girls who have helped the sport take off in the past five years. Boys' lacrosse began to take hold in North Carolina in the 1990s, and the girls' version arrived in the past decade. This year, roughly 63 high schools around the state fielded varsity teams, including at least 16 in the Charlotte area, from Lake Norman to Waxhaw, says Country Day coach Kristy Boyles. Among local middle schools, a key indicator of growth, girls' programs have more than doubled in the past five years, growing from 10 to 21. Youth leagues now reach elementary school students.
Boyles, who was raised in lacrosse-crazy Syracuse, New York, arrived in Charlotte in 2006 to discover that her favorite sport was on the verge of a growth spurt. In the last three years, the players who joined youth leagues formed in the mid-2000s began entering high school.
Lacrosse's growth in Charlotte mirrors a national trend among colleges, where the women's game has already raced past the men's. In 2004, roughly 50 schools across the country fielded Division I women's teams. By this year, that number had soared to 103, while the number of men's teams has stayed relatively low, growing from 57 to 67 in the past decade.
As Charlotte's reputation in the women's lacrosse world grows, colleges are paying attention. Riley has committed to UNC Chapel Hill, and has watched coaches swarm the sidelines to scout her competitors.
In the fall of 2012, she and a handful of other Charlotte players on a freshman club team competed in a tournament in Baltimore. They faced the sophomore-level team of an elite Maryland club, the Sky Walkers.
The Sky Walkers had been producing All American-level college recruits for 10 years. And if the players were intimidating, that was nothing next to who was watching from the sidelines.
"There were coaches from every major college program," Riley remembers. "They were from places I only dreamed of playing."
As the college coaches looked on, the young Charlotte players ran with the Sky Walkers nearly point for point. They didn't win, but they proved they belonged.