Larry Suggs Joins The Stanley as Head Bartender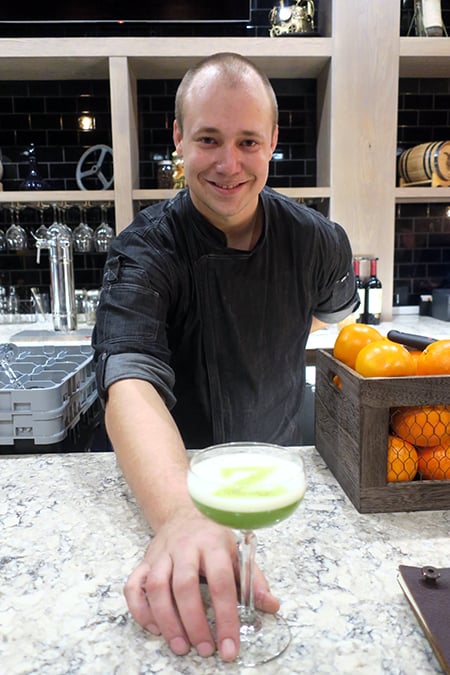 Bartender Larry Suggs will have a home base when Paul Verica's new restaurant, The Stanley, opens up this spring. He accepted the position of head bartender there last week, meaning he'll be behind the Elizabeth-neighborhood restaurant's bar most nights. The opening is eagerly anticipated; Verica's former restaurant, Heritage Food & Drink in Waxhaw, ranked No. 1 on our 2016 Best Restaurants list. (The 2018 list is here.)
"It's a blank canvas," Suggs says. "Working under one of the most talented chefs in not only Charlotte, but I think in the region—I'm honestly humbled to have this opportunity."
Suggs had a background in craft beer before finding his curiosity piqued by an Old Fashioned in Charleston. The realization that one cocktail can be made in so many ways led him to seek out training in craft cocktails, and he took a position as Bob Peters' apprentice at The Punch Room. Since then, Suggs has consulted on several restaurants' cocktail programs, including Zeppelin, Dilworth Tasting Room, and The Roasting Company.
At The Stanley, Suggs plans to put a focus on local spirits and producers, such as Great Wagon Road, Doc Porter's, Muddy River, and Sutler's, but won't be limited to local products. The drink menu will focus on seasonal cocktails, and mimic the kitchen's focus on seasonal and local ingredients. It will also feature an old-fashioned inspired by a favorite cocktail of the Verica family.
"It's derived from Chef Paul's family recipe that has been passed down," he says. "It's kindof a verbal recipe. I got three or four different recipes from various family members and I've been able to bring those together."
Hiring Suggs shows Verica is taking his beverage program seriously in his new location; the bar at Heritage was secondary to the food. Two doors down at 7th and Pecan avenues, Chapel Hill's Gary Crunkleton is opening a craft cocktail bar. Construction is well underway at The Stanley; the shell of the bar is in place and the dining room bones are laid out. If all goes as planned, Suggs will be serving up old-fashioneds in mid-April.