Last Land on 485: The Oehler Family Farm
One farming family watched Interstate 485 creep closer to them from both sides for nearly three decades, until their land was the last link in the loop. They never protested. They never tried to stop it. But when they saw the road open in early June, a piece of their family was lost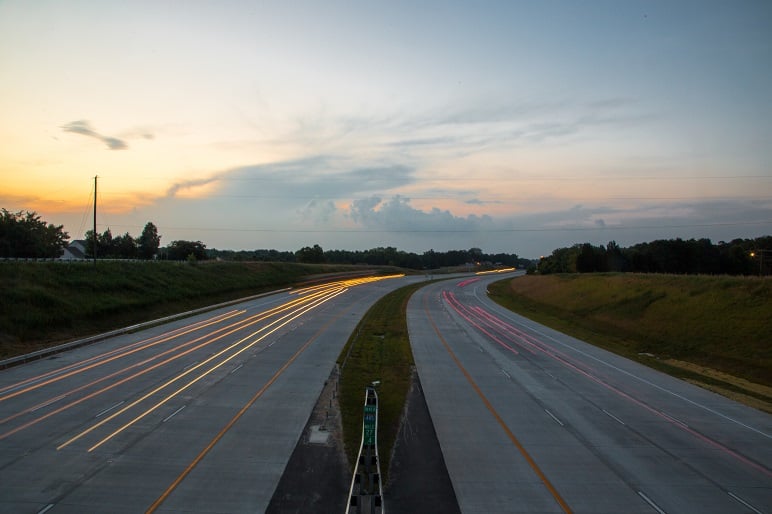 IN THE FALL of 2012, Jay Mack Oehler lay in bed in the home he built with his own hands at the end of a road named for his father on land his family had farmed for seven generations, and he knew he was dying here. He was 83 years old, and colorectal cancer had spread to his liver. His wish was to find a spot where he could look out the window of his home.
Jay Mack was born on this land. He grew up walking behind a mule, plowing a cotton field. He raised his family here. So when nurses asked him where he'd be most comfortable in his final days, naturally Jay Mack said right here, in his home off of Jimmy Oehler Road near Johnston Oehler Road in northeastern Mecklenburg County.
"He told the hospice lady, 'I can lay here and see my land,' " his son Mike remembers.
Outside Jay Mack's window, though, things around the Mallard Creek area of the county were changing. The once-quiet landscape was being replaced by the steady beep-beep-beep of highway construction equipment, which was gobbling up Jay Mack's back pasture and the neighbors' woods to connect the last five miles of Interstate 485, the giant oblong bypass looping around Charlotte.
It had taken those crews nearly 30 years to get here. Construction on the first section of 485 began in 1988, and since then the pavement has crept in on the Oehler family farm from each direction a little bit at a time. Now other portions of the roadway, especially in the southern part of the county, have already become so congested that 485 has needed to be widened. The road has become a source of frustration for residents throughout the area, the numbers 4-8-5 a key code to get Mecklenburgers riled up about red tape in Raleigh and the North Carolina Department of Transportation.
As the leaves were changing color in 2012, an old farmer was dying and watching what had been the back pasture behind his home become a chasm, a trench, marking the last link.
Here, between Mallard Creek and Prosperity Church roads, just north of Mallard Creek Park and south of the Highland Creek development, the notorious 485 was becoming a full loop, and for better or worse, Jay Mack Oehler wasn't going to live to see it happen.
***
JACKIE TURTON MET Jay Mack at the Derita School in 10th grade geography class. "He scooted in next to me and said, 'What are you doing tonight?' "
Jackie told him she'd have to ask her mother before she went out with him. She recalls her mother saying of Jay Mack's last name, "What kind of name is that, anyway?"
That name had been a part of this county for a century or more, back to when a cobbler named Johannes Oehler arrived from Germany in the early 1800s. Jay Mack was born on the same property Johannes owned. Jay Mack's father was born in a log cabin that still stands on the same land. And so forth.
Jackie grew to like the boy with the funny name, and they were married in 1949. The couple had three boys, Carl, Mike, and Larry, and a girl, Connie. With new children came the need for amenities in their cramped home. For instance, when Larry was a toddler, the family installed an indoor bathroom, replacing an outhouse.
Jay Mack worked for the phone company, Southern Bell, for 33 years. He had a knack for clearing problems with telephone switches. They dubbed him "JMO the Old Pro."
But Jay Mack couldn't let farming go. In his spare time, he planted row crops and cut hay and raised cows. He put his sons to work. Mike remembers walking the fields using a horse-drawn plow known as a spring-tooth harrow. "How many people who are 63 years old [in 2015] can say they walked behind a horse?" Mike says. At age eight, he could drive a horse-drawn cart on the rural roads.
The family owned a workhorse named Dan. Dan wouldn't win any races, but he literally pulled his weight. Family lore has it that when one of the boys, Carl, fell under the horse, Dan abruptly stopped and held his hoof above the small child, patiently waiting for someone to fetch the boy unharmed. Larry Oehler says after a day of work off Prosperity Church Road, they'd simply turn the horse loose, and Dan would migrate home. "They told that for the truth," Larry says, chuckling.
On Sundays, the Oehlers went to church. Jackie was the first woman to be chosen as a deacon at Mallard Creek Presbyterian Church. In retirement, she helped Jay Mack form a small business, a voice and data company, which is still operating. The couple was inseparable, all the way into old age. She survived a cancer scare. He did not.
"When Jay Mack got sick, he wouldn't tell me," Jackie says. "I had sense enough to know.
"We were always part of each other."
***
ON A RECENT afternoon, Jay Mack's son Larry sits in a rocking chair in the living room of the home where he grew up, the beams and joists hewn from logs Jay Mack hauled out of the woods. Larry and Mike have just pulled up in a pickup after taking their mother to the doctor for a checkup. Jackie gets around with a walker these days.
On the farm, Larry and Mike still work in the fields sometimes, cutting and hauling hay and doing whatever else needs to be done. And some of the beef cows are still here—they're among the last standing off Ridge Road.
It's been more than two years since Jay Mack died, and for the first time the Oehlers can imagine a day when the road signs will preserve the family name but no Oehlers will live on the land, no cattle will graze here, and few will remember the rich stories.
Throughout this area of Mecklenburg County, subdivisions sprout from the fields and forests that once yielded crops, cattle, and timber. The two-lane roads where Jay Mack's sons could drive a horse-drawn cart without passing a single car are now crowded with suburban dwellers in SUVs taking a shortcut to Concord Mills. Once upon a time they were called farm-to-market roads, for farmers to take their crops to the marketplace. Now the road from the marketplace is taking the farm.
"It's just becoming too difficult to farm around here," Larry says, rocking back and forth. He says the cows his father called by name, Horny Red and Lucky Flop and the rest, will all be gone in five years.
The completion of 485 cements a demise of Mecklenburg family farms that began a century ago, when farmers began to sell their land and move into the city. By 1920 the number of Mecklenburg County farms had declined for the first time and the majority of county residents no longer lived on farms. Beginning in the baby boom of the late 1940s, after soldiers returned home from World War II, many families moved into a new ring of Charlotte suburbs. And later in the 1960s and 70s the suburbs grew as middle class families fled the center city.
Then-Governor Jim Martin broke ground on I-485 between U.S. Highway 521 and N.C. Highway 51 in July 1988. At the time, the governor was in the process of completing another big highway project—finishing North Carolina's portion of Interstate 40, which would connect Wilmington to Barstow, California.
Another North Carolinian, CBS journalist Charles Kuralt, remarked after the completion of I-40: "Thanks to the interstate highway system, it is now possible to travel from coast to coast without seeing anything." But by then, speed and efficiency had become more important than the roadside view, the destination more important than the journey.
Martin, for one, believed the highways were reasons to celebrate. In 1990, the stretch of I-40 from Raleigh to Wilmington was completed, fulfilling one of the many visions set down by President Dwight Eisenhower when he signed a law authorizing the interstate highway system in 1956.
That was a 34-year project. It's taken 27 years to build 67 miles of road around Charlotte, just seven years less than it took the states and the federal highway system to build I-40, the third-longest highway in America.
***
ON FRIDAY, June 5, a warm and partly cloudy day in northern Mecklenburg County, the Charlotte Chamber of Commerce handed out checkered flags under white tents on the right-of-way near Interstate 85, and Governor Pat McCrory drove through a ribbon to open the final stretch of 485.
Now it's possible to make a loop around the city of Charlotte in less than an hour (depending on the notorious Ballantyne traffic). Now it's possible to get from the airport to the university area without ever leaving the interstate. Now it's possible, at 70 miles per hour, to pass hundreds of years of Oehler family history in seconds. There is no exit, no billboard, no illuminated sign floating above the old farm. Just standard-issue DOT exit signs marking Mallard Creek Road or Prosperity Church.
The Oehlers didn't fight the bypass. But they didn't welcome it, either. Sitting on the couch surrounded by family photos, Jackie says, "I know they needed it, but it's going to be an imposition on a lot of people—not just us."
Dozens of Oehlers still live here, right where they always have. Jackie Oehler and another 22 descendants spanning four generations live in nine homes scattered on the family land.
"Daddy was always so proud everybody could get together and get along," Larry Oehler says.
Another 22 people with the Oehler last name, all descendants of a distant cousin, live just up Ridge Road. Until 485 changed the landscape, the topography defined the two branches of the Oehler family—they each claimed a side of the creek. The creek's been re-routed underground and under the highway.
Jay Mack's kids have an idea where this is all headed.
"At some point [the land is] going to be sold off; that's just the way life is," Mike says.
Larry is quick to say that they're staying and have no plans to sell. Either way, their mother knows the future of the land isn't up to her anymore.
"All of them may decide to sell, which I expect them to do," Jackie tells me. "It doesn't matter to me."
Jay Mack was buried on Election Day in November 2012. The receiving line stretched around the interior of Mallard Creek Presbyterian Church, the host of the famous Mallard Creek Barbecue, which is now in its 86th year. It's a church fund-raiser and gathering place for local politicians glad-handing for votes. Weeks before he died, after 82 consecutive years of attending the Mallard Creek Barbecue, Jay Mack gave away his tickets. Jackie wasn't feeling up to going, either.
Jay Mack always saw the loss of his land coming. Just before he died, he left a note telling his family to sell the cows and plant trees. It was time to move on, he told them. In his last days he told his wife, "Nobody knows all the work I've done here."
But here's a funny thing about the farmer whose family always lived here, who always wanted his grandkids to grow up here, who wished all this growth didn't have to change things: Nearly 20 years before he died, Jay Mack Oehler bought 33 acres near Mount Pleasant in Cabarrus County, about 23 miles away, with the idea the family might one day move there together to escape the 'burbs.
In recent years, though, crews have widened N.C. highways 49 and 601, making it easier for people to get to Mount Pleasant. So even if the family decides to move to that farmland, the 'burbs will again be coming straight for them.
Stuart Watson is an award-winning investigative reporter, a veteran of WCNC-TV and WRAL-TV, who along with his wife Lorraine raised their four kids in Charlotte and sent them to Charlotte-Mecklenburg Schools and the University of North Carolina. He can be reached at StuartW@post.harvard.edu or on Twitter @StuartCLT.