Le Cochon D'Or in Waxhaw Taking Reservations for Friday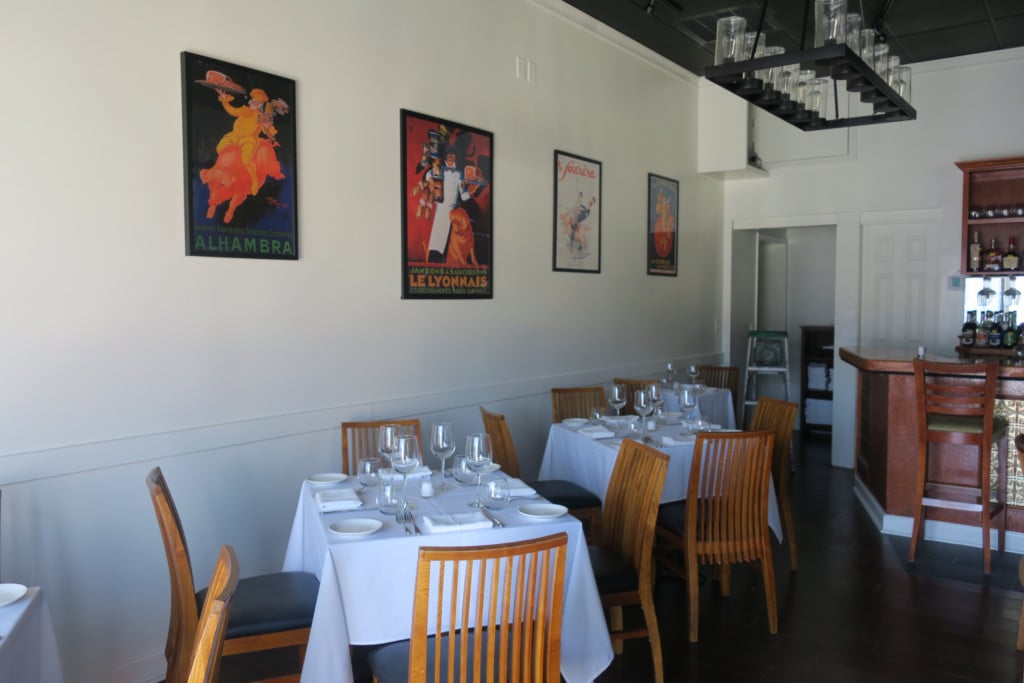 Le Cochon D'Or, the new Waxhaw restaurant from the owners of Aix en Provence in Myers Park, will open for reservations on Friday. Owners Bryan St. Clair and Patrick Garrivier started work late last year on the space, which was the home to our 2016 no. 1 restaurant, Heritage Food & Drink. Heritage owner Paul Verica closed the restaurant and will re-open a new one, The Stanley, in Elizabeth later this year. (Aix en Provence was No. 3 on this year's 50 Best Restaurants list.)
Light fixtures were changed, new seating brought in, and vintage French posters were hung on the walls to prepare Le Cochon D'Or for opening. The name translates to The Golden Pig, and a patinaed metal cutout of a pig hanging on the wall greets guests as they enter the restaurant. The dinner selections are divided into hors d'oeurves, gourmandises, plats principaux, and bonbons, with translations for each section. Some items are familiar from the Aix en Provence menu, such as the flavorful cassoulet and rich moules frites. Other promising options from Executive Chef Nicholas Tarnate include the choucroute garnie, a confit pork belly dish with sauerkraut, Alsatian sausage, and fingerling potatoes, and the quenelle du Lyonnaise, a scallop dumpling with roasted mushrooms and a lobster sauce. The focus of Le Cochon D'Or is Lyonnaise and Alsatian cuisine.
Le Cochon D'Or's Waxhaw neighbors can get a sneak peak of the restaurant this week; they're open to walk-in guests as of Tuesday. The restaurant hopes to resemble the unexpected culinary delights you find in Garrivier's home country of France.
"When you drive through the French countryside and you stop at the little villages," Garrivier told us in November, "they have those little restaurants where you come in and you don't know what to expect. But when you look at the menu and you eat you're like, 'Wow!'"
Read more about Le Cochon D'Or in our earlier article breaking the news of the restaurant here.