Life Lessons: Adria Focht, Director of Charlotte Museum of History
On the value of history, the challenge of promoting it, and the importance of learning from its mistakes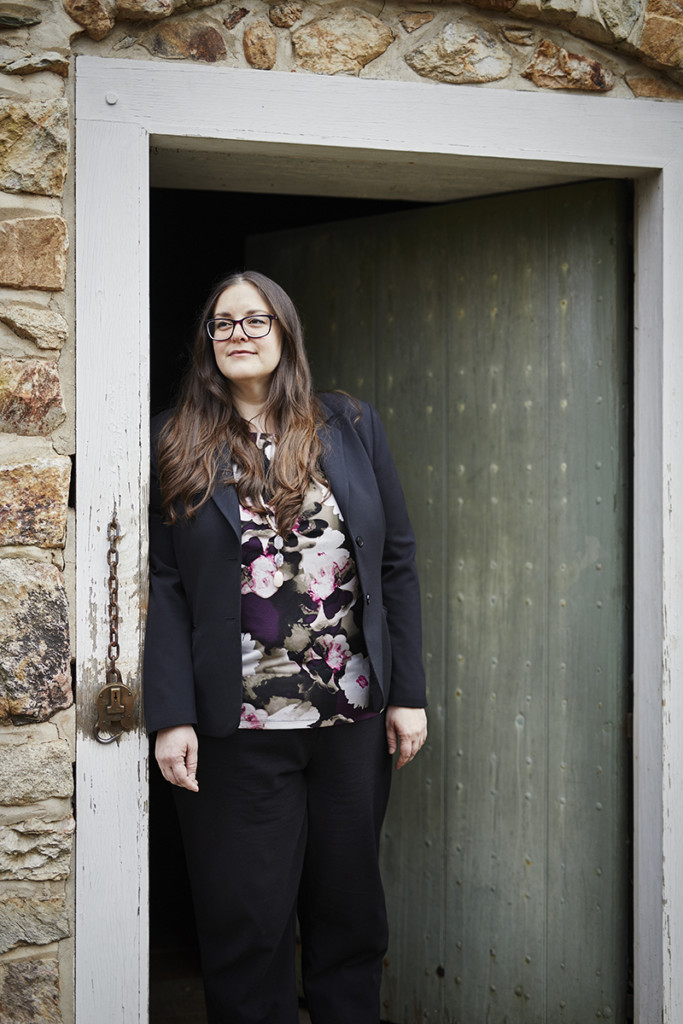 ADRIA FOCHT MADE HISTORY herself when she was named president and CEO of the Charlotte Museum of History in November 2017. Focht was 34, the youngest person ever to hold the position. The east Charlotte museum's showcase is the Hezekiah Alexander Homesite, a two-story stone house built in 1774 and the oldest surviving structure in Mecklenburg County. Now 36, Focht reflects on how she can connect the museum and millennials like herself in the year of #CLT250—and preserve history in a city known more for tearing down and building anew than conserving and honoring its past. Her words are edited for clarity and space.
---
I've always loved this museum. I used to come here for various programs when I was a student at UNC Charlotte and working at Kings Mountain Historical Museum. I think the Hezekiah Alexander House, the Rock House, is one of these underrepresented treasures of Charlotte. A lot of people don't know about it, and to me, it's an icon. I had watched this museum for many, many years, and I was excited about what they were doing. When I saw this position come open, I was so excited to jump at it—and really excited that I got it.
When I first got this job, one of my board members gave me a commemorative "Welcome to Charlotte" glass. It has on it a dinosaur for Discovery Place, and it's got the NASCAR Hall of Fame, and all these other icons of Charlotte landmarks. I want the Rock House to be one of those recognizable landmarks. It's not only Mecklenburg County's oldest home, it's the only home concurrent with the American Revolution. We were this hotbed for rebellion and activity, and that history is so overlooked.
We want to be able to tell the story of all of Charlotte's past. No one really speaks to the city's prehistory; there's no one really telling the story of the many Native American tribes that were part of Mecklenburg County before the Colonial era. I think there's a lot of stories to tell, a lot of different voices that should be represented, and that's going to be part of what we focus on.
We're working to preserve the historic Siloam School, which is a historic Rosenwald-era African-American schoolhouse from the 1920s in the University area. There are apartment complexes all around it, and you wouldn't know it's there. There are little pieces like that of Charlotte's history that are currently fading away. We want to advocate for the preservation of the built environment—I think this is a big key here—and not to preserve history for history's sake. We want to preserve history so that we understand how we got to now and we can have discourse to plan for a better future.
A lot of people think historic preservation is just an expense, when in fact it serves economic development in a lot of different ways. If you preserve a historic building rather than tear it down and build something else, it's actually cheaper, and that supports entrepreneurship and small businesses. It supports mixed-income communities, which is a big topic for Charlotte right now. And then it also preserves the authenticity of a place. That's not just a special, good-feeling, quality-of-life thing. It actually draws people in. Cities that are authentic with their history and have those places preserved draw tourists and young people attracted to places that have soul.
This year, we're celebrating Charlotte's 250th birthday–which was actually December 3, 2018. I think that celebrating history has changed nationwide. Civil War reenactments used to be hugely popular; everyone would come out to see it, and now there's a taint to it. I think that overall there's this nationwide trend of getting away from these big historical celebrations because you're trying to get away from celebrating the ideals of the past.
Overall, there is a lack of a preservation ethic in Charlotte, and I'd like to see that change. It takes doing neighborhood walking tours in places like NoDa and Belmont, doing the Mad About Modern home tours, doing those things that show that history is not all gone, it is here. It is endangered, and it will take advocacy, but it is still here. I think that's breaking down that misconception that, 'Charlotte's already torn down its past, and what's left? Why do we need to preserve it, anyway?' It's about changing that mentality and celebrating those things that are still here—for the right reasons.
Every 50 years, Charlotte becomes unrecognizable. Or even every 10 or five or two, depending on the neighborhood. And that sense of place and your memories of that place are what connect people to their hometown and make them care about it. It's almost like a family member in a way, having those historic structures that represent your past.
We really have to focus on that group of 60 people a day who are moving to the area. Where are they going to live? And what is the Charlotte of the future going to look like if we continue this path of tear down, build up? Most of the structures that are going up now will be gone in 40 years. That's not sustainable. And I don't know how else to say it, but it's garbage. It's not good for the environment. It's not good for the neighborhoods. You've lost the authentic history and the lessons that can be learned from that history, be it the textile mills and labor rights struggles that took place here, be it the segregated neighborhoods and the Civil Rights struggles that happened here. A lot of these neighborhoods represent ugly history, and bulldozing it is not an acceptable way to address ugly history. Preserving it, addressing it, and turning it into something that this new community can embrace is really the direction I hope that Charlotte will move in.
One of the things that we're working on is Endangered History Tours. We'll go to places like the Siloam School and say, 'This is a structure that is literally falling down right now, what are we as a community going to do about it?' Then comparing that to preservation success stories. For example, there's a Rosenwald School in Rock Hill that the local school system came together to preserve, and now they use it to talk to students about segregation and racial issues.
I technically am a millennial, but I don't know that I consider myself one. I think it allows me to think of what will attract a younger audience, and that's definitely something that all museums currently struggle with. Your core base of support is aging out, and how do you attract younger people? How do you get them to be passionate about their history? Especially because so many of the young people are not from Charlotte—so how do you get them to care about their new neighborhoods?
We're trying to market to a younger audience on platforms that they understand and question how we can make it more relevant. It's about discussion and conversation and planning for the future and understanding the past so we don't make the same mistakes.