Life Lessons: Evening Muse Owner Joe Kuhlmann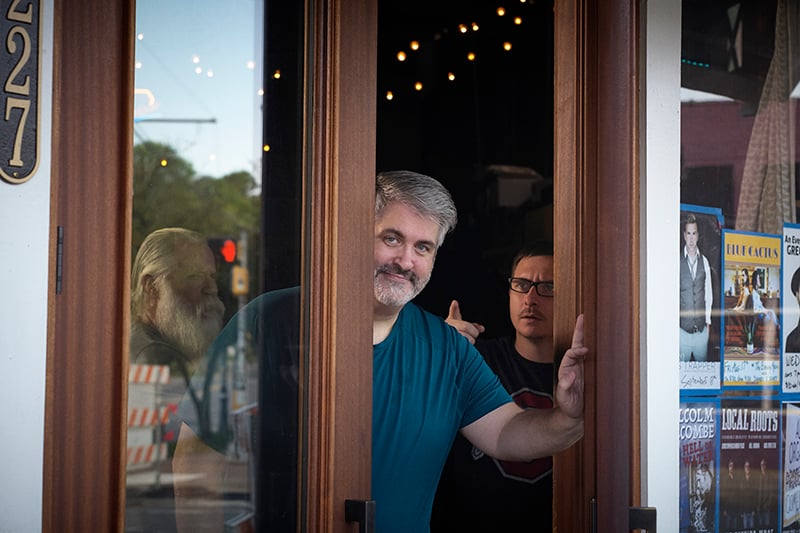 JOE KUHLMANN WAS 26 in April 2001, when he and a pair of partners opened The Evening Muse, a music club at North Davidson and East 36th streets, in the old mill village that people only recently had begun to refer to as NoDa. The initial partners—one of them, Lea Pritchard, would become his wife, then ex-wife—faded away, but Kuhlmann and the Muse remained, an anchor in the heart of NoDa as the neighborhood transformed from a gritty assemblage of independent art galleries and dive bars into the bustling arts and entertainment district it is now. Kuhlmann, 43, has helped guide the changes as a longtime leader in the NoDa Neighborhood and Business Association, and his club continues to draw an eclectic array of independent bands and singer-songwriters even as other locally owned music clubs—the Double Door, Tremont Music Hall, Amos' Southend—have shut their doors.
But a few years ago, as Kuhlmann struggled through his divorce, the mostly sedentary and late-night life of a musician, sound engineer, and club owner began to catch up to him. "I was just packing on weight," he says. Since fall 2016, Kuhlmann has prioritized his own health and dropped 105 pounds. We spoke to him on a weekday afternoon in late July, in an empty Evening Muse. His comments have been edited for clarity and space.
---
I'm originally from Hudson Falls, New York. I got into music pretty early on, went to college for it at James Madison. I'd toured as a performer, I'd produced records, I'd done live audio and stuff. When we opened the Muse, I was a recording engineer at Studio East over on Monroe Road.
The Evening Muse came about out of necessity. It wasn't something that was a dream or anything like that. It happened because the space that was here before was just being underutilized a bit. It was a place called Living Art. It was a coffee shop, and they were mostly open only for the gallery crawls. I'd been to see bands at Fat City Deli; Charlotte just seemed like it was fertile. It just seemed like there was something going on in local music, but nothing too big, nothing too crazy, that was waiting for something. And that's what attracted me to move here in 1999 and stay here.
This was definitely the counterculture neighborhood, and it was kind of the Wild West. You would be in those parts of towns that made you go, 'Oh, this is the real vibe of the city. This is the real energy.' Until I got here, I wasn't really super-crazy about Charlotte. But once I saw NoDa, I was like, 'Ah! This is pretty cool.' It was authentic.
I used to walk people to their cars with a baseball bat. It was rough around here.
I've always wanted to champion writing, good word choice, melodic choices, making it where your music is more than something just to get up and dance to. The power of music has to come through. That's what I feel like the mission is here. Give artists great production, great sound, make 'em look good onstage—do the little things that kind of force the audience to pay attention to them.
As far as sticking around as the neighborhood around us changes, we're looking at the horizon a little bit. I personally do not feel compelled to fight the changes that are inevitably going to happen. They're too large. Charlotte's still trying to define herself, which is cool and scary at the same time. So instead of fighting, we adapt. One of the things we've started doing is more comedy, which to me is still an art form. There's a handful of other projects we're slowly working on.
Recently, Don and Laurie Koster joined me as partners. Mainly we just want to maintain this iconic room that's got great energy and sounds and looks good, and there's great interactivity between the audience and the artist. We're still here mainly because of stubbornness. We don't have it all figured out. We're constantly treading water and trying to make it work. There is no cruise control in a business like this. We're not here without the guests. We're not here without the artists.
When I started making records, and when I was in a band and was touring, I wasn't an Adonis or anything, but I was fit. In 2014, I went to give blood, because I've always been a blood donor. I went in, and they're like, 'Your heart rate's real high, your blood pressure's weird. What's going on?' I was like, 'I'm under a lot of stress. I've got a lot going on.' That was also during the divorce and all that stuff. They said, 'You can't give blood.'
I was at 400 pounds. I had no idea I was that heavy. Even then, it still took me until 2016 to get into a consistent program.
I had never really put my health and wellness as a priority. My identity had always been in taking care of others. You think you're being selfless, martyring yourself, whatever. I had forced my identity into being that helper, do-gooder Boy Scout—which I was. But I didn't really know what I wanted. I'm still answering that question.
I got into a fitness program in September 2016. I was doing some really heavy lifting along with cardio. But my doctors discovered microfractures in my legs—about 40 between the two. By October 2017, I'd healed enough so that I could start some light workouts, but I ended up injuring my knee. So now the doctor's like, 'You basically need to be in bed for the next six months.' I said, 'That can't happen. I'm a small business owner.' But I did figure out how to slow down, be more deliberate, sit more often—I've still got a brace on today—to give myself that healing.
I'm down 105 pounds. The doctors gave me nine to 12 months on the knee brace, and we're coming up on nine months here pretty soon.
A lot of it is timing my eating during the day so I'm not just grazing, then coming to work late at night and having a big meal and then trying to go to sleep, which is what happens in the music business a lot of times. Making that a priority and making a few adjustments—I keep a jug of protein powder here so I can fix those things for myself. And talking to other people about it so they understand you're working at it. The staff is great here, 'cause they'll be like, 'Hey, we're going to grab food at JackBeagle's, do you want anything?' What's great about that is, it's a test, a challenge. You have to tell yourself, 'No. I'm gonna say no. Thank you, though.' All those little things, when you say no, you're actually saying yes to yourself.