Life Lessons: Interior Designer Quintel Gwinn
Her all-black female firm focuses on community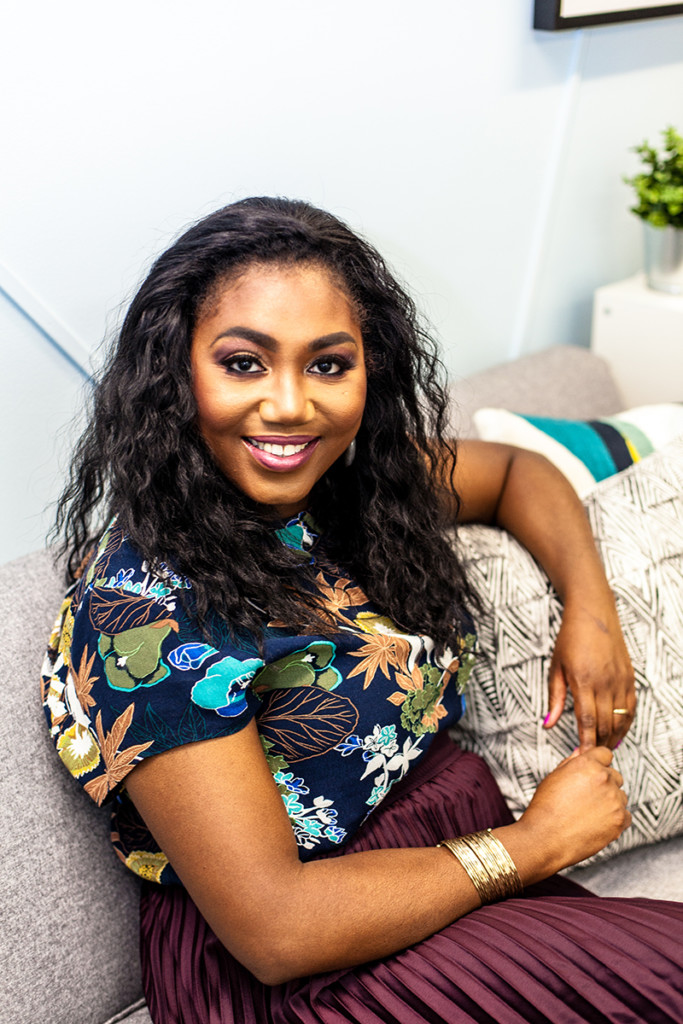 TO A FIRST-TIME VISITOR, Quin Gwinn Studios, a design firm with offices in the west Charlotte branch of Hygge Coworking, resembles a comfortable living room. Bunches of yellow and turquoise pillows, complemented by a matching area rug, sit atop gray couches beneath white curtains. Designs for current and future projects line the walls beside a drafting table piled with blueprints.
A 35-year-old Columbus, Georgia, native, Quintel Gwinn founded her business in 2014. It was, and remains, a rarity: a design firm owned by a black woman. Even rarer, her four-person staff consists entirely of black women.
Gwinn studied interior design at Georgia Southern University, then worked for a small, black-owned architectural firm in Columbus, where she focused on interiors for commercial spaces like senior living facilities and community centers. She was laid off when the recession hit in 2008, and she and her family relocated to Charlotte two years later.
Gwinn earned a master's degree in Interior Architecture and Design from Queens University and worked part-time for a few years at West Elm, a modern design furniture store. But she created Quin Gwinn Studios to address social challenges in poor and minority neighborhoods. "I began to wonder," she says, "'Where are the other firms that have an all-black staff?'"
Recently, she converted a space inside the James B. Duke Library at Johnson C. Smith University for the RCLM (pronounced "Reclaim") 37 exhibit, a partnership with the Levine Museum of the New South that uses art to examine the history and future of the gentrifying Beatties Ford Road corridor. Gwinn, a mother of three, manages her business in an industry that lacks diversity; a little more than five percent of African-Americans who earned degrees in 2016 chose interior design as their major, according to U.S. Department of Education data.
Here she is in her words, edited for clarity and space:
AS AN INTERIOR DESIGNER, I'm creating space. I bring space to life. Function, style, creativity are all important in trying to create environments that are responsive to the need. Design needs to be doing something for the people.
I ALWAYS KNEW that I wanted to do something creative. I took every art class in middle and high school.
I WANTED TO ATTEND Savannah College of Art & Design to study architecture, but once I began looking into the program, I realized I was more interested in people, experiences, and the spaces that people spend time in. I ended up at Georgia Southern University because it's a top school for interiors.
WHILE IN SCHOOL, I did an internship at a medium-sized architecture firm that had land surveying and engineering all housed in one—which was great, because it showed me where my practice specifically with interiors fit into the grand scheme of building.
CULTURALLY, there were some disconnects at that internship and all throughout college. I wanted to find black architects with their own practice. I eventually got a job with a black firm in Columbus, that had an office in Atlanta. The firm had all-black project managers, architects, estimators, and structural engineers. It was an anomaly in our industry. I was the only designer they hired, and when the economy tanked, my job went with it.
I WAS DEVASTATED. After that, I told my husband, Jason, 'Let's move to Charlotte.' I had studied the city and read about the growth, plus we wouldn't be too far from family. We had no furniture, no money.
I WAS ABLE TO FIND WORK part-time at Restoration Hardware. Then, for the next few years, I worked at West Elm; both companies are furniture-based and were trying to branch into the interior design sector. I took that opportunity to shift and pivot and take my shot. I came into West Elm as a design associate to help build and develop what eventually became their home stylist program. I became their first certified home stylist.
WHILE AT WEST ELM, I started to build my clientele. I started doing projects as a side hustle for six months before deciding I could do it on my own. In 2014, I had three clients. Their projects allowed me to step out on my own. I worked out of my home for about three years before joining Hygge.
I HIRED AN ALL-BLACK, all-female staff, and we are all under the age of 40. Diversity in the architecture and interior design industries continues to be a huge barrier. This is my attempt at putting a tiny dent in the gender gap, diversifying the profession, and exposing more young professionals and communities to the industry.
I LIVE WHERE I WORK on the west side because my practice is a social practice. I'm concerned about how design works in the bigger picture of public space and in our overall urban environment. Not a lot of people with my background are willing to come and do work. I'm very passionate about positioning my work and projects to be responsive and socially responsible.
I HAVE BEEN WORKING with Lakewood Neighborhood Alliance for the past two years as a fellow with the League of Creative Interventionists, a national organization that uses art to enliven public spaces. So a lot of my work has brought me to the west side, not Historic West End, where they are experiencing gentrification and funding is being pumped into their vision. Over here is where everyday people live and aren't experiencing those advantages.
MOST RECENTLY, I have been working with the teens and young adults in the area on a project called 'In the Paint.' There's a basketball court in a park that's in bad condition, so I've been getting ideas from them to create a design to paint on the court once it's resurfaced. I do a lot of place-making and place-keeping in the urban space, which is creating and shaping public spaces for the community. Since this area doesn't have a community center, how do we take the assets they already have and activate it so it's being used?
MY GOAL IS ALWAYS trying to figure out how I can build something to serve communities through my practice and technical ability and shift how my industry includes people in the process. I love being close to community members and other activists and being able to share this space with them. This thread at the intersection of culture, community, and creativity is what I'm seeing in my work, and I'm excited to keep it growing as I fill a void.
IN THE NEXT FEW YEARS, I see growth on a large scale, taking on more opportunities, state-funded projects, government projects. I want to teach and create a pipeline; historically black colleges and universities (HBCU) rarely offer architectural or design studies. I want to start a program at an HBCU, because that's the legacy I want to leave behind.