Life Lessons: Queens University President Daniel Lugo
The school's first minority president on how to make the venerable private university 'rise with the city'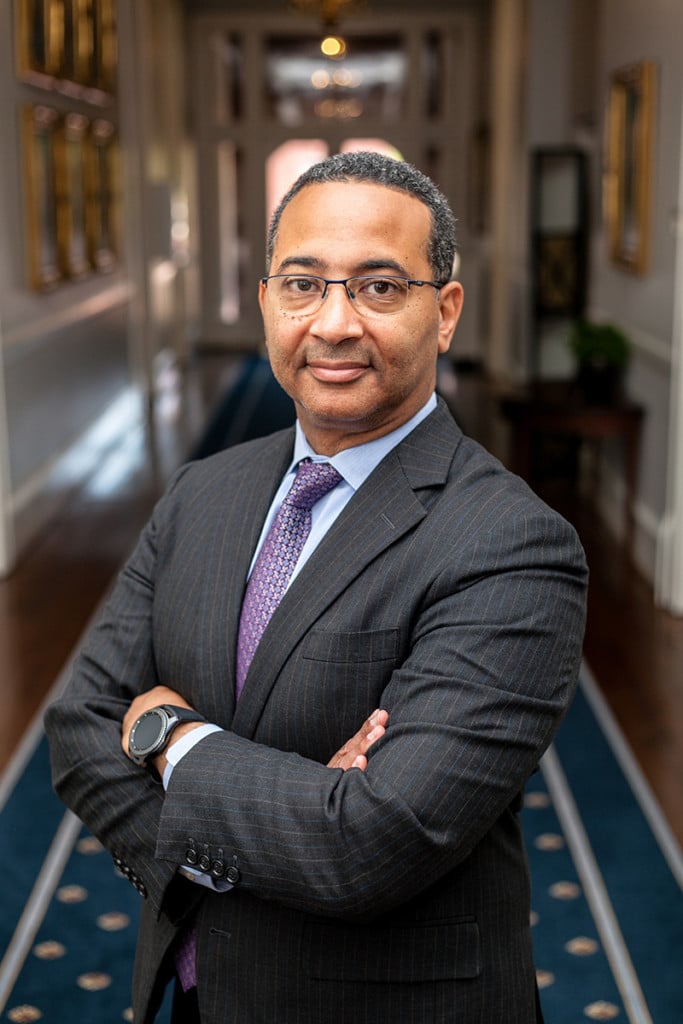 AROUND THE FIRST OF JULY, when Daniel Lugo formally took over as Queens University's 21st president, he met with the 20th, Pamela Davies, who had held the job for 17 years but decided to step down for a year's sabbatical and a professorship at Queens' McColl School of Business. There are three types of university presidencies, Davies told him: those that preside over successful institutions with a mandate to stay the course; those that assume command of institutions in trouble and work to get them out of it; and a third type: "Presidencies that are about going from good to great." Queens, for him, represents the third kind.
Lugo, 50, came to Queens from Colby College in Waterville, Maine, where as vice president for college advancement he formulated and executed a $750 million fundraising campaign—an extraordinary feat for a small, private liberal arts college. Lugo helped run diversity and inclusion programs at Colby and two other private, small-town colleges where he's worked, including his alma mater, Carleton College in Northfield, Minnesota. His interest in diversity reflects his own life experience as the youngest child of a Polish-Puerto Rican father and Caribbean-American mother, and as the first member of his family to graduate from college. He understands the significance of his status as the first racial minority to serve as president at Queens. But it's not what drives him. "As much pride as I might take in that," he says, "on a day-to-day basis, it's really about doing the work"—which includes the perennial need to raise money.
The new president discussed these and other subjects—including his plans and Queens' relationship with Charlotte—during a conversation in July at his office. Here he is, in his own words, edited for clarity and space.
---
I WAS BORN IN ST. CROIX, U.S. Virgin Islands. Diversity isn't just a thing for me; it's who I am. It's how I grew up. Both my parents were born in New York. They're 88 and 86 now and grew up during the Depression to families that didn't have significant resources. My mom's family grew up in St. John, St. Croix, and St. Thomas, and at some point during my parents' lives, they thought it was a good idea to go back down there and raise some kids. But my actual upbringing—I grew up in New York, on the south shore of Long Island, from second grade to graduating high school. I graduated from Amityville Memorial High School, a public school, and Amityville's my hometown. Amityville also happened to be a very diverse community. It was, I think, a really exciting window to be a kid there, where the community had successfully integrated at that point, largely between African-American and white students.
AFTER I GRADUATED IN 1987, I got a lot of brochures in the mail, and I had a big Barron's college book. That was my college search. Lo and behold, the college that first sent me a brochure was Carleton College. People asked me, 'What did you know about it?' I didn't know anything! And I went there—1,200 miles away, far away from family. I've always been looking for the next adventure. It is, behind my wife and my kids, the most important thing I ever did in my life, to go to a great college and get a rigorous liberal arts education. But the challenge is that when you're a first-generation college attender, if you don't get support around what to do next, you have the same challenge of, 'Well, what do I do with this?'
I chose to go to University of Minnesota Law School. I translated that into a nine-year career in entertainment and intellectual property law, of which I liked probably two or three of those years, and I spent the next six trying to figure out, 'Well, what do I want to do with my life? What's going to wake me up in the morning more excited and satisfied with my work? What's my calling?'
I WENT FROM being a ninth-year New York attorney to being an assistant dean of admissions at Carleton College in 2004, the year I lost a sister to cancer, which helped me realize really how finite life is. That job was one of the best jobs I've ever had in my life. I really felt like I was waking up every day eager to do the work, to meet young, bright, exciting, talented students, and eager to further that mission.
I THINK OF MYSELF as an optimist, a bridge-builder. I think I'm someone who likes to start with an openness to trusting people. What I got out of law stays with me—the opportunity to see around corners, to anticipate risk, to give constructive input around documents and regulation and all the rest. Those are really valuable for me. But they're not the front-burner things that make me excited.
I'VE BEEN ON A PATH through higher education over the past 15 years, working with and looking for communities that have a shared, common set of values about what education can be—that are really growth-oriented in their mindset and aspirational—and I found those kinds of qualities in the way people described Queens. So that prompted me to learn more about it. I learned about its incredible history of educating students since 1857. I learned about this incredibly eye-opening, beautiful campus and neighborhood; when I think about place-based learning, this is central casting for exactly where talented students of all ages would love to interact in a vibrant intellectual community.
I AM CONVINCED that I was hired not because I'm the first racial minority to lead the institution. I hope I've been hired because I'm a good fit for the opportunity. But when you think of an institution that's been around since 1857, has had 20 previous presidents, and the fact that I am the first president of color—that's a big deal. I think it's important in the context of our student body, which this institution has done incredible work diversifying, to where nearly 30 percent of our students are domestic students of color, to where nearly 30 percent of our students are the first in their families to go to college, so there's incredible socioeconomic diversity.
HOMOGENOUS GROUPS have been proven to underperform compared to diverse groups. So how do we create a community that is representationally diverse, so we can have that type of experience where people are challenged? Far too often, in conversations around the country, and definitely what I've observed in a short time in Charlotte, conversations about diversity have focused only on diversity between white and black. It's so much more interesting than that. If we're not thinking about orientation, religious perspective, political perspective, different types of physical and other abilities, we're not really getting what diversity means.
WORLD-CLASS CITIES need great private universities that are hubs of talent development, civic importance, and platforms for discussing tough issues; for research that impacts the city and are cultural destinations; that are fountains of talent, ideas, and resources. We have to be that—for Queens and for Charlotte. We just have to figure out how we rise with the city. I think if we can do that really smartly, we're going to be really well-served for our students, our faculty, and our staff, and we're going to be well-positioned for decades to come.