Life Lessons: Tom Warshauer, Neighborhood Advocate
City staffer charts three decades as an openly gay man in Charlotte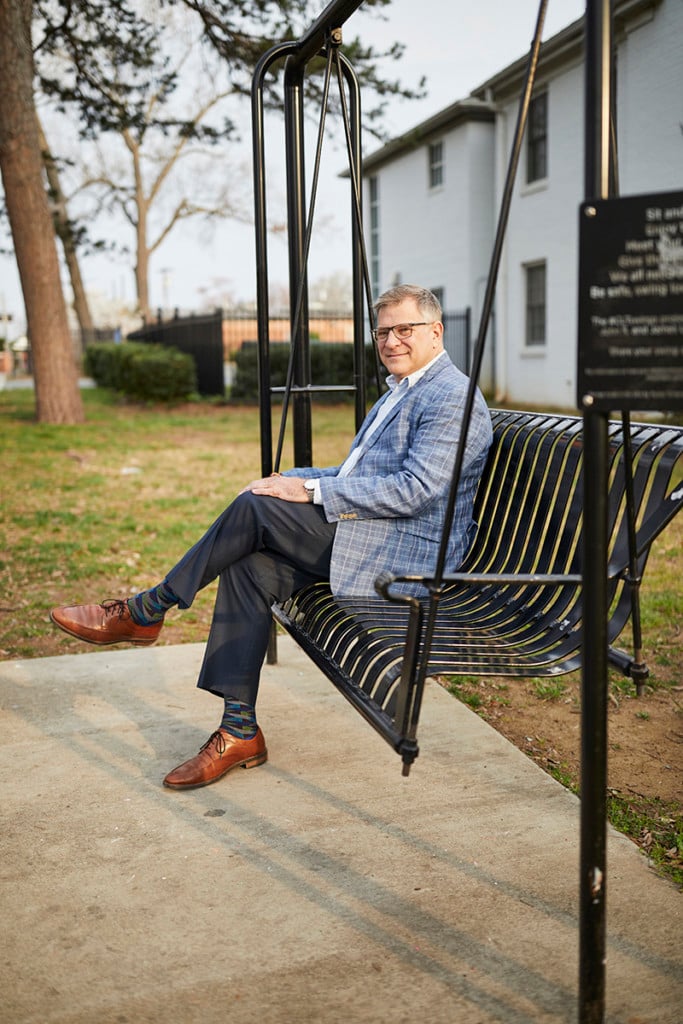 TOM WARSHAUER IS PROUD OF HIS SWING.
It's not really his swing; he doesn't own it. But as an assistant director for community engagement for the city, Warshauer led a grant-funded project last year to install public "front porch swings" at the corner of Commonwealth Avenue and The Plaza, in Plaza Midwood's business district, and at four bus stops along Central Avenue.
With the first swing in sight, Warshauer sits outside Undercurrent Coffee on a sunny and unseasonably pleasant January afternoon. Passersby laugh as they walk down Commonwealth to shop at the Midwood Mania pop-up market. But behind the lenses of his glasses, Warshauer's eyes keep turning back to that swing, and, each time, he smiles.
Why? A swing has no purpose other than leisure and enjoyment. No one fights on a swing. Most important, it's big enough for two—designed to mimic the front porch swings once common in the South, where friends and neighbors could sit, swing, and shoot the breeze. We all need a bit more of that, Warshauer says, in our divided communities and world. He would know better than most, having lived in Charlotte as an out gay man long before it was broadly accepted in this Bible Belt city. His presence and advocacy led to a prestigious honor in February: The Human Rights Campaign of North Carolina, the state wing of the nation's largest LGBT rights organization, presented Warshauer with its Legacy Award during its annual gala in Charlotte.
Warshauer, 63, spoke with Charlotte magazine about the progress the LGBT community has made over the years; his former chairmanship of the Community Building Initiative, a civic diversity nonprofit; and what he's accomplished in his 29 years as a city official. Here he is, in his own words (edited for clarity and space).
---
When I came out in high school, one of the solutions was, 'You should probably talk to someone.' There just weren't many examples of people around, living successful gay lives.
You knew you could be an interior designer. You could be a florist. You could cut hair. But you didn't know if you could do anything else. You didn't see people in other kinds of positions. And people who were in those other positions—and that was true of Charlotte, too, in the early '90s—were closeted.
When I moved to Charlotte in 1990, we started a gay and lesbian film festival, and I went to find a space to have it, and I called people I knew and was able to raise money—but for many of the people who were giving money, they gave it anonymously or first name only. If you were sending a mailer to people, they didn't even want their post office to know, so you wouldn't put on return labels.
AIDS was a big deal then, so if you were coughing and you were gay, that was a challenge to negotiate your life. If you had a simple cold, what did that mean? Might that mean something else if people thought you were gay? The ability to have relationships with your nieces and nephews and cousins and children was more prescribed, because people were so worried about AIDS and HIV.
All gay events in the early '90s were either in a private home or a gay bar, so when we did something at Spirit Square for the first time, for many people it was the first time they had ever been out in a non-gay space as a gay person. It was empowering for people to be out and themselves in public places.
I came to Charlotte and wanted to see film that I can see in other cities. And you didn't have Netflix or streaming services. So if we wanted to see film, we had to bring it in. This was before Will & Grace. People were interested in seeing themselves and depictions of their lives. It means a lot to see yourself onscreen.
That's one of the things people can miss. Extending rights to people who are different expands your own ability to express who you are. The more room we give others, the more room we give ourselves. It's not a matter of giving rights to people who are LGBT. It's also a matter of giving ourselves the rights to be who we are and to be authentic to our own voices.
When we were able to have marriage equality, it was an amazing moment. You felt like you had won. But then, later, you sort of realized, as the backlash against HB2 came, if you don't bring enough people along in a democracy, it's just not stable. People started to realize, until our society is more equitable and free for everyone, whatever rights we get aren't sustainable.
That was a big moment for me when I saw that we can win a victory and step back and lose it the next day. This isn't the first time this happened in the history of the world. People can take a step forward and take horrible steps backwards.
We have to do a better job of creating alliances with other marginalized groups. It can't just be about us. It has to be about everyone being able to express themselves and being able to live freely, whether they're Hispanic, immigrants, Asian, black, or white, everyone needs to have their story told, their story understood, and the right to be themselves. Only when that happens will LGBT people also be able to live more openly and more securely in this country.
We avoid hard conversations. One of the things we've been learning with the Community Building Initiative, and as white people, is that we need to be willing to have hard conversations with other white people and really seek to understand what's bothering them about having people be more free.
We talk about sports. We talk about movies. We talk a lot in the South about recipes. And those are really important—we should know recipes—but we also must be willing to have harder conversations with our families. We're less likely to have conversations with those same people about issues of race and difference, and we need to go there, and we have not.
One thing that's really present in Charlotte is good intentions. Good intentions are not enough to change structures.
We know we live in a hyper-segregated community, and that government regulation was a large part of how we got here, but we don't know what the solution is to that. We don't hear about legislative change that could change that outcome. How do we get from where we are to where we want to be? How do we correct the injustices of the past? That's not just creating an even playing field going forward, because some people are so far behind that that's just not gonna work. They're not gonna catch up.
People have a lot of neighborhood prejudice and a lot of preconceived notions of what's a good neighborhood and what's a bad neighborhood. Is a good neighborhood one that looks leafy and green but that's harsh on the environment? Or is a good neighborhood one that's easy on the environment? You have to stop yourself as you think what's good. What is your value system? What kind of neighborhood do you want to live in? Do you only value the wealth of your neighbor, or are there other things you might value in a neighborhood?
The world always pays you back. It may not be from whom you gave something to, but the world pays you back. So give generously, and it comes back to you. It may not be in the same form, but it comes back to you.