Lingerie party alternatives
Does the thought of opening skimpy underwear in front of your future sister-in-law make you queasy? Ditch the traditional night-before event for these fun alternatives.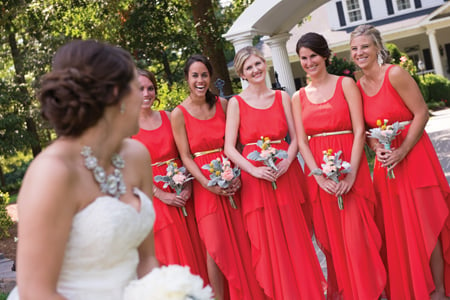 I spent the weekend in Asheville celebrating my sister's last few weeks of singleness. We, along with five of her closest friends, stayed in the cutest little cabin on a much-needed weekend getaway while enjoying some R&R.
While planning her Bachelorette Party, I thought long and hard about what the bride would want. It's traditional to shower the bride-to-be with lingerie for her wedding night and beyond but my sister is anything but traditional.
So why spend hundreds of dollars on a La Perla babydoll when she couldn't care less about Italian silk?
I've said it a million times – the most important rule when planning a Bachelorette Party is giving the bride a night or weekend she'll love.
And if you're skipping the lingerie shower but want something equally as fun and enjoyable to shower your bride with, don't worry. There are endless ways to get creative. Ditching the lingerie shower is completely acceptable!
Here are a few of my favorites:
Board Games – Go classic, like Twister, or spice things up with something like Telestrations After Dark. You'll have endless fun for hours.
Christmas Ornaments – Holiday decorations aren't cheap. Have the bridesmaids each pick out an ornament that represents her relationship with the bride.
Pajama Party – A close cousin of the lingerie party is the pajama party. Keep things G-rated with furry slippers, bath robes and matching PJ sets.