Loft & Cellar Bucks Trends for Genuine, Global Flavors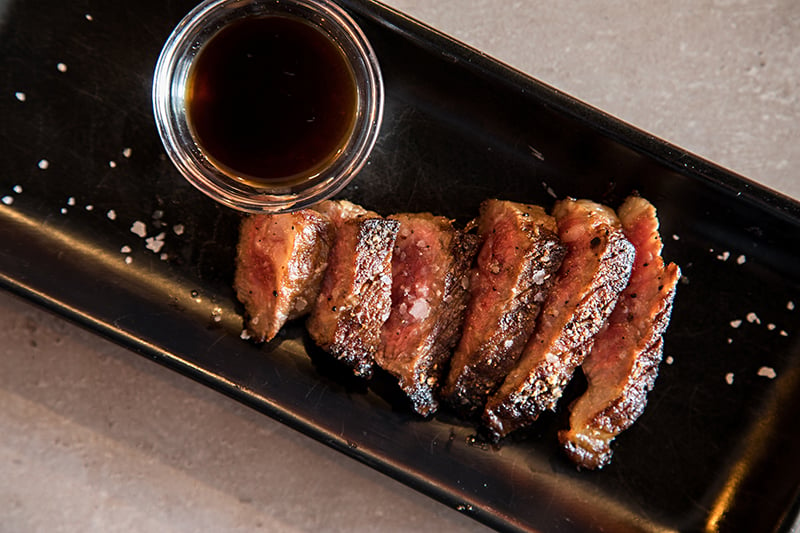 THERE'S NOT MUCH about Loft & Cellar that's trendy. The interior, with modern touches and a color scheme of orange, gray, and black, is far from the bright white spaces dotted with industrial touches that are popping up in fine dining establishments. USB ports along the downstairs bar encourage lunchtime and happy hour email sessions. The upstairs bar, which contributes the "loft" part of the restaurant's name, serves up craft cocktails with live music and lounge vibes, a more energetic version of the speakeasy.
Guests enjoying dinner on the restaurant's ground level will find a menu that follows diners' preference of ordering more dishes in smaller portions, but has a sizeable entrée selection, too. Some are Southern-inspired, but none falls into the modern Southern category currently having its moment. Being on-trend may make a restaurant popular, but Loft & Cellar's dismissal of trends helps it stand out.
Loft & Cellar is grounded in something else: its chef, Nicolas Daniels, who was born in Chile and has traveled to nearly 30 countries. His menu pulls together these travels, with global influences meeting on single plates. And even though his menu doesn't focus its sourcing locally—he gets some items, such as tomatoes, from local farms seasonally—don't think there isn't much thought going into the food's origins.
Some of the world's most-respected ingredients make their way here, from steelhead salmon, one of the world's fattiest, to Iberico pork, meat from a free-range, acorn-eating pig from Spain, and wagyu beef from Japan. These ingredients help make for memorable moments.
Steelhead salmon has the texture of velvet, interrupted by the crunch of the fried wontons holding it in the Lomi Lomi Nachos ($14). The Duck Brunswick Gyoza ($12) draws its flavors from across the map, dumplings filled with barbecue duck confit and surrounded by a street corn and Cotija cheese. And that wagyu beef? Meat butter is the best way to describe it, melting in your mouth after a quick sear. With a $45 price tag, this is a dish that requires an appreciation for these special proteins. Wagyu is like a cult cabernet; it's the Screaming Eagle of meat. You wouldn't want to waste a glass on someone who is going to top it with Sprite. Don't share wagyu with someone who wants it cooked medium.
That's not to say that those with more comforting taste preferences won't enjoy this place. The tongue-in-cheek Picky Eater, chicken thighs with salt and pepper, can be dressed up with some more adventurous sides, such as the beet and sweet potato bravas—a play on the Spanish dish of potatoes that are boiled, then crisped up in oil—or moonshine-glazed mushrooms. The selection of bowls includes hearty meals for one, such as the paella, which is topped with sweet crab and mussels.
This worldwide wandering continues on the drink list, with cocktails labeled by their countries of inspiration. There's a rum drink from Cuba, a Singapore Sling, and even Butterbeer from beloved wizard Harry Potter's local pub in Hogsmeade. A homemade sour mix is the base for a pisco sour that's clearly created by the Chilean chef, though Matt Spears, who oversees the beverage program, has some stellar options on the cocktail list, as well. To avoid using dye and sugar-ridden grenadine where required in classic cocktail recipes, he's created a honey and pomegranate shrub that recreates the sweetness and color of the red syrup.
Listening to live jazz at the bar on a recent Thursday night, at a time when we're too busy to do much traveling of our own, my husband Jon and I enjoy an evening of living through Chef Nicolas' travels. As we step outside to begin our short journey back home, from tastes of Chile and Japan and Mexico, the jazz music follows us down the street from the restaurant's open doors, tempting us to turn right back around and travel somewhere new.