Look Inside Denny Hamlin's Lake Norman Mansion
The NASCAR champion's home is equal parts high tech and high style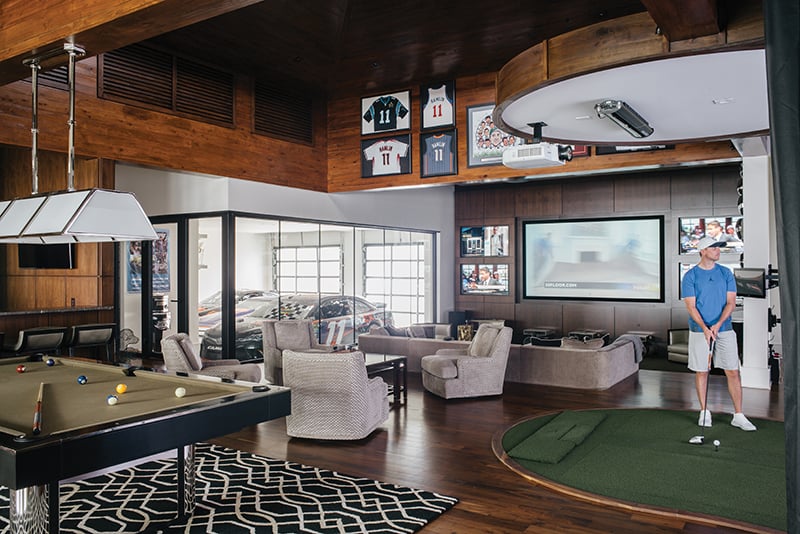 SURE, IT HAS a bowling alley, a basketball court, two-dozen TVs, and a racecar in a glass-walled garage, but Denny Hamlin's home on Lake Norman is far more than a 30,000-square-foot man cave.
The NASCAR driver's vision for his home was nuanced. He wanted a space that was masculine but not cold, elegant but a little whimsical. Hamlin turned to builder Ted Thompson of Thompson Custom Building Group, architect JJ Barja of Elite Design Group, and designer Scott Carpenter to create a place that was equal parts fun and relaxing. Planning and construction started in 2014, and the project took roughly two years to complete.
Hamlin's waterfront lot is higher than many others along Lake Norman, so the team chose a design for the home that is, as Carpenter puts it, "a little more modern—more West Coast." Large, white bricks make up the facade, channeling Malibu vibes in Cornelius. "We didn't want it to be trendy," Thompson says, "but more of a timeless design."
Hamlin asked for texture, and his preference is noticeable throughout the home. Grasscloth covers some walls, while slate and subway tiles fill others. A subtle herringbone pattern is set into the dark, walnut floors. The wood adds more than visual interest. Contrasted with marble, glass, and metal, it makes the rooms feel warm—although Carpenter was careful not to make the house feel like a cigar lounge. No overstuffed leather chairs here.
Floating walnut stairs wrap around a glass elevator, inspired by similar ones Carpenter saw on a trip to Europe. Thompson, the builder, admits that this part of the blueprints was a head-scratcher at first. "You just don't see that in residential construction projects," he says. Commercial contractors helped with the installation, and the result looks like something out of a luxury hotel.
From the master bedroom, Hamlin and his girlfriend get supreme views of the lake, thanks to large windows that take advantage of the lot's height above the water. There is intentionally less furniture than the room can hold; the view is the focal point, and as a result, the entire space feels airy.
Carpenter designed the bed, which sits on an elevated platform. His-and-her water closets on either side of the room connect through walk-in closets to a massive marble bathroom. There, you'll find a glass-walled shower and a soaking tub separated by a fireplace, which—figuratively and actually—warms the room. A gold leaf light fixture hangs over the tub. "People get stuck on everything being (the same), but it doesn't matter," Carpenter says. "You can still mix metals! It's OK."
And then there are the things that make this house, well, a little bit of a man cave.
In the family room, an enormous media wall has the capability of showing five different programs on five screens, all at the same time. The home uses an integrated technology system by ELAN and installed by Brian Berg of Interactive Interiors, who says it's the largest job his company has ever completed. "Denny wanted it all," Berg says. "The biggest thing with any of these systems is that they need to be reliable. It needs to be easy to use for everyone—in-laws, kids, grandparents." Hamlin can adjust TVs and music with control panels; a smartphone app allows him to turn on the lights (even the ones bordering the helicopter pad outside) from anywhere.
A full-length indoor basketball court—complete with an electronic scoreboard and a viewing platform for spectators—has become a popular spot for Hamlin and his buddies. The two-lane bowling alley is adjacent to that, along with an area that highlights Hamlin's trophies and other racing mementos. Carpenter incorporated purple and orange accents, the colors of Hamlin's primary sponsor, FedEx, into the space.
Nearby, the racecar he drove to a checkered flag at Daytona is parked inside a glass garage bay. If you look closely, you'll see a design accent that really is one-of-a-kind: confetti from Victory Lane, still scattered across the car's chassis.