Major Figure in Charlotte's Beer Community Departs the Scene
Nils Weldy, the longtime shepherd of Charlotte's craft beer community, leaves behind an ever-growing flock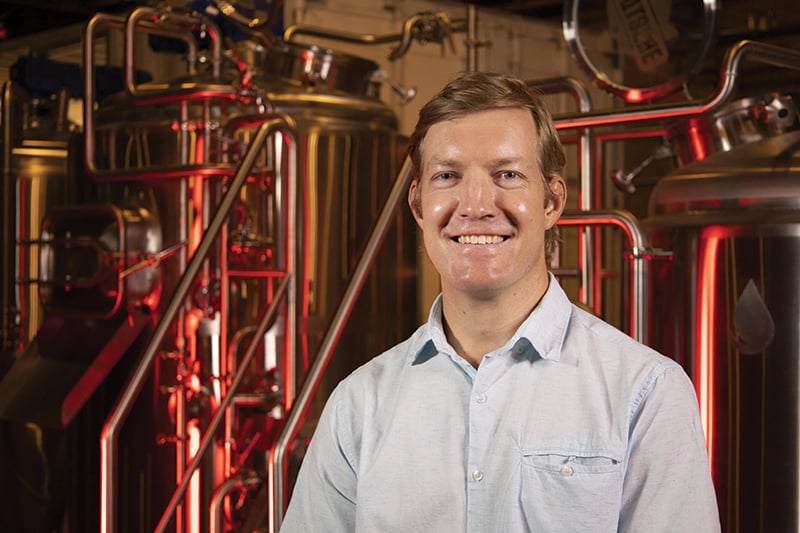 Nils Weldy moved from Boston to Charlotte in July 2007. Number of local craft breweries and taprooms: zero. He moved back to New England—specifically Rhode Island, home state of Weldy and his wife, Michaela—over the summer. Number of Charlotte-area craft breweries and taprooms: 80-plus. And still growing.
Weldy, 42, is not solely responsible for the great flowering of Charlotte craft brewing in the intervening decade and a half. It's happened in a lot of places, and it might have happened here even without Weldy, the organization he helped build, and the events and festivals it's hosted. But he coalesced and helped lead a loose group of business owners at a time when they needed direction, and Weldy departed with a sense that the garden was well fertilized.
"I thought, Hey, it's time for a new chapter. I accomplished everything I had hoped to over the last, gosh, 10-plus years," he tells me by phone in late August from Cranston, a Providence suburb where he, Michaela, and their three children were staying with family until they found a house to buy. "I'm just so grateful for these brewery owners being supportive of the ideas and events and initiatives that I've put on their desks. They've gone for it, and they've been successful. Of course, I'd have come up with new ideas and concepts in the future, but, at this time, I thought, Wow, what else is there to strive for?"
Weldy worked in sales and marketing for the then-Charlotte Bobcats for his first three years here, then founded his own event production and marketing company. (He continues to work in program development, marketing, and fundraising for the national nonprofit ACEing Autism, which helps autistic children through tennis.) That led him to organize the first Queen City Brewers Festival in 2012 and for the next eight years. In 2017, Birdsong Brewing co-founder Chris Goulet suggested that Weldy, who by then knew the Charlotte brewing community and how to market it, lead Charlotte Independent Brewers Alliance, the community's nonprofit advocacy group.
CIBA, which started with a handful of brewers who exchanged recipes and banter, grew with the Charlotte craft beer scene. Weldy continued to organize the Brewers Festival every Super Bowl Saturday. In May, the alliance hosted the inaugural CLT Brewed Week, a series of events to showcase and celebrate Charlotte-area beer. Weldy and other CIBA members hope Brewed Week, like the Brewers Festival, turns into a tradition.
"That's just been an incredible celebration to take pride in the quality product that's coming out of the Charlotte area," he says. "I think what we've seen recently is a function of CIBA becoming simply more organized, more tightly knit. Establishing a strong board and creating an events committee were instrumental in producing what you've seen recently.
"But the first several years I was involved, it was very much about understanding what we want CIBA to be—you know, who are we? What's our mission and vision? And that took some time. I think today, because the brewery landscape is changing so rapidly in Charlotte, it's still in its early stages, and CIBA's still reflecting on what it is and what it wants to be."
Those of us who thought Charlotte's craft beer market might have achieved saturation five years ago have watched in amazement as it just keeps growing. It's moved solidly into surrounding counties like Union, Cabarrus, and York. It's enticed out-of-town brewers like Burial Beer in Asheville and Monday Night Brewing in Atlanta to open taprooms in Charlotte. And it's flourished enough to compel some of Charlotte's OG breweries—including Heist in NoDa and Legion in Plaza Midwood—to open more than one location in town. Charlotte's a business city. Owners who can scale typically do.
"That's something I haven't seen in other markets, certainly not here in Rhode Island," Weldy says. "There's a business savviness you really see among the Charlotte brewery community. You see North Carolina ranked as one of the top states to do business, and of course that's going to help any brewery owner grow.
"But I also think it's the ambition of Charlotte brewery owners as well. Like a lot in Charlotte, there's a lot of opportunity. Maybe some think it's a conquerable city, and the ambition to grow is kind of untapped."
Greg Lacour is the editor.