Make Ramen At Home With This Recipe
Futo Buta's chef simplifies the Japanese broth for home cooks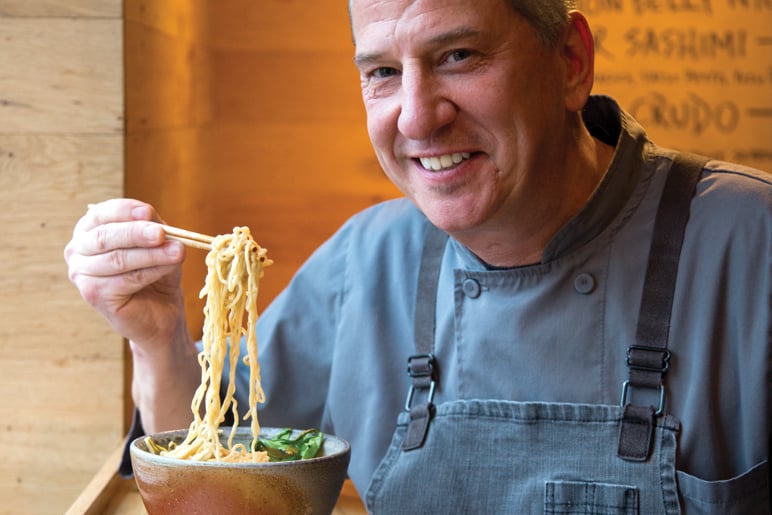 A SINGLE BOWL of ramen can make for a hearty meal. Charlotte's South End residents have been learning this since Chef Michael Shortino opened his ramen restaurant, Futo Buta, this past May. In this recipe, Shortino gives you all the flavors of the traditional Japanese dish in steps you can do at home.
TIPS:
Veggies such as baby bok choy help add a crunch to ramen. Napa or green cabbage can also add that texture.
Tare is what gives the broth its flavor. This recipe uses red miso, a more flavorful miso that makes for a hearty winter soup.
The baked baking soda, used in place of kansui powder, gives the noodles an alkaline pH, which helps make the noodles' texture. Crunched for time? Buy some noodles at an Asian market.
To make onsen tamago eggs, cook eggs at 165 degrees for 13 minutes in an immersion cooker, then move to ice bath. You can also use slow-poached eggs.
Adding roasted mushrooms to your ramen gives it an earthy flavor.
---
FUTO BUTA RAMEN
Makes 6 generous servings
Noodles: 8 cups red winter wheat flour (can substitute all-purpose flour)
2 teaspoons baking soda, baked on a sheet pan for one hour at 275°F
1¾ cups cold water
3 teaspoons salt
1 cup cornstarch
Equipment needed: Stand mixer with dough hook
Pasta roller and 2-millimeter pasta cutter
Rolling pin
1. Set up your mixing bowl with a dough hook.
2. Dissolve the baking soda and salt in cold water.
3. Place the flour in the bowl, turn the mixer on low, and slowly add the water mixture. The mixture will be very dry at this step. Take it out and knead it with your hands until it becomes one ball of dough.
4. Wrap the dough in plastic. Let rest one hour.
5. Cut the dough into four pieces. Flatten each one out with a rolling pin, and run it through the pasta machine at the widest setting.
6. Fold the resulting piece in half, and run it through the machine again. Repeat this step until the consistency becomes smooth.
7. Decrease the size of the pasta-rolling machine in increments of two, running dough through the machine until you get to the lowest setting.
8. Set flattened dough aside, covering with a damp cloth so it doesn't dry out. Repeat steps 5 through 7 with remaining dough.
9. Cut each piece of flattened dough with a pasta cutter, dusting the dough and noodles with cornstarch to prevent sticking.
10.Store in a re-closable plastic bag and refrigerate until ready to cook. Noodles will last in fridge up to one week, and can be used in place of pasta.
Broth:
2 whole chickens, approximately 4 ½ pounds
4 pounds pork trotters or split thick shanks
2 garlic cloves, halved
1 large yellow onion, quartered
1 bunch of scallions (whites only; keep greens for plating)
4 inches of fresh ginger, cut into ½ inch-thick rounds
1. Place the chicken and the pork trotters in large stockpot, cover with water, and bring to rolling boil.
2. Reduce heat to medium, cover, and cook for six hours, stirring occasionally and adding water to keep meat submerged. Water level should remain constant throughout cooking.
3. Add the vegetables, and cook for another two hours, maintaining a rolling boil.
4. Strain the broth through a fine mesh strainer, and keep warm to serve, or chill until ready for use. Discard meat and vegetables from strainer.
Miso tare:
17.6 ounces red miso (akamiso)
2/3 cup soy sauce
2 tablespoons garlic paste
1/3 cup fresh ginger paste
½ cup cooking sake
1. Puree ginger, garlic, and sake in a blender until smooth.
2. Add remaining ingredients and whisk together. Store leftovers in fridge up to one month.
To serve:
¼ cup buttered corn
1 bunch chopped scallions
Small handful bean sprouts
4 ounces cooked protein (can be roasted chicken or BBQ from your favorite restaurant)
6 onsen tamago or slow-cooked eggs (see tips)
Bok choy, lightly sautéed
1 ½ pounds organic mushrooms, roasted
1. Place two ounces of miso tare into the bottom of each bowl.
2. Ladle 12 ounces of hot broth into each bowl.
3. Whisk to blend the tare and broth together.
4. In a large pot, boil six ounces of noodles per bowl in water for one to two minutes, stirring rigorously to prevent noodles from sticking.
5. Strain noodles, and separate into bowls.
6. Top with your favorite vegetables (buttered corn, scallions, bok choy, bean sprouts), proteins (chicken, pork belly, duck confit), and egg.