Making the Choice
Public or private? Faith-based or secular? When it comes to raising kids, choosing a school ranks among the most important and most difficult decisions. Here's how three Charlotte families are navigating the challenge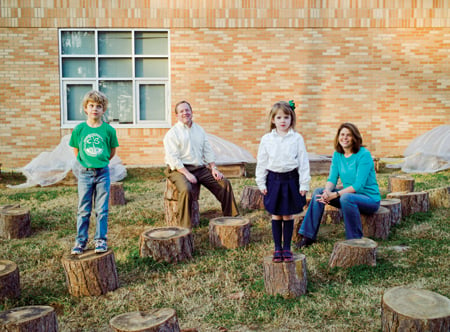 Picking a School? Start here.
Change of Plans
As soon as her daughter Addison, nine, catches the bus to Selwyn Elementary at around 7 a.m., Missy Goodrich piles her sons Carter, twelve, Davis, seven, and Ross, four, into the car for the twenty-minute race from their home to Charlotte Christian, where the two older boys start their school day at 7:30. Then it's back home—in rush-hour traffic—to get Ross packed and ready for preschool at Providence United Methodist Church, which begins at 9. "It works as long as every little piece falls into place," Missy says. "If a child dillydallies or the bus is a minute late, we're in trouble." The scene plays out in reverse starting at 1 in the afternoon.
It's not exactly the way the Goodriches planned things when they moved from Fayetteville, Arkansas, to Charlotte for Whit's job at GE Capital seven years ago. Back then, Carter was poised to start kindergarten, and the couple envisioned living in a neighborhood where kids played together and went to the same school. In fact, finding a great public school was the driving factor in their decision about where to live in the city. "My husband and I are both products of public school and we had heard great things about Charlotte's school system," Missy says.
The couple looked at schools from Ballantyne to north of the city, interrogated everyone they met, and checked out test scores, school rankings, and other criteria. They finally settled on Selwyn, a top-scoring elementary school, and started their search for a home.
Part of a three-school campus that includes Alexander Graham (AG) Middle School and Myers Park High School, Selwyn is adjacent to neighborhoods with some of the city's highest property values. "We were willing to make a sacrifice by buying a more expensive home in order for our children to be able to attend that school," Missy says.
The Goodriches bought a small ranch in nearby Foxcroft, and sent Carter to Selwyn the following fall. Addison began kindergarten there two years later. The couple has mostly praise for the school, and their kids have done well there.
But the Goodriches' game plan for their children's education changed when Davis was approaching kindergarten. He rarely raised his hand to participate in his preschool class at Providence United Methodist Church. The family had begun to see Selwyn enrollment—and class sizes—grow, and they feared that Davis might not get the attention he needed to excel. They decided that their son would do better with the smaller class sizes and more individualized attention promised by private schools.
The couple dove into the process of vetting independent schools—taking official and unofficial tours, analyzing statistics, such as the percentage of students who go on to finish college, and talking to parents of children who attended each school. At every step of the way, Charlotte Christian stood out for them. "I got to talk to a family who had children at both Selwyn and Charlotte Christian," Missy says. "That helped cinch the deal."
Charlotte Christian's faith component fit neatly with the family's beliefs. "We liked everything it stood for," Missy says.
The school's relatively low cost, compared to similarly sized private schools, was an important factor in their decision, but the school also met other criteria. "We liked the fact that it is well-rounded. You have to participate in one of the fine arts—acting, singing, or playing an instrument—sports, and take languages and computer keyboarding," Missy says. "They educate the 'whole' child." The school's faith component also fit neatly with the family's beliefs. "We liked everything it stood for," Missy says.
Meanwhile, the Goodriches were beginning to have similar concerns about Carter's learning style. He was approaching sixth grade, and his assigned middle school, Alexander Graham, had more than 1,200 students. "Carter has more of an introverted personality and is more comfortable within small groups of friends like his Boy Scout troop," Missy says. Although Carter had good grades and testing showed he has a high IQ, she says, "We were afraid that he might just 'get by,' that he might not ask questions or push himself." So this fall, they sent him to Charlotte Christian, too.
The Goodriches say the school has met their expectations for their older boys—and then some. "From day one, we got such a sense of belonging, compassion, and warmth," says Missy. "Every teacher in the school knows my children." And with just fourteen kids in a class, she says, her sons get plenty of hands-on attention. "Let's face it," she says, "it's easier to be wonderful if you have resources."
For now, the plan is for Addison to stay in public school, completing fifth grade at Selwyn and then going to AG for middle school. "My daughter is very outgoing," Missy says. "If there is something she needs, she will seek it out."
Despite the daily scramble and the pinch that private-school tuition puts on the family budget, the Goodriches feel they've struck the perfect balance. "Private school is a sacrifice for us," Missy says. "But I want the best for each one of my children, and each has his and her own gifts and needs. I want them to flourish wherever they are. This works for us."
Focusing on Faith
When Amy, a marketing executive, and Joe Pitt, a business owner, were choosing a school for their daughter, Griffin, five years ago, rigorous academics was the first requirement. Beyond that, the family hoped for a school that supported their faith, promoted community service, and emphasized traditional ideals like building character. They also wanted a sense of community like what Joe had experienced growing up in the small town of Tarboro.
The couple considered public and private schools, and they knew that if private school didn't pan out, they would be well served at their assigned public school—Eastover Elementary. The couple looked at websites, but mostly they talked to people close by—some fifteen different schools were represented in their neighborhood. "We peppered them with questions," Amy says. "'What has been your experience?,' 'What are the best aspects of the school?,' and 'What are the worst?'"
Trinity Episcopal School in uptown Charlotte came onto their radar quickly, and the Pitts made several visits to the school, including attending chapel services. "We happened to go to a service where Father Jacob Golden, one of Trinity's chaplains, was speaking," Amy says. "He gave such an amazing message, it gave me chills, and I thought, 'I want my kids to have the benefit of hearing such thought-provoking messages.'"
After that, she says, "We were absolutely passionate about Trinity." At the time, both worked in the city center, so the school's location was a lucky coincidence.
As a church-based school with four chaplains on staff, Trinity is focused on nurturing the spiritual lives of students. The curriculum incorporates biblical teachings, and there are regular chapel services. "We are Episcopalian," Amy says. "That made it comfortable and it fit with our church traditions."
Amy says the school's service component seems to set it apart. "Trinity has a longer school day and is in session for two weeks longer than other schools, because it takes service very seriously," she says. "It's not a 'one-and-be-done' mentality. It's reaching out of your comfort zone." Each grade partners with a community organization or other charitable program to focus on helping to combat a problem, such as hunger or homelessness.
Griffin's kindergarten class participated in Friendship Trays, Charlotte's meals-on-wheels program, helping to deliver meals to seniors, people with disabilities, and shut-ins every week. "She got to really know people in need and saw the difference she was making in their lives," Amy says. Now in the fourth grade, Griffin, ten, and her classmates help out at the Metro School, which serves 250 cognitively impaired students, many also with severe physical disabilities, in the Charlotte Mecklenburg Schools system.
The couple's younger daughter, Josie, seven, is in second grade. Her class partners with the Little Sugar Creek Greenway Community Garden. Every Wednesday, Josie and her classmates walk the mile of greenway between the school and the garden to rake or pull weeds. "The goal is to make service and stewardship a way of life," Amy says. "And Trinity really does that with authenticity."
The school's strict honor code and tight student body help create the comforting sense of community the Pitts were looking for. It's not unusual for a second-grader at Trinity to ask a fifth-grader to his or her birthday party, Amy says. "The school was the piece of the puzzle that was missing in our lives in terms of community."
Standing Up for the Neighborhood School
Sarah and Jeff Gates weren't thinking much about schools when they bought their Plaza Midwood bungalow in 2002. Luckily, when their son Scott was approaching school age, their home school, Shamrock Gardens Elementary, was enjoying something of a renaissance after decades of decline. The idea of supporting a public school on the rise dovetailed with their values, and they were encouraged by the progress the once-struggling school was making. But they also worried. Would their son get what he needed? And what if he didn't get into the school's new magnet program, which provides accelerated learning for gifted kids?
The couple started by checking out all their options, including several magnet schools, a charter school, and a private school. They scoured school websites and compiled information on the schools, such as bell schedule, magnet theme, and end-of-grade (EOG) scores, on a spreadsheet. Starting in the fall of 2009, they attended open houses at Elizabeth Traditional, Cotswold, Chantilly, Villa Heights (now Irwin), Myers Park Traditional, Community Charter, and Trinity Episcopal schools. "Our biggest question was, 'Does this school seem to be a good fit for our son and our family?'" Sarah says.
The couple requested three magnets during the lottery process in early 2010, including Shamrock's, and as a backup plan applied to a private school. When the Gateses did not get any of their lottery picks, the couple agonized.
"Private school would have meant a real lifestyle change," Sarah says. "I would have had to go back to work." (Jeff is an executive at Duke Energy.) Moving to a neighborhood zoned for a school with a stronger track record was not an option. The family loved their community and nearby Midwood Park. "Plaza Midwood is home," Sarah says. "We're close to downtown. We have a library. There are a lot of amenities here that enrich our lives."
The Gateses were hopeful that a slot in Shamrock's magnet program would eventually open up for Scott—there is some flux as parents pin down their choices after the lottery—but if they chose to go to the school, they'd be taking a chance that the school's nonmagnet program wouldn't challenge their son or help him realize his academic potential. The couple talked with other parents, their priest, and the school's PTA president, Pamela Grundy, a parent and activist for public schools who had spearheaded the school's turnaround. They forged bonds with other parents. Sarah even volunteered at the school to get a feel for it, the children, and the teachers. "I could feel the possibilities," she says.
Just seven years ago, Shamrock Gardens ranked as one of the most poorly performing schools in the system. But thanks to the fledgling magnet program, grants to upgrade the library and other facilities, and Grundy's efforts to promote the school to the community's more affluent neighbors, more families who otherwise might have chosen a private or charter option have stuck around.
The Gateses enrolled Scott, now seven and in second grade, in Shamrock, and, as luck would have it, a magnet spot did open up. "We have never looked back," says Sarah, now the school's PTA president. "From the very first day our son was in class, we knew we made the right decision and we have embraced the school." Their daughter, Emma, six, started kindergarten at Shamrock this year.
"My children are learning to get along with people who don't necessarily look or sound like us," Sarah says.
Drawing from several close-by neighborhoods, Shamrock families span the economic spectrum and represent several racial and ethnic groups. The Gateses see the school's diversity as one of its greatest assets. "My children are learning to get along with people who don't necessarily look or sound like us," Sarah says.
Resources are clearly not as plentiful at Shamrock as they are at some schools around town, but things seem to get better every year. Butterfly and vegetable gardens enliven the school's courtyard—providing hands-on science lessons as well as "field-to-fork" activities like making pizza with school-grown produce—and the school buzzes with energy inside and out. The number of kids eligible for a free or reduced lunch—a marker of a school's poverty level—has fallen from a high of 93 percent to 85 percent, and test scores have risen significantly. Class size is relatively small compared to some public schools, ranging from eighteen kids in kindergarten classes to up to twenty-three in the oldest grades. And interest in the magnet program has grown so much that the school now supports two magnet classes.
Still, when the school hosted a meeting for prospective parents at a nearby church last fall, Sarah was surprised by the high turnout. "We had forty or fifty people," she says. "That's very encouraging. I'm hoping a number of them will come to Shamrock. I'm proud to tell them my kids are getting a top-notch education."