Making the Most of a Small Space
When designer Geri Cruickshank Eaker downsized to a studio condo, she made the most of her space.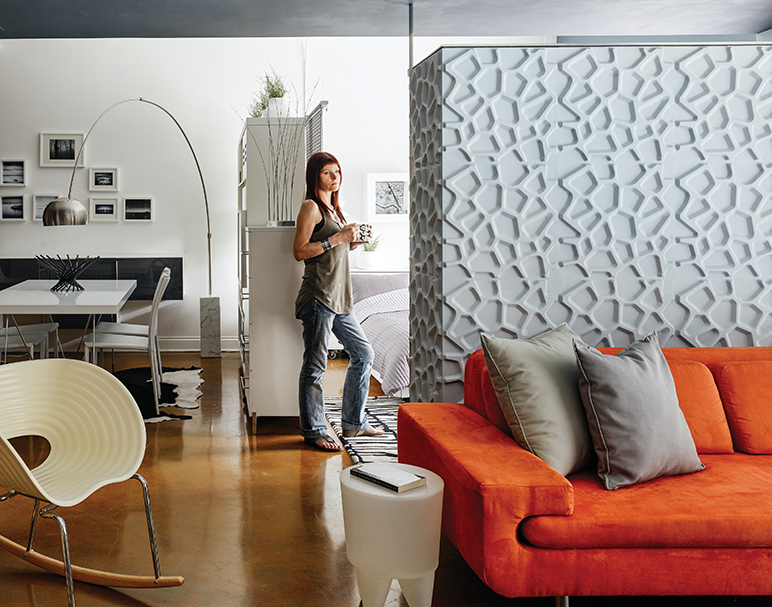 GROWING UP in Edinburgh, Scotland, Geri Cruickshank Eaker enjoyed making things. She would create buildings and windmills with moving parts out of Lego blocks. She constructed furniture for her dollhouse from cardboard, tinfoil, fabric, paint, and egg cartons, taking inspiration from the furniture in her home.
"It was always very detailed," she says in her Scottish brogue. "I spent hours doing it."
Eaker still enjoys making things, except now her pieces are life-sized, and she no longer uses egg cartons and tinfoil for materials. As the owner of Freespace Design in Charlotte, the interior designer specializes in modern design, and nowhere is that more apparent than in her studio condo in Fourth Ward's 715 N. Church.
With 690 square feet of open space, there's no room to spare, so Eaker had to be thoughtful with every decision. She designed the most lived-in areas on a diagonal to create the illusion of a longer distance. "The perception of the space is much bigger," she says, adding that she can also see the TV in the living room while she's cooking. "I'm a concept designer. I like to work from an essential concept or idea."
For her studio, the concept was flexible space. Partitions throughout the condo allow her to change the configuration easily. Her dining room and bedroom are divided by a white customized shelving unit from IKEA. A self-proclaimed "IKEA hacker," Eaker screwed IKEA rails intended for walls to the top of the shelving unit so she could hang blinds from it for extra privacy. An IKEA wardrobe separates her bedroom from the living room and features mirrored doors to enlarge the appearance of the bedroom.
Her bed and bedside tables are on casters so that they can move easily, while a CD storage unit from IKEA serves as her headboard, as well as a place for book storage. Photographs Eaker took in an old botanical garden in Scotland hang above her bed in West Elm frames, while a picture window dons aluminum micro-blinds for a metal wall effect when closed. When opened, the blinds reveal a stunning view of the city.
The back side of the wardrobe is covered with a light gray pattern named Organic from 3D Wall Art. Eaker frequently uses it in her designs. It adds texture to her living room while serving as a neutral backdrop to her tangerine microfiber sofa by Weimen. A matching barrel seat by the same company sits a few feet away, as does a rocking chair by Tom Vac.
The white LexMod coffee table is another hack. It was purchased for a client, but when it arrived, it had minor damage on one of the legs. The company said she could keep it and sent another one. Eaker replaced the legs with metal ones from IKEA and created a new look.
Hinges raise part of the tabletop, allowing for magazine storage underneath. "The thing with modern is that you have to be neat," she says. "I'm a neat freak, so it works for me."
Eaker uses the raised table as a casual dining spot while she watches her white Samsung flat-screen television that floats on an IKEA framework partition composed of frosted glass and white melamine panels. Set against a white wall, the panels, lighted by LED lights, serve as a point of interest for the space and also conceal unsightly wiring. Two small Phillipe Starck stools and a black Jazz Light from LexMod add extra modern punches.
The condo's location—between two other units—and concrete floors give the space excellent insulation, so Eaker rarely has to turn on the heat during the winter. However, when she does need extra warmth, she lights the small, stainless steel-framed butane fireplace that hangs on the living room wall. Above the flames hang a series of white, floating shelves from West Elm. "It's a play on the concept of a fireplace," she explains.
In an effort to create more privacy for the bathroom and to add a dressing room, she built a wall from two-by-four slats of poplar. One part of the structure is lined with polycarbonate, a material frequently used in greenhouses. The translucency allows light from the closet to filter into the living room.
"People usually use this [type of wood] to make moldings because it's a hardwood," she says. "I like these because you get this deep purple color."
Eaker screwed the wall together with oversized silver bolts to give it an industrial look. Its natural appearance warms the space, and complements the gray, white, and orange color scheme of her home.
Other visual boundaries aren't as concrete but are just as effective. Encased ductwork dissects the ceiling, so Eaker painted it a dark gray, leaving the remaining parts of the ceiling white. The kitchen and dining room share an open space but are visually separated by aluminum channeling that runs from the ceiling through the baseboard to the floor. A tall, dark gray IKEA bathroom cabinet serving as her pantry aligns with the channeling, further separating the kitchen from the dining room.
Beneath her white Scandinavian dining room table by TEMA lies a cowhide rug she bought "as is" from IKEA for $50. It blends seamlessly with her white Eames end chairs and a mid-century Arco Floor Lamp, neither of which came with discounts.
Eaker knows that some folks associate IKEA with cheap furnishings, and she understands that. "You get what you pay for. You can buy a cheap thing at IKEA, and it's not meant to last, so don't expect it to last," she says, adding that some pieces are more expensive and do stand the test of time. "What I like about it is that it gives everybody the opportunity to have good, modern design."
And, of course, she can always hack it into whatever she wants.