Making the most of your Father-Daughter dance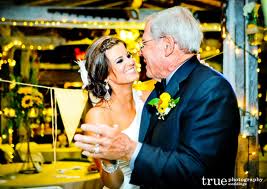 Nothing pulls at the heart strings quite like the beloved Father-Daughter dance at a wedding. He walked you down the aisle, presented you to your new man and now you have a new last name. But Dad will always be the first man in your life and the Father-Daughter dance is a lovely time to express to all your guests just how much you love him. And if you do it right, there won't be a dry eye in the room as you and your Dad kick off a night of dancing and a lifetime of love.
Don't know where to start when it comes to picking a song for you and your dad? Don't worry; there's much more out there than an overdone rendition of My Girl or Butterfly Kisses. Take a look at a few of our favorites below. We won't be surprised if you can't make it to the end of the song without your eyes watering.
Gracie – Ben Folds
Lyrics we love:
One day you're gonna want to go
I hope we taught you everything you need to know
Gracie girl
And there will always be a part of me
Nobody else is ever gonna see but you and me
My little girl
Unforgettable – Nat King Cole
Lyrics we love:
Like a song of love that clings to me,
How the thought of you does things to me.
Never before has someone been more
Unforgettable
Live Forever – Drew Holcomb and the Neighbors
Lyrics we love:
I want you to live forever
Underneath the sky so blue
Take courage when the road is long
Don't ever forget you're never alone
To Make You Feel My Love – Adele
Lyrics we love:
I'd go hungry; I'd go black and blue,
And I'd go crawling down the avenue.
No, there's nothing that I wouldn't do
To make you feel my love.
All I Know – Matt Wertz
Lyrics we love:
All that I know is the bleeding in my heart
And the healing in your touch
All that I know is that you gave everything
So let that be enough
It's all I know, it's all I know