Making the Porter's House
An inside look at Jon and Kim Dressler's new steak house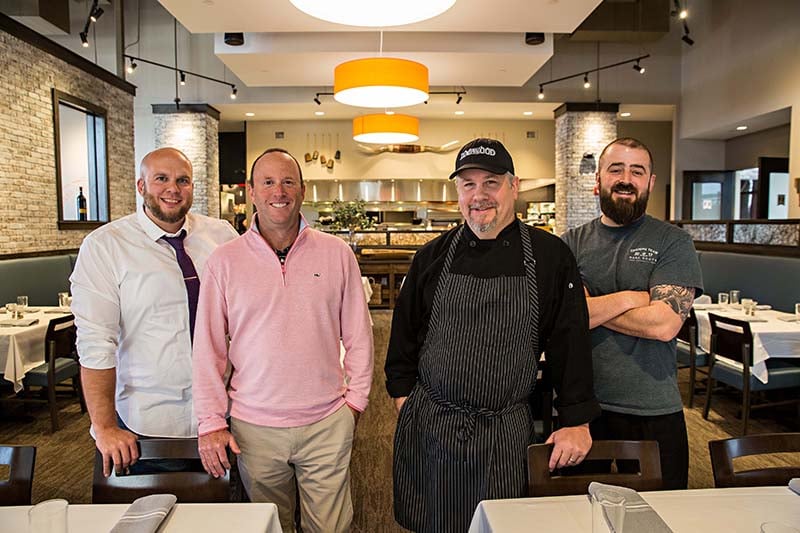 JON DRESSLER has never opened a restaurant behind schedule, which means today, though the construction of The Porter's House is a few days behind, the staff gathering still happens as planned. It's two weeks before the restaurant's opening, and cooks and servers are gathered in the lobby of the apartment building across the street from Dressler's newest restaurant, at Waverly, a mixed-use development where I-485 meets Providence Road.
Dressler sits on a stool in the front of the room, facing existing and new employees. His daughter and the management staff of Rare Roots Hospitality restaurant group, which includes two locations of Dressler's, Dogwood Southern Table & Bar, and now this place, sit on sofas to his right. He shakes hands with any incoming hand he can reach. Just after the 2 p.m. start time, a few embarrassed remainders straggle in. Dressler reaches out for a handshake to a server flustered by being late. The server doesn't see him, and he accidentally gives the cold shoulder to his new boss's boss. The whole room watches, wide-eyed, until Dressler cracks a laugh. The rest of the room laughs, too, as the startled server turns around and realizes his mistake.
This day, a Wednesday afternoon in early February, happens to be the seven-year anniversary of the second Dressler's, the Metropolitan sister restaurant to first restaurant in Birkdale Village. The folks on the couch beside him—General Manager Tim Buchanan, Chef Scott Hollingsworth, and bar manager Brian Lorusso, who has been at the opening for every one of Dressler's restaurants—were all employees back when Dressler's uptown first opened.
"There was a night we did zero," Dressler tells his employees. "As an owner, when you unlock the door and nobody comes to see you, it's really sad."
Yet his staff remained, and sales grew. He repaid his employees' loyalty by giving them more responsibility. The third restaurant under Dressler's Rare Roots Hospitality umbrella, Dogwood, was created with their input. The result was an undeniably hipper vibe, but not so hip that it alienated Dressler's regulars. The cocktails were inventive, the menu was on trend, and his staff was happy. Dogwood opened on November 5, 2014—three months after negotiations began for The Porter's House. More than two years later, the staff is gathered, preparing for it to open.
Dressler runs through what he expects from everyone in the room, as he does with every restaurant opening, explaining everything from why the restaurant is closed for the Super Bowl to why there will be no complaining about family meal, cooked for the staff before dinner service each night. He calls this a "cultural baseline meeting." For an instant, the jokes subside and he is stern.
"Family is very important to me. You all are now part of the family," he says. "This is not lip service and this is not stuff I say to be taken lightly and this is not stuff I say so that you'll like me.
Family is important to us. Family is the most important thing in the world. If you have family matters, family matters come before the well-being of the restaurant."
Their shifts will be covered for any family emergency, he explains.
"Are we clear on that?"
The room nods.
With that, it's time to meet their second family.
Dressler turns to a new employee and asks his name, and where he's worked. This continues with old staff members and new until everyone has told their coworkers a little bit about themselves. Dressler peppers in stories about how Hollingsworth rarely spoke at first, and how Lorusso started off as a busboy—not a very good one. They crack back at him: "I just put the tables in place and give you all shit to do," Dressler jokes. "You also bring the money," Buchanan shouts back.
As The Porter's House staff members quickly learn their boss's humor, across the street, construction workers hustle to finish assembling their workplace. On each restaurant, Dressler has worked with architect Tim Demmitt, who has since become a close friend. Dressler knows most of the construction crew by name, shaking hands and making wisecracks on his weekly walk-throughs. Starting with Dogwood, the Demmitt-Dressler partnership expanded to include Buchanan, Lorusso, and Hollingsworth. They share decisions on tasks Dressler has mapped out on a spreadsheet, a timeline of steps from finalizing the buildout to the food, liquor, and wine inventory.
It's a list he's honed with each restaurant opening: A year and a half before construction begins, conversations should be underway about construction. Six months before, paint colors and décor. Kitchen equipment is selected a year before opening.
Each month, there are more tasks.
***
IN LATE JANUARY, a few weeks before the staff meeting, Kim Dressler, Jon's wife, joins the group to select the restaurant's plates and bowls. They're huddled around a prep table in the Rare Roots Hospitality Group's bakery off Old Statesville Road, where bread and desserts are made for all of the restaurants. The interiors have all been selected—booth coverings, wall colors, accent pieces. Today, they're working on the details.
In front of them are black and white plates, Lodge cast iron pans, Le Creuset dishware, and samples of silverware sets. Buchanan and Kim Dressler stand on one side of the table, trying to keep the team focused on one decision at a time.
Finally, they're all leaning toward matte black plates.
"Perfect. Done," Dressler says, trying to move on.
"Well, hold on," Hollingsworth, the chef, responds, picking up a different plate.
Cringes take over the room as Lorusso scratches a fork and steak knife against a dinner plate. He wants to see how well it will hold up to guests cutting through a rib eye. The marks wipe right off, and the black plate is declared a winner.
Many decisions that a customer won't notice are made by Jon Dressler alone—the phone system, the A/V systems, and security. But decisions on such things as dinnerware, glassware, menus, and branding happen this way, a group debate taking place with cocktail samples spread over the bar, wine bottles open on a table, notes on interview cards until the last hire is made. Sometimes Dressler is there; other times, he trusts the group to make the decisions.
"I never claim to be the smartest guy in the room," he says. "It's more important to know what you don't know than what you know."
Dressler, who has an MBA from the University of Texas at Dallas, handles much of the business plan and budgeting. Kim Dressler is the mind behind the interior, while Buchanan improves the hospitality side with details such as succulents on the bar or locally made soap in the bathroom (one of the most frequently stolen items). Lorusso has created a bar program that's one of the best in the area, and had the idea for a whiskey room in the new space. Hollingsworth has guided a menu that's steak house for the modern palate.
All of this expertise surrounds guests at The Porter's House, named after the hospitality and welcoming role of a porter, and a play on the cut of steak.
***
A WEEK BEFORE OPENING, construction is finished and the usually high-energy Jon Dressler sits quietly with his back against a blue vinyl booth at The Porter's House. He tends to open restaurants in mixed-use developments such as Waverly.
"Restaurants are destinations," he says. "But when you make the destination the development, people don't have to necessarily seek you out."
It's a Wednesday night in February, and the dining room at his newest restaurant is empty, except for Dressler and a few managers. He looks up at one of them, concentrating. Buchanan is atop a metal ladder, one hand holding him steady, another on an adjustable accent light, ready for direction on where it should point.
"I put the young guy up on the ladder," the 50-year-old Dressler jokes. Buchanan, who is general manager at The Porter's House, may be young at 36, but he's been working for Dressler for seven years. In the restaurant industry, that's unusual. A small labor pool and growing demand for staff leads to shorter tenures before a server or cook finds a better gig somewhere else.
Here, staff often move to another restaurant within Dressler's Rare Roots Hospitality group. Almost a dozen servers at The Porter's House moved from Dressler's or Dogwood.
Lights and sight lines are things a guest won't notice when they're done right, but done wrong, a blinding directional light is irritating to a diner. So tonight, Buchanan, who has worked at each of Jon's restaurants, will adjust every light to point where it's highlighting the restaurant's tables and décor, but not the faces of its guests. As he does that, Dressler darts back and forth between the dining room and the lighting panel.
Thirty-six lights later, the main dining room is to Dressler's liking—seductive, yet easy to see your companions and dinner options. Buchanan drags the ladder to the bar area to do this all over again. They started around sunset; by now, more than two hours later, the kitchen staff, except for Hollingsworth, has left, and the sun is long gone.
A manager, Ellis Lindsay, is at a table spread with papers and iPads, taking reservations from family and friends for the "soft opening," which, despite cases of wine on the floor outside the wine room and several walls awaiting decoration, is four days from now.
***
ON THE DAY before opening, The Porter's House is lively. It's the last night of the "soft opening," and tomorrow, the restaurant opens to the public—on time. The staff has already figured out its rhythm.
The hostess brings us to our table, and quickly, our server is at our side. We order cocktails, heavy-hitting and flavorful enough to have a place on a steak house menu, yet far from the standard martini. The salads are classics, the steaks are tender, and the sides—lobster mac-and-cheese, gratin potatoes—are cooked well, even this early into the kitchen staff's tenure here. Regulars at other Dressler restaurants look around for their favorite servers and stop by the bar to say hello to Lorusso.
The dining room is full of couples, families, and those who live nearby and wanted to check out their neighborhood's newest spot. Dressler makes his way through the dining room, saying hello to old friends, making new friends, and accepting their praise and congratulations. He walks over to our table in the corner, covered in drinks, and begins making conversation with his signature, broad smile widening beneath freckles.
In the distance, something catches his eye. He excuses himself, then disappears in the direction of the nearest lighting panel.
Kristen Wile is senior editor of this magazine and editor of Charlotte Home + Garden. Reach her at kristen.wile@charlottemagazine.com or on Twitter: @kristenwile.
The Porter's House
7417 Waverly Walk Ave.
704-930-7878
Entrées: $26-$45