Man date: Our top picks for groomsmen gifts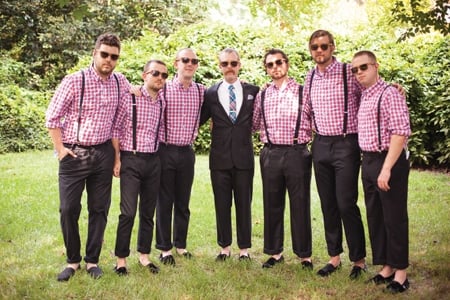 Maybe I'm biased, but I've always found it easier to shop for ladies than fellas. You can't go wrong with flowers, jewelry or stationary but when it comes to guys, sometimes it's harder to think of a gift that's both creative and thoughtful.
So when it comes to helping your man find great gifts for his groomsmen, we've scoured the best ideas around so you can surprise him with a few suggestions that'll have him more convinced than ever that you're the girl for him.
1. For the sports fan
I bought a David Beckham jersey when I was 16 years old because I thought he was attractive. But for avid sports lovers, the jersey is a sacred piece of clothing. If your man and his friends love nothing more than watching the game together, get them each a jersey of their favorite team or player as a groomsmen gift. Concerned about money? Opt for screen printed lettering instead of sewn letters.
Where to buy:
Sports Fan Attic
Carolina Place Mall
11025 Carolina Place Pkwy
Pineville

2. For the businessman
If your groom surrounds himself with corporate world, 8 a.m. – 5 p.m. uptown guys, then tailor their groomsmen gifts to fit their everyday life. Pair a leather padfolio with Ralph Lauren dress socks and travel mug. They're gifts that will never go out of style and perfect for young professionals who want to dress the part but are on a budget. Shop local with Colsen Keane Leather Goods, handmade in the QC.
Where to buy:
Colsen Keane
1318 Central Avenue
Charlotte
3. For the gentleman
The traditional silver flask has gotten a little stale over the years. Instead, go with an engraved humidor. Monograms aren't just for girls anymore and Charlotte's own Carolina Wood Designs offers custom made, one-of-a-kind humidors that will 'wow' even the hardest to please groomsman. Take it a step further by pairing it with a hand-carved pipe or his favorite cigar.
Where to buy:
Carolina Wood Designs
www.carolinawooddesigns.com
4. For the foodie
Gone are the days of only women in the kitchen as more and more men are stepping up to take cooking and grilling to a new level. Williams-Sonoma makes my favorite grill set that includes a slotted spatula, tongs, basting mop and fork that are durable and come with a storage set. Have your groom combine this with his favorite cut of meat from What's Your Beef Butcher, who uses exclusively dry-aged Angus and offers custom cuts. It's an unexpected idea that his guys will love (and probably devour the next day).
Where to buy:
Williams-Sonoma
6401 Morrison Blvd.
Charlotte
What's Your Beef Butcher
14021 Conlan Cir
Charlotte
5. For the outdoorsman
If you man and his friends spend almost every weekend outside and can't wait to go on their next camping trip or hiking adventure, they'll love an ENO hammock. They're all the rage these days and for good reason as they're lightweight, durable, comfortable and
easy to set up anywhere.
Where to buy:
REI
11067 Carolina Place Pkwy
Pineville