Meet Chef Alex Jenkins of Oak Steakhouse, Opening This Month
The South Carolina native moved here from Charleston in mid-December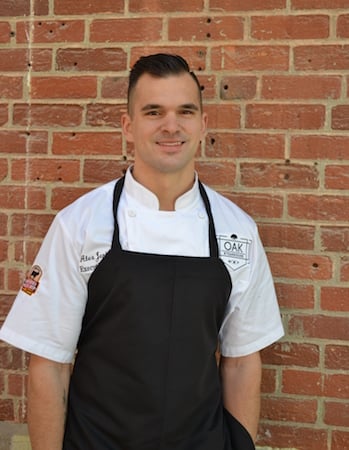 Chef Alex Jenkins, who runs the kitchen at Oak Steakhouse in South Park, has cooking in his bloodline. His great-grandfather immigrated to the Anderson, South Carolina, and opened two steakhouses, as well as a restaurant called Pop's Grill. On the other side of the family, his great-grandmother was also a chef. His dad's cousin owns a barbecue restaurant called Circle M Barbecue in Liberty, South Carolina, and Jenkins recalls helping out there as a kid when visiting family.
So it was no surprise when Jenkins got the bug, too. He was working at a Los Angeles pizza shop, when one day, a prep cook didn't show up. Jenkins filled in, and the owner of the shop was impressed with the skills Jenkins had, all learned from helping his mom in the kitchen. He graduated to line cook and dough prep, and enjoyed life in the kitchen. He decided to go to culinary school, and returned home to attend Greenville Tech.
He moved to Charleston after graduating, working his way up through various kitchens before getting a job at Oak's original location, on Broad Street. He stayed there for almost four years, becoming chef de cuisine, before moving over to its sister restaurant, The Macintosh. Both are owned by Indigo Road restaurant group, which also owns O-Ku, a sushi restaurant with a second location in Charlotte.
When his bosses asked him to take on the role of opening their second Charlotte concept, Oak, he couldn't pass it up.
"I've worked in this industry for almost 10 years," Jenkins says. "Personally, I thought when an opportunity is given to you like that, you can't just say no to it. It's my dream, you know?"
He moved here in mid-December, and started getting to know the culture and meeting with purveyors. He's familiar with the city; he has come up for some shows and a few soccer games. His first impression? The city is clean.
This location of Oak will carry over some of the classic dishes from Charleston, including an octopus appetizers, fresh pork ravioli, and housemade burrata. The menu will change seasonally, with all of the kitchen weighing in on dishes.
"The menu down in Charleston is more of a classic steakhouse, this one is more of a modern steakhouse," Jenkins says. "You go to steakhouses and you see the same normal sides like creamed spinach. We're just taking the steakhouse to a different level, evolving different dishes and going more creative, I should say—instead of doing creamed spinach, we're doing creamed collards."
A signature dish is the pasta Bolognese; minimizing waste is important within the company, and the meat scraps that make the Bolognese help achieve that goal and make for a flavorful meat sauce. Sausages and terrines are also made in house, as is the pasta.
Jenkins is already a Hornets fan and roots for Clemson—his grandfather, Ralph Jenkins, is in the hall of fame there—and he's been following the Major League Soccer debate. He and his wife are living in South Park, close to the restaurant, which is near Corkbuzz, Dogwood Southern Table + Bar, and Rusty Bucket. Adjusting to life farther inland has been one of the biggest changes, not only because Jenkins loves the beach.
"Fish is going to be different," he says. "The coast is not right here. That's going to be challenging for me because in Charleston you can call up a fisherman, a local fisherman or fish purveyor and be like, 'I need 20 pounds of grouper whole.' It would come fresh off the boat that day sometimes, so it's going to be challenging to find that same type of quality."
The restaurant opens later this month, and until then, Jenkins and his staff are tweaking and tasting the menu—and Jenkins is getting to know his new home.
"This is a beautiful city, it really is," he says.