Meet Midwood Smokehouse's New Burnt Ends
Don't worry, they're still delicious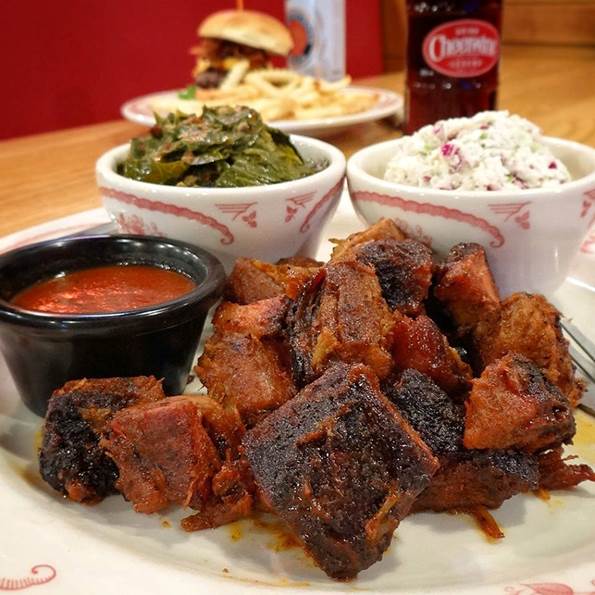 Midwood Smokehouse owner Frank Scibelli once told us that the restaurant's burnt ends are the first item to sell out. I found this to be true several times, sitting down at a table and learning that the last of the smoky, sweet, crispy, tender dishes had already gone to another table. To myself and other Midwood Smokehouse patrons, the burnt ends tasted good—really good. They weren't good enough for Scibelli and Midwood Smokehouse and pit master Matt Barry, though.
After a trip to Kansas City in early June where Scibelli and Barry ate lots of 'cue—they tried six burnt ends in a single day—Barry came home with inspiration for a better recipe. The new version of the burnt ends have been on the menu since December 1.
The old burnt ends, Barry tells me at Midwood Smokeshack, were good, but didn't follow the traditional cooking method he saw in Kansas City. Before the trip, Midwood cooked extra brisket in order to have extra for burnt ends. That brisket was cubed, then seared on the flat top and sauced after an order came in.
To make the new version of the burnt ends, which is closer to what Barry sampled on the barbecue trip, the brisket is cubed, re-rubbed, and then goes back into the smoker. It's taken off the smoker and sauced right before hitting the table. Without reheating the meat on the flattop grill, the burnt ends are more tender and moist, with a crispy, smoked bark on the outside, compared to the older style that can become dried out or tough. Midwood restaurants started introducing the new style as specials in the fall. It's remained my go-to order at the restaurant—even more so now.
Another plus: With the burnt ends coming straight from the brisket, the dish is much less likely to sell out. Even if you're a creature of habit, we suggest you do a taste test and try the new ones. I've found the new style simply emphasizes all of my favorite things about the old burnt ends.
Have you had the new burnt ends? How do you think they compare? Let us know on social media.