Meet Stoke Bar's New Head Mixologist
Barrel-aged drinks, reinvented classics make up new cocktail menu launching this week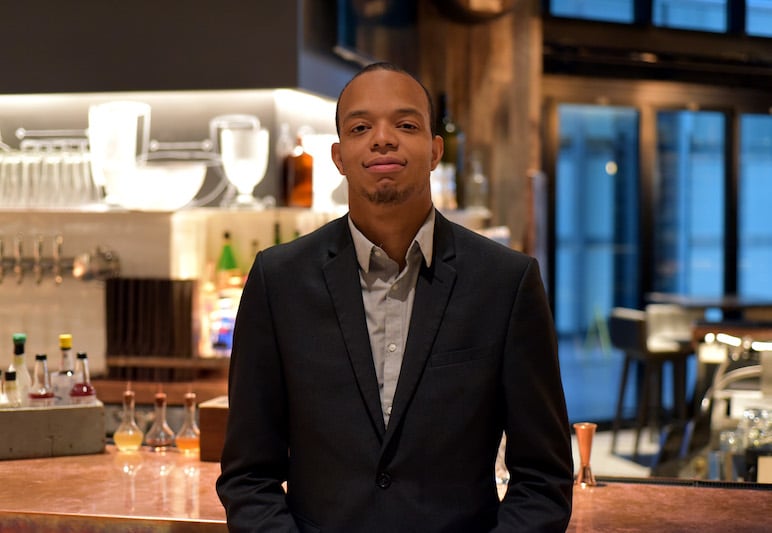 There's a new face running the bar at Stoke, in Marriott City Center in uptown. DiSean Burns came on several weeks ago, and guests will begin to see his influence on the bar's newest drink list. His official title is "Manager of Drink," which means he's not always behind the bar, but most cocktails that are served from it came from his brain.
Burns, president of the Charlotte chapter of the U.S. Bartender's Guild, got his start in Charlotte's craft cocktail seen at the now-shuttered E2 Emeril's Eatery. He's also worked at The Ballantyne Hotel and, most recently, 204 North. He's lived in Charlotte since 2012, when a sales job brought him to town.
Burns credits Stefan Heubner, the bartender at Heist and one of the founders of the Charlotte craft drink scene, for his transition from volume bartender to mixologist. After trying several variations of the humble old-fashioned, Burns was hooked. His love for classic cocktails will make an impact on the new menu, though in different forms.
"I'm a big fan of deconstructing what made a classic cocktail great and then putting my own variation on it," Burns says. "Why was The Last Word such an amazing cocktail? What was it about the chartreuse, about the gin, about the lime that melded so beautifully? What can I do to put my own spin on that?"
An example of that is the Backwoods Bramble, made with TOPO gin, green chartreuse, and blackberry syrup.
There will also be a new category of drinks added to the Stoke Bar menu. Burns is in the process of barrel-aging cocktails, which will be on the menu in a rotation. Among those hitting the menu on Thursday is a barrel-aged Negroni. Much like wine, aged cocktails become smoother and more unified after spending time in oak barrels.
Prices on the new drink menu haven't changed much, staying much more affordable than most in uptown. Burns says he prefers keeping drinks around the $10 mark, because it encourages people to try cocktails they otherwise may not have ordered. The aged cocktails are $12. Several favorites, including The Hive and the Stoke Fashioned, will carry over to the new drink list.
Burns is also helping with the relaunch of The Dock, the small speakeasy accessible by walking through the loading docks behind the hotel. The Dock opened this winter, but closed for some updates after it became a more popular nightlife destination than expected.
The new drink menu at Stoke Bar will launch on Thursday.