Meet the Chef: Rocco Whalen
Farenheit opened in February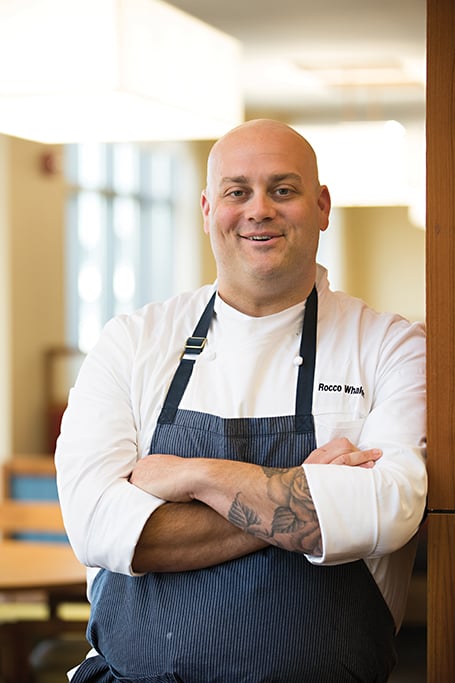 A few weeks before his grand opening in February, Rocco Whalen showed off his new restaurant, Fahrenheit, along with a few tastes of what's to come. And then the Cleveland, Ohio, native sat down for a few questions.
What drew you to Charlotte?
The food palate here seems to have gone from 0 to 20. We have an opportunity to drive home culture and options. The energy of this city is addictive. I really like what's going on, and I hope there's room for me. I want to take part.
What kind of feedback have you gotten from the other chefs around the city?
Charlotte has a great food scene, and gone are the days of chefs being super-competitive. I love talking to [Charlotte chefs] Jamie Lynch or Bruce Moffett or Larry Schreiber. Other chefs—they don't have time to B.S. I asked for answers, and they gave them. Not once did any of them say, 'Don't do it.' There's none of that competition when you just want to have good food.
In terms of the city, what about a culinary school (Johnson & Wales) intrigues you?
Johnson & Wales does a wonderful job of developing young chefs and teaching how to deal with pressure. Plus, I've already tapped them for resources. It's all going back to keeping it all here. I want to create a space that'll employ 75-100 people and create jobs for the city.
You seem to be really passionate about using local ingredients.
I want to keep the money here in North Carolina. Plus, it's good for the economic circle of Charlotte. I mean, to say you guys down here don't do ham or pork as well as Virginia? Come on. Plus, you catch bees with Cloister Honey.
What local purveyors do you hope to incorporate into your ventures here in Charlotte?
We can confirm Cloister Honey, Olde Mecklenburg Brewery, Birdsong, Tega Hills [Farm], Grateful Growers, NoDa Brewing, Prestige [Farms] chicken, Goat Lady Dairy, and I'm sure there will be more.
We heard a rumor about a food truck …
We'd love to do a food truck. … You need to have things to do—events, present a personal side, be able to say hi to the chef—a food truck does that. Plus it's just fun. Nothing beats a food truck.