Meet the 'Closet Editors' Behind edit+style
Best friends Cathy Monte and Kristen Garnett show clients how to wear what they have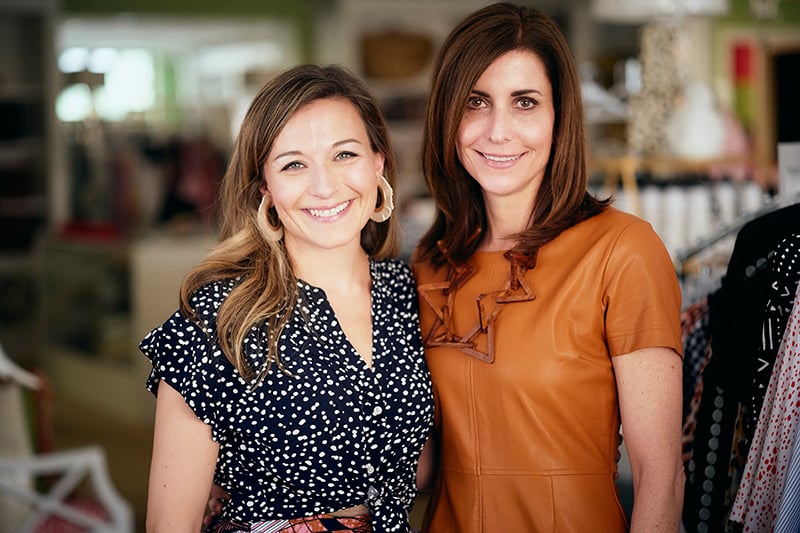 Cathy Monte and Kristen Garnett, the partners of edit+style, call themselves closet editors. They assemble outfits from what clients already own, suggesting new items only when necessary—a pair of statement earrings here, a bomber jacket there. To prepare, they ask questions and study a client's lifestyle before they take their cues from the closet. Sometimes the results are surprising.
"We found this adorable dress," Garnett says of a recent assignment. "It looked like she had gotten it at Anthropologie. So we styled it with this leather jacket and clutch." They put together a day look and a night look and took photographs for the digital catalog they assemble for clients as a guide.
Monte picks up the story. "So we sent the book—and (found out) it was her grandmother's dress that had been made by her great-grandmother in 1930."
They had no idea they were recycling a vintage dress. This is exactly why the closet editors focus on style instead of price tags or brands. Monte often tells her clients: "You've invested in what you have already in your closet. So let's show you how to wear it."
The women met 15 years ago, when they were pharmaceutical reps. They stayed close through moves, marriages, and children. Monte's knack for helping friends and family with their wardrobes inspired her to launch edit+style in 2014. Garnett joined two years later as her partner.
They work side by side, making decisions as they lay out clothes, shoes, accessories, and jewelry across a blanket on the floor. In light of money wasted on things not worn, clients are glad to pay for help. Closet editing packages range from $300 to $1,500, and other services include compiling travel wardrobes, styling for portraits, gift advice for stressed spouses, and long-distance guidance via Pinterest.
Although neither expected to plunge into people's closets and drawers at this stage in life (Garnett is 40, Monte 43), they're hooked on the fun of it. Monte says clients usually don't need help with big-event outfits. "They need the in-between, the everyday."
---
How to Shop Your Own Closet
Switch the Season
Pick something you don't normally wear this time of year. How do you always wear it? Now look at another piece in your closet and ask if you could combine them. For example, could you pair a blue blazer with jeans? Or put a T-shirt with that skirt instead of the print blouse you always wear? In this climate, clothing can often be worn in multiple seasons.
NWT
If you bought something months ago on impulse, and it's still NWT (new with tags), ask yourself why. Unless your answer is "wrong size," take a second look. Could you incorporate it into a layered outfit? Could you dress it up? Down? Would an accessory change its possibilities? Does it need a pop of color?
Double Up
With creative planning, you can wear the same clothes from morning to night. A buttercup yellow wrap can transform the dress you wore to the office, as can an out-to-dinner clutch tucked into your workbag. You don't need to run home to change. By studying your fashion staples, you can find a variety of ways to wear them. Document outfits by laying them out on the floor (include jewelry, shoes, and other accessories), taking a photo, and filing it away on your phone. Now you won't stare at your closet with your hands on your hips, wondering what to wear.