Meet the Couple Behind the Bleu Barn Bistro Food Group
After a harrowing year, Tara and Brenton Ebersold prove the local food movement is more than a fad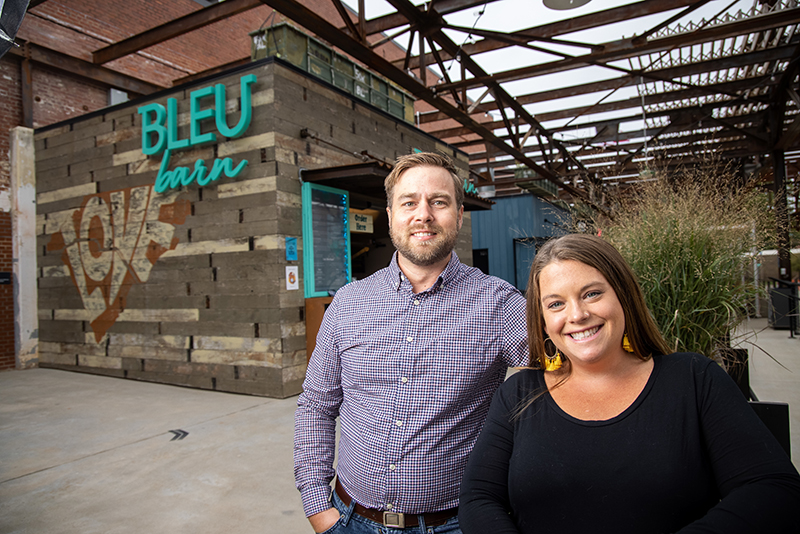 Like most of us, Tara and Brenton Ebersold had a tough year. Bleu Barn Bistro, their farm-to-fork food truck and catering business, took a hit during the pandemic, and they had to postpone plans to open their food stall in Camp North End. But it didn't compare to the grief that enveloped them at the start of 2020.
The Ebersolds' six-day-old baby boy, Elijah, died December 7, 2019, after a complication at birth. They didn't seen it coming; Tara's pregnancy was healthy and uneventful. They relied on family and friends in the months that followed, and they shifted their focus to the food stall they planned to open in March.
Both had a longtime interest in the culinary field. Tara cooked with her grandmother, an Italian immigrant who grew her ingredients in her backyard, and Brenton prepared family dinners from the time he was in grade school. They met 12 years ago during their first class at Johnson & Wales and launched their food truck in 2014. "We started the food truck out of wedlock," Brenton says. "It's been with us longer than we've been married." (The wedding was in October 2016.)
Bleu Barn Bistro stemmed from their love of eating fresh and in season. In the beginning, they visited farmer's markets every Saturday to build relationships with the farmers who would supply the meat and produce for their grab-and-go sandwiches, tacos, and salads. They opted for a food truck over a white-tablecloth restaurant because of the lower financial risk, and it also allowed them to go to festivals and breweries where they could build a following and regularly change their menu.
The Ebersolds added Bleu Barn Catering to their portfolio in 2015 and Bleu Barn Pantry in 2018, incorporating all the businesses under the Bleu Barn Bistro umbrella. "At the end of a season, a farmer would have 50 pounds of unused peaches, so instead of them losing money, we could help with food waste and turn it into something else," Tara says. "We make our market relish with leftover broccoli stems that aren't so pretty but still taste great."
Business was steady, and a permanent location seemed like the next step. They eyed spots in NoDa and South End, but when they toured Camp North End, they knew the adaptive-reuse concept aligned with their goals. "They're big on building their community and let small businesses thrive," Brenton says. "The people there are like-minded. Greg (Collier), Samantha (Allen) … everything's creative, not mass-produced."
Then the pandemic put those plans on hold. But the Ebersolds had something else to focus on: In late February, Tara discovered she was pregnant again. Emotions were mixed. "Pregnancy after loss is just hard," she says. "We're not as open as last time; we're more cautious now."
They kept the news to themselves and pressed on with Bleu Barn Bistro. They used the time at home to test recipes and tend their garden, and they noticed a welcomed trend: While grocery stores couldn't keep up with demand, more neighbors had fresh meat and produce delivered to their homes. "Farmers got to shine a little during the pandemic," Tara says.
"They're not getting hit—that's Tyson and the big factories," Brenton adds. "Smaller farms are actually getting overloaded. People feel safer with food that comes from their state."
When North Carolina moved to Phase 2 in June, the Ebersolds officially opened Bleu Barn North End alongside La Caseta and SARU by Bow Ramen in Camp North End's Gama Goat building. "It's one of the best locations you could open during a pandemic," Brenton says. "It's an open-air concept with plenty of space to spread out and social-distance."
The Ebersolds believe more people will continue to eat and support local food. Next year they hope to expand their commissary kitchen off Tyvola Road into a storefront with a café. "I think people understand it's not just a fad," Brenton says. "Ten years ago, they said farm-to-table was a fad. But it's still here and it's stronger than ever."
As of September, though, they were focused on the arrival of a baby girl. They plan to celebrate Elijah's birthday on December 1 because they want their daughter to know she had an older brother. But for the first time in almost a year, they're allowing themselves to feel excited about what's ahead for their family. "We've been guarding ourselves of that; it's my heart's way of protecting itself," Tara says. "It's been a crazy year, but I'm ready to take a breath of fresh air."
TAYLOR BOWLER is lifestyle editor for this magazine.
---
UPDATE: The family welcomed a baby girl in early November. "She is named after my grandmother, and another Baby E. We called both our babies Baby E while pregnant because of our last name. We ended up naming our son Elijah (baby E), and wanted to stick with another E name in his honor."
"Elena Mae Ebersold, born November 3, 2020 at 4:07am, 6lbs 15 oz, and 19.5 inches long."
---